(เต็มแล้วจ้า) 49th State Brewing Company-Anchorage
Anchorage , AK
Job Description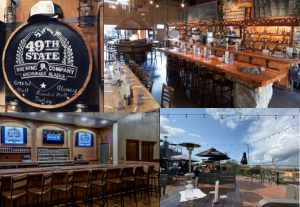 Dishwasher : Responsible for unloading the dishes and cutlery brought to them by bussers and loading them into dish trays. The trays are then placed into the commercial washers and are cleaned automatically. The commercial dishwashing machines do not accommodate larger pots and pans, so you will be required to wash things by hand, the old fashioned way. Dishwashers are responsible for maintaining their workspace and keeping sanitary conditions at all times. This is a hard, physically demanding job. You will also be responsible for sweeping, cleaning and trash removal. Must clean grease traps. Must be able to stand for 8 hours and lift 50lbs.
Line Cook : Responsible for preparation, assembly, and final presentation of ingredients according to the 49th State Brewing Company's recipes and specifications and ensuring the quality of cooked/prepared food by testing them. These individuals will utilize a large range of kitchen skills, including slicing, grinding, frying, and baking during food service. Line cooks are also responsible for the detection and disposal of unattractive and spoiled foods. They will promote safety culture in all areas in the workplace, including food safety, customer safety, and the safety of team members.
Prep Cook : Responsibilities include preparing cold foods, slicing vegetables, meats, preparing menu items in accordance to recipes, and many other tasks designated by the Kitchen Manager. Prep cooks are responsible to maintain the area they work in and must adhere to the cleanliness and sanitation policies in place. Must be able to stand for 8 hours and lift 50lbs. Must have previous experience in the kitchen or a keen interest in culinary arts. Ability to communicate clearly, verbally and written. Some experience in positions involving.
Position
Dishwasher  (4-6  F/M)
Line Cook     (4-6  F/M)
Prep Cook    (4-6  F/M)
Location
ANCHORAGE , AK
Rate
Dishwasher  $11.50
Line Cook    $13.00
Prep Cook    $13.00
Hours
32-40 hours per week
Start Date
21 Feb – 15 Apr
End Date
2 May – 15 Jun
English level
Intermediate – Upper Intermediate
Housing
$125.00/Week ( Must Arrange Own – Sponsor Assist for Housing Contact)
** Deposit amount $100-$300 Upon Arrival
Transportation to work
Bus available in Anchorage Walk Ride Bike
** งานนี้ไม่ต้องชำระค่า Premium Job ใดๆทั้งสิ้นนะคะ ในการตอบรับน้องๆเข้าทำงานจะขึ้นอยู่กับคุณสมบัติของน้องๆในแต่ละบุคคล โดยนายจ้าง / องค์กรแลกเปลี่ยนจะเป็นผู้พิจารณาเรซูเม่หรือการสัมภาษณ์ทาง Online กับน้องๆตามตารางสัมภาษณ์ของนายจ้าง หรือองค์กรในแต่ละงานค่ะ 🙂
Related Jobs