🆕 Crescent Hotels – Horseshoe Bay Resort
Horseshoe Bay , TX
Job Description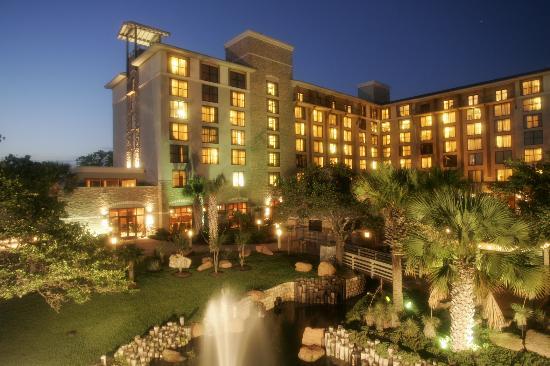 Hotel/Resort Worker 
Participant may be placed in one of these positions upon arrival. Additional duties may be assigned
1. Housekeeping- Cleans guest suites in an allotted period determined by management using the proper procedures and chemicals provided by management. Duties include but are not limited to: cleaning guest rooms and public areas, making beds refreshing linens, collecting trash from trash bins and providing customer service.
2. Houseman- Housemen duties include assisting in the housekeeping department to clean common areas, repairing and replacing malfunctioned units and furniture, responding on guest's requests and inquiries, flexibility to multi-task, and coordinating to other personnel for concerns and guests' assistance.
3. Maintenance/Janitor- the person is in charge of keeping the workplace clean, organized and disinfected. They have the following responsibilities:
– Clean the interior of buildings including floors, carpet, rugs, windows and walls
-Disinfect commonly used items like desks, door handles, office tools and phones
-Maintain cleaning inventory, placing orders for new products when needed
-Remove debris from sidewalks
– Replace air filters and maintain HVAC systems
– Empty trash and recycling bins
**Other duties may be assigned.
Restaurant Attendant
Participant may be placed in one of these positions upon arrival. Additional duties may be assigned
Busser/Food Runner
Clears and cleans tables after customer has left. Prepares tables for the next customer. ESSENTIAL DUTIES AND RESPONSIBILITIES include the following. Deliver food to customers from the kitchen.Other duties may be assigned. Removes all dishes, trash, napkins, etc. from the table and floor. Buses all tables within 1-2 minutes after customer has left. Wipes tables with a sanitized towel and resets all condiments. Wipes all chairs and picks up and sweeps around the tables. Cleans restrooms and reports any plumbing problems to management. Refills water, tea, and coffee if needed. Informs a manager as soon as a guest has a complaint or problem. Assists servers when necessary. Follows the safety rules provided in the Landry's Restaurants, Inc. Safety Program found in the Employee Orientation Manual and reports any safety hazards to management.
Server
– Placing food items on serving plates or dishes along with required condiments and utensils to present to customers
– Preparing cold drinks, warm drinks, and other non-alcoholic beverages.
– Some employees will serve alcoholic beverages and must strictly follow all state and federal laws related to serving alcohol.
– All items must be prepared quickly and accurately ensuring no waste and in accordance with production and portion requirements and quality standards while maintaining a safe, sanitary work environment.
– F & B employees may be responsible for handling sales which will include: taking correct orders, entering sales in cash register, taking money, counting out correct change (coins/ bills), giving change to customers, and completing credit card transactions.
Host: HOST/HOSTESS:
– Responsible to greet arriving guests, welcome them into the establishment and seat them at a table. As the first contact between the customers and the restaurant, the host/hostess is a personal representation of the service and overall hospitality of the staff of the restaurant. While guests are waiting to be seated or waiting for take-out orders to be ready, it is the job of the hostess to ensure that the guests are made comfortable and kept informed of the status of their orders or wait times.
Barista
Barista is responsible for preparing and serving coffee and other beverages to customers in a coffee house or café. Their duties include working with other Baristas to help take orders, make drinks and provide timely service to customers.
**Other duties may be assigned."
Restaurant Attendant (Back of House)
Cooks:
– Accurately and efficiently cook meats, fish, vegetables, soups and other hot food products.
– Complies consistently with company standards on portion sizes, cooking methods, quality standards and kitchen rules, recipes, policies and procedures.
– Prepares and portions food products prior to cooking.
– Handle raw meats and maintain health and safety standards
– Ensures quality of products served.
– Follows proper plate presentation and garnish set up for all dishes.
– Utilizes a wide range of kitchen tools and utensils, including but not limited to knives, grinders, broilers, ovens, grills, and fryers according the health and safety standards.
– Performs kitchen maintenance tasks such as emptying the trash and washing dishes.
– Promptly reports equipment and food quality or shortage problems to Kitchen Manager.
– Maintains a clean work station and assists with the cleaning, sanitation, and organization of kitchen and all storage areas.
– Monitors inventory levels to ensure product availability.
– Graciously and quickly fulfills any guest request possible.
– Completes opening and closing checklists. -Stocks and maintains sufficient levels of food products at line stations to assure a smooth service period.
– Completes additional duties as assigned by supervisor.
Dishwasher:
A Dishwasher, or Kitchen Helper, is responsible for cleaning dishes in a food service environment to ensure that the kitchen has a steady supply of clean plates, bowls, silverware, pots, pans and glasses. Their duties include prioritizing loads of different types of crockery and kitchenware, hand-washing dishes, loading the dishwasher and placing dishes to dry.
Other duties may be assigned."
Hotel/Resort Worker
Groundskeeper:
A Groundskeeper is responsible for maintaining an aesthetically-pleasing and functional outdoor space. Their duties include planting flowers and shrubbery, mowing lawns and communicating with the property owner to determine their vision for the space.
**Other duties may be assigned.
Position
Hotel/Resort Worker (15 M/F)
Restaurant Attendant (12 M/F)
Restaurant Attendant (Back of House) (20 M/F)
Hotel/Resort Worker (13 M/F)
Location
Horseshoe Bay , TX
Rate
Hotel/Resort Worker 12.25 USD
Restaurant Attendant 7.25 USD
Restaurant Attendant (Back of House) 12.00 USD
Hotel/Resort Worker 14.00 USD
Hours
32-40 hours per week
Start Date
20 Feb 2022 – 30 Mar 2022
End Date
2 May 2020 – 30 Jun 2022
English level
Imtermediate – Advance
Housing
Housing Cost Per EV 323 USD
Housing deposit 400 USD (Host company provided)
Transportation to work
Employer will provide transportation to/from work and housing
** งานนี้ไม่ต้องชำระค่า Premium Job ใดๆทั้งสิ้นนะคะ ในการตอบรับน้องๆเข้าทำงานจะขึ้นอยู่กับคุณสมบัติของน้องๆในแต่ละบุคคล โดยนายจ้าง / องค์กรแลกเปลี่ยนจะเป็นผู้พิจารณาเรซูเม่หรือการสัมภาษณ์ทาง Online กับน้องๆตามตารางสัมภาษณ์ของนายจ้าง หรือองค์กรในแต่ละงานค่ะ 
Related Jobs