🆕 Kalahari Resort Sandusky OH
Sandusky , OH
Job Description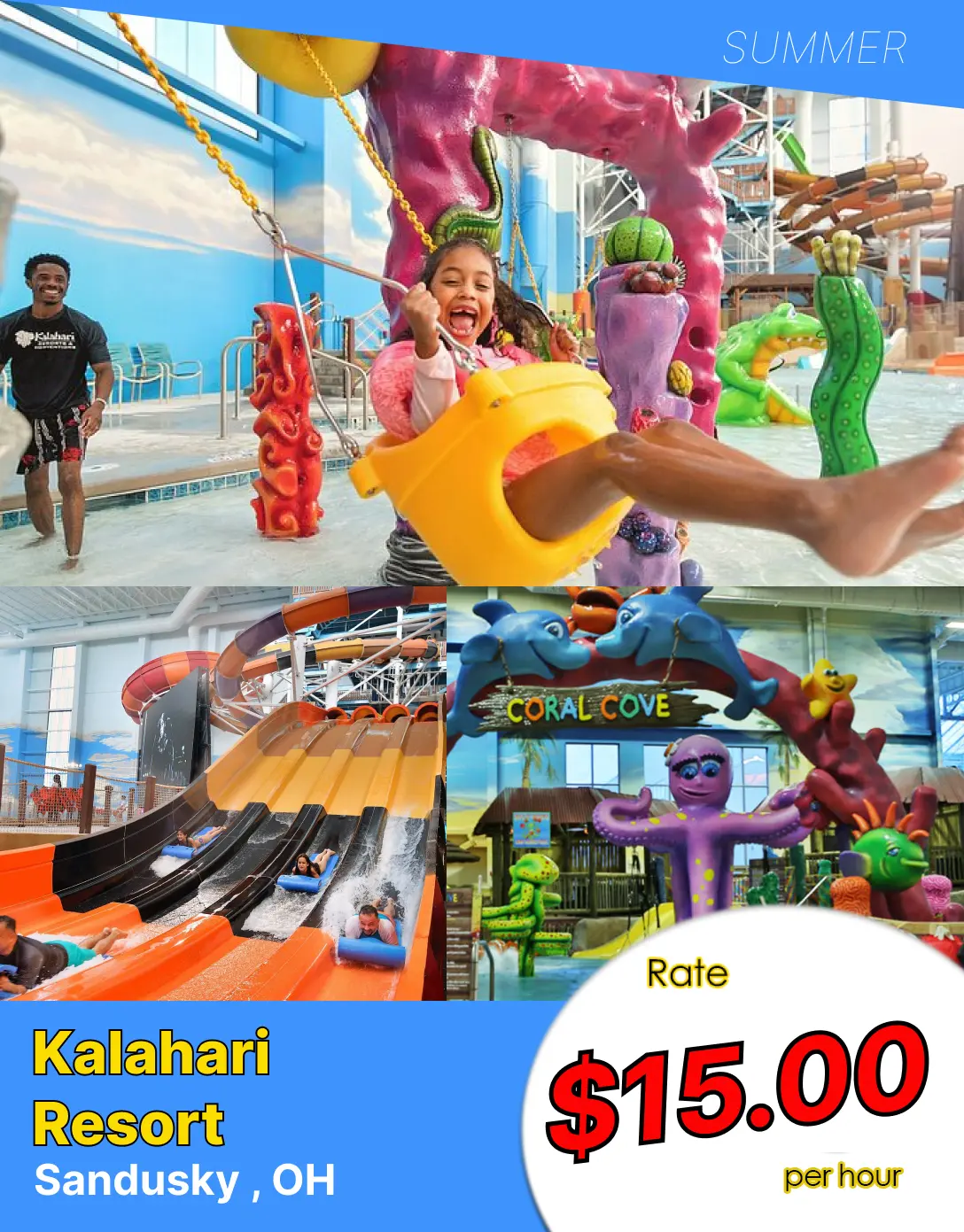 Room Attendant : Cleaning Vacant and stay over guest rooms daily. Participant is required to clean rooms in a specified amount of time, based on the size and floorplan of the room and uphold the company's standard of cleanliness. Performing cleaning procedures daily in guest rooms to include changing linens, dusting, scrubbing tub/shower, sinks and mirror, empty wastebaskets, and transport other trash and waste to disposal areas. Vacuuming and spot cleaning carpeted floors, washing bathroom floors daily. Wiping vanity drawers, cleaning windows, vacuuming drapes, and performing other cleaning duties on a periodic scheduled basis. Restocking housekeeping carts daily with supplies, linen/terry and cleaning supplies as specified. Laundering linens and towels. Use of chemicals is required. Please note that Kalahari guest rooms accommodate families (2 – 22 guests staying in each room or condo for multiple days) and therefore the amount of cleaning needed may vary from room to room.
Lifeguard : Participant will attend lifeguard certification upon arrival and be placed in either of the lifeguard positions based on individual skill and company need. For recruitment, poolside swim test of 100 meters should be completed within a 5- minute time limit. Upon arrival at resort, certification for a 300 meter swim test will take place with no specified completion time. If participant has doubt about being able to complete the 300 meter swim test, they should NOT select position. Lifeguards must obtain Lifeguard Certification through Red Cross upon arrival. Failure to pass certification class in the USA will result in loss of job (see attached class information). Students who do not honor the contract end dates will have the $50 certification reimbursement drafted from the final paycheck. Participant is required to live at the housing facilities provided in this offer. If participant is terminated or leaves placement, he must vacate housing within three days.
Restaurant Attendant :Participant will be responsible for a variety of duties including:
Host/Hostess: responsible to greet arriving guests, welcome them into the establishment and seat them at a table. As the first contact between the customers and the restaurant, the host/hostess is a personal representation of the service and overall hospitality of the staff of the restaurant. While guests are waiting to be seated or waiting for take-out orders to be ready, it is the job of the hostess to ensure that the guests are made comfortable and kept informed of the status of their orders or wait times.

Servers: responsible to ensure that customers have an enjoyable dining experience. As the primary contact between the customers and the restaurant, they are expected to be friendly and engaging when interacting with guests to project a positive image of the company while providing top quality service. Bussers/Food Runners: responsible to assist Servers to deliver food from the kitchen to the customer tables as quickly as possible. they are also responsible to ensure customer satisfaction by providing supportive service to meet the customer's needs.
Position
Room Attendant (2 M/F)
Lifeguard (8 M/F)
Restaurant Attendant (2 M/F)
Location
Sandusky, OH
Rate
Room Attendant $15.00 per hour
Lifeguard $13.00 per hour
Restaurant Attendant $13.00 per hour
Hours
32-40 hours per week
Start Date
9 May 2024 – 15 Jun 2024
End Date
30 Aug 2024 – 7 Sep 2024
English level
Upper Intermediate – Advanced
Housing
$105 USD per week (Host company provided)
**Housing deposit $300.00
Transportation to work
Students can walk or ride a bike.
** งานนี้ไม่ต้องชำระค่า Premium Job ใดๆทั้งสิ้นนะคะ และข้อมูลของงานดังกล่าว นายจ้างหรือองค์กรแลกเปลี่ยน USA อาจมีการเปลี่ยนแปลงได้ในภายหลัง โดยขึ้นอยู่กับปัจจัยในด้านธุรกิจของนายจ้างนะคะ โดยบริษัทฯ ไม่สามารถควบคุมการเปลี่ยนแปลงใดๆได้ค่ะ หากมีการเปลี่ยนแปลงใดๆเกิดขึ้นทางพี่ทีมงานจะรีบแจ้งข้อมูลอัพเดตให้ทันทีค่ะ 🙂 A
Related Jobs