Landshark Bar and Grill – North Myrtle Beach, SC
N MYRTLE BCH, SC
Job Description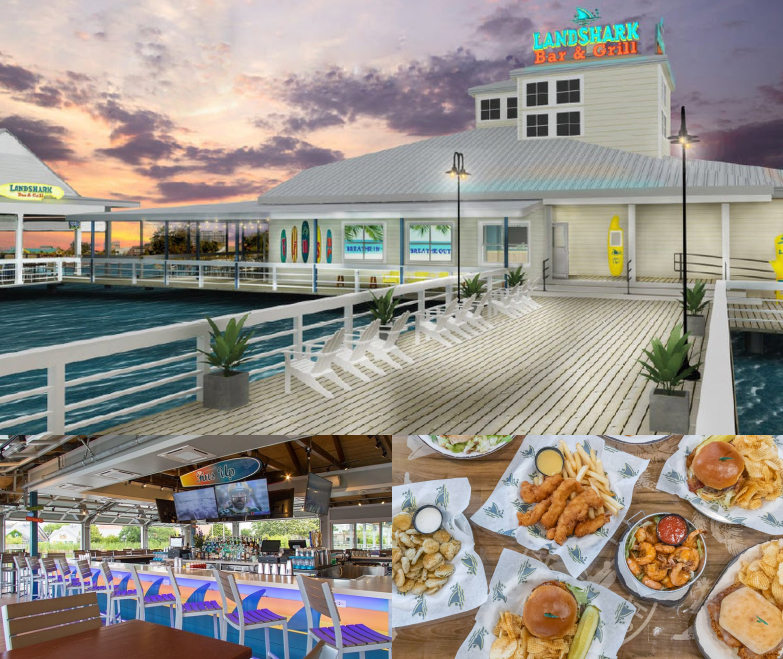 Busser: Responsible for cleaning and setting tables, general table maintenance, and maintaining a clean, sanitary, and safe work environment for all Staff Members and guests by performing the following duties: Maintains cleanliness around the front façade of the building, guest restrooms, floors, and surrounding work areas by keeping the area swept, mopped, and free from spills, trash, debris, etc.
Host/Retail Associate: Responsible for greeting customers, checking identification (if applicable), controlling the flow of traffic, and maintaining guest areas by performing the following duties: Handles initial and final contact with all guests; greets guests in a positive, professional, and welcoming manner and thanks them as they leave. Provides information and conversation while guests are waiting and being seated. Introduces guests to their server. Accommodates guests with special requests.
Line or Prep Cook: Prepares food according to recipes. Coordinates food orders to ensure timely delivery.Prepares food by measuring, cutting, peeling. Ensures all products are stored, labeled, rotated. Ensures cleanliness of all freezers, prep areas. Assists in kitchen cleanliness, including all station equipment, utensils (flat tops, grills, storage drawers) Cleans all dishes, pots, pans, glassware, and utensils. Removes waste, garbage, and recyclable materials from the kitchen. Stocks cleans, closes all stations. Flexible and willing to be trained in all kitchen positions dishwasher, line cook, prep cook. Students must work with pork. Stand for long periods of time.
Server: Responsible for excellence in guest satisfaction; serves food and/or beverages to the guests according to established standards and keeps dining area clean at all times by performing the following duties: Possesses full knowledge of food and beverage products served and utilizes suggestive selling techniques, takes orders and delivers food and beverage in a timely manner, ensures guests receive immediate, friendly, and personalized service to build their intent to return, guides guests through menus, answers questions thoroughly, and provides specific item suggestions and information about the establishment.
Position
Busser  (2 Male Only)
Host/Retail Associate  (2 M/F)
Line or Prep Cook  (2 M/F)
Server  (2 M/F)
Location
N MYRTLE BCH, SC
Rate
Busser  $4.50
Host/Retail Associate  $14.00
Line or Prep Cook  $14.50
Server  $2.83
Hours
32-40 hours per week
Start Date
7 May – 15 Jun
End Date
20 Aug – 7 Sep
English level
Upper Intermediate – Advanced
Housing
$140.00 per week  (Employer)  **$115-$150 per week, maybe more/less
**Deposit  $300 (Upon arrival)
Transportation to work
Students can walk or ride a bike or public transportation.
** งานนี้ไม่ต้องชำระค่า Premium Job ใดๆทั้งสิ้นนะคะ ในการตอบรับน้องๆเข้าทำงานจะขึ้นอยู่กับคุณสมบัติของน้องๆในแต่ละบุคคล โดยนายจ้าง / องค์กรแลกเปลี่ยนจะเป็นผู้พิจารณาเรซูเม่หรือการสัมภาษณ์ทาง Online กับน้องๆตามตารางสัมภาษณ์ของนายจ้าง หรือองค์กรในแต่ละงานค่ะ 🙂
Related Jobs