🆕 Point Break
Pismo Beach , CA
Job Description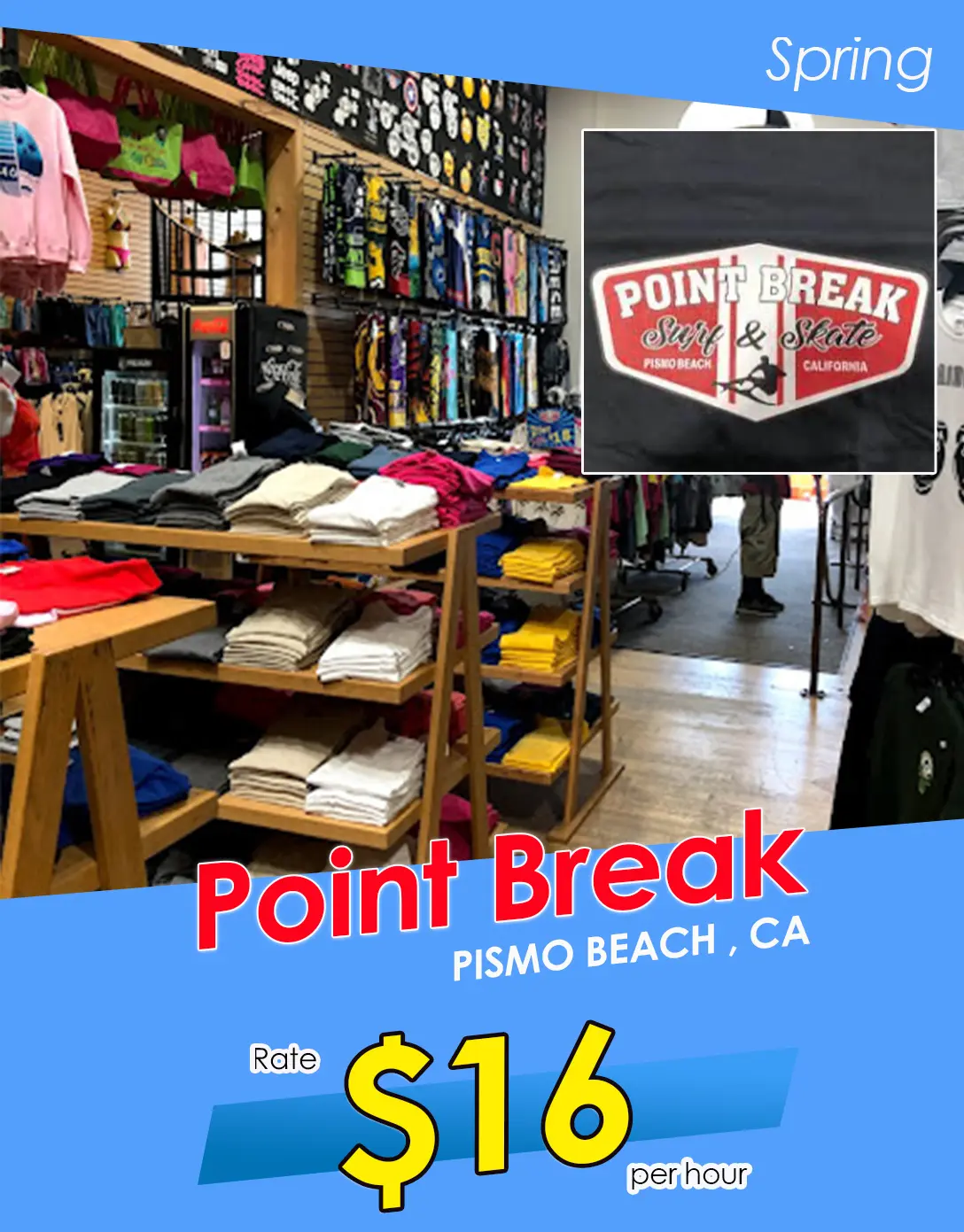 Retail : This retail store is very large and can be quite busy. It is right at the Pismo Beach Boardwalk. Participant duties include cashiering, sales, preparing storefront for operation, learning to organize inventory at a 13,000 sq ft store, memorizing greeting scripts, participating in training, merchandising, and other duties assigned by the manager. Positive and happy associates are required. Good energy, like to smile, and enjoy staying active. Interact with the guests. Prefer non-smoking. Must have excellent English and be outgoing. This is a huge store and very busy. You will be working very hard and on your feet for the entire shift. You must like working with the public. Participants should be prepared to be constantly learning, open to new processes, and encourage a learning attitude. Must be dependable, hardworking, friendly, and a very trustworthy and honest individual. The employer will teach them inventory, merchandising, sales, customer service, store staging, and cashiering. Upbeat, outgoing, friendly girls who are not afraid to chat with a crowd of people and be engaging with customers.
Position
Retail (4 F)
Location
Pismo Beach , CA
Rate
$16.00 per hour
Hours
32-40 hours per week
Start Date
7 Mar 2024 -5 Apr 2024
End Date
10 May 2024 – 7 Jul 2024
English level
Advance (Proficient)
Housing
$175 USD per week / (Must Arrange Own)
Deposit : $200 USD  (Upon Arrival)
Transportation to work
Students can walk or ride a bike.
** งานนี้ไม่ต้องชำระค่า Premium Job ใดๆทั้งสิ้นนะคะ และข้อมูลของงานดังกล่าว นายจ้างหรือองค์กรแลกเปลี่ยน USA อาจมีการเปลี่ยนแปลงได้ในภายหลัง โดยขึ้นอยู่กับปัจจัยในด้านธุรกิจของนายจ้างนะคะ โดยบริษัทฯ ไม่สามารถควบคุมการเปลี่ยนแปลงใดๆได้ค่ะ หากมีการเปลี่ยนแปลงใดๆเกิดขึ้นทางพี่ทีมงานจะรีบแจ้งข้อมูลอัพเดตให้ทันทีค่ะ 🙂 C
Related Jobs