🆕 Landry's Seafood Broadway At The Beach
MYRTLE BEACH , SC
Job Description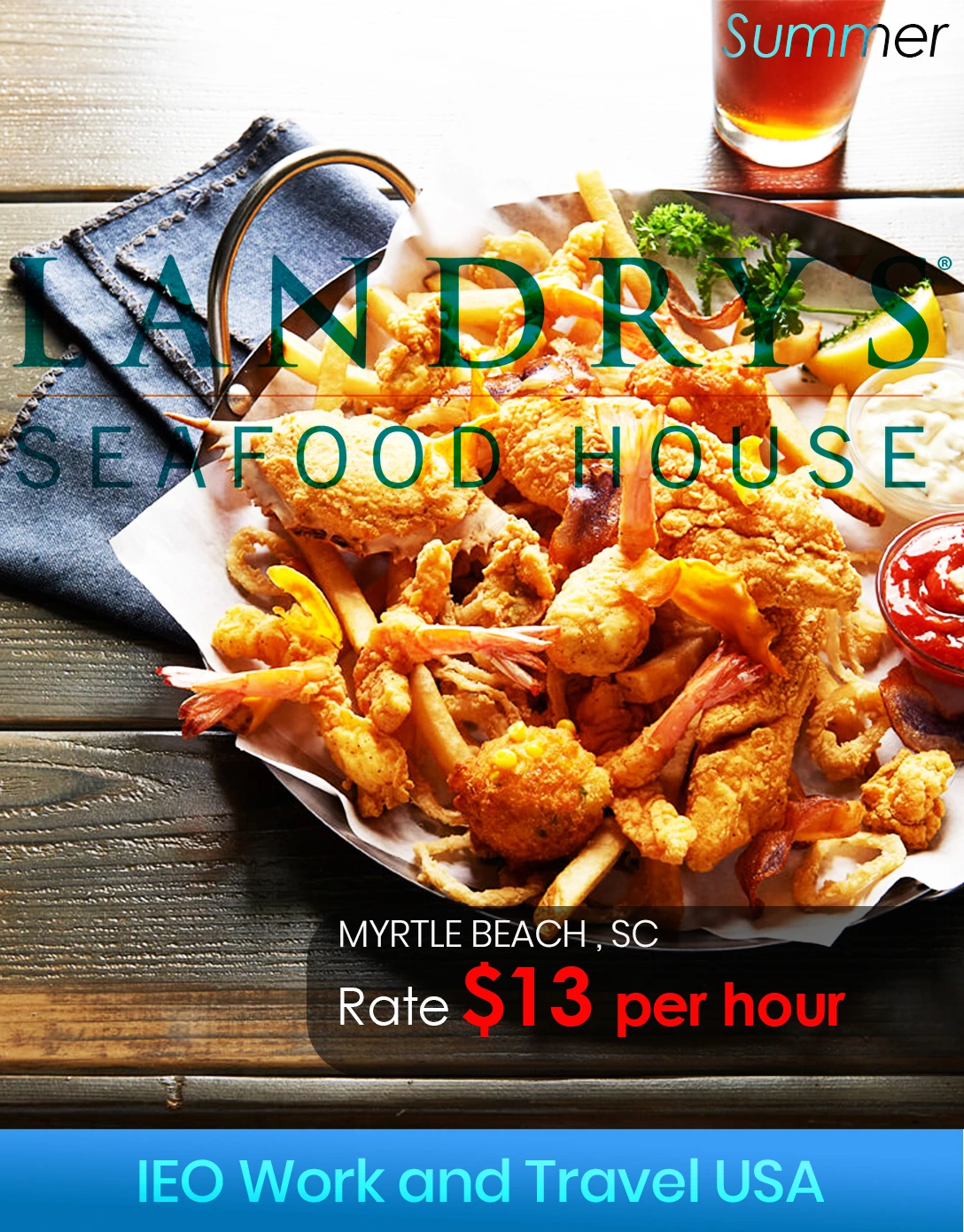 Server : You are responsible for learning the menu, wine and alcohol list, and daily specials. This is a fine dining restaurant so you and your uniform are expected to be clean and presentable for every shift. Fine dining servers are responsible for providing guests with an exceptional dining experience. They work closely with chefs and other kitchen staff to ensure that each course is prepared correctly and delivered in a timely fashion and have knowledge of every menu item to be able to answer any questions customers may have. Fine dining servers must be able to multitask effectively, as they often juggle multiple tasks at once. This includes taking orders from several tables at once, serving individual courses, clearing plates between courses, refilling drinks, etc. If alcoholic beverages are ordered, you are required to ask for identification and ensure that they meet the legal drinking age of 21 for the United States.
Kitchen Staff: Line cooks are the people who make your favorite dishes. They're responsible for preparing all of the ingredients that go into a restaurant's menu items, from appetizers to desserts. Line cooks work closely with chefs and other kitchen staff to ensure that everything is prepared properly and on time. Line cooks have a wide range of responsibilities, which can include: performing basic food preparation tasks such as chopping vegetables or washing dishes, helping to maintain a clean and hygienic work environment by following proper food handling procedures and maintaining equipment, monitoring the quality of food being served to customers to ensure that it meets standards for taste, texture, and appearance. Making sure that all food is stored properly to prevent spoilage or contamination, preparing special meals for large groups or special events such as weddings or parties, cooking food in large quantities using stoves, grills, broilers, or deep fryers. Stocking ingredients and supplies on the line where they are needed during the shift, cleaning work areas and equipment after each shift to ensure that they are ready for use the next day. Preparing food using standard cooking techniques such as sautéing, broiling, roasting, boiling, blanching, braising, steaming, stir-frying, frying, and grilling. Dishwashers are responsible for washing dishes, glassware, cutlery and other items after they have been used. They may also be tasked with rinsing off plates before they go into the dishwasher to ensure that nothing sticks to them during the cleaning process. Dishwashers must follow strict sanitary procedures when handling food-related items. This means that they must wear gloves at all times and take care not to touch anything else while handling these items.
Food Runner: Food runners are the hardworking individuals who keep your food coming. They're responsible for delivering plates of food to tables, refilling drinks, clearing dirty dishes, and ensuring that everyone is happy with their meal. Food runners have a wide range of responsibilities, which can include: serving food to customers at the table, clearing dirty dishes from tables after meals are finished, and communicating with kitchen staff about food preparation or ingredient needs. Making sure that each table has been served all ordered food and drinks at the appropriate time, helping out in the kitchen by preparing food, stocking supplies, cleaning up after meals are served, delivering food to customers' tables, and cleaning up dishes after they have been eaten.
Side Worker (Server Assistant): The role of a server assistant is one that requires attention to detail and strong customer service skills. They are often the face of their company, interacting with customers on a daily basis and representing the brand in a positive light. Server assistants may be tasked with setting tables, taking orders, delivering food and drinks, clearing plates, etc. Their job is to ensure that every guest has an enjoyable experience at their restaurant—and they do this by providing excellent service and friendly interactions throughout the entire dining experience. They will be assisting the server with all the tables and sidework.
Host: A host is responsible for greeting guests as they arrive and seating them at their table. They
also ensure that everyone has everything they need throughout the course of their meal, from refilling drinks to clearing plates. Host are often the first face the customers see when entering the restaurant, they're the person who greets you when you walk in the door and makes sure you feel welcome while you're there. This means they have to be friendly, outgoing, and able to build rapport with customers quickly. They will also be responsible answering the phone, assisting in ensuring restaurant stays clean and presentable.
Busser: Bussers, also known as restaurant bussers, clean, clear, and lay tables in restaurants and diners. They provide support to restaurant staff by managing restaurant supplies such as napkins, straws, crockery, and cutlery, and ensure that the restaurant and supplies are clean and organized. They may also assist with serving food and refilling beverages.
Position
Server  (2 M/F)
Kitchen Staff  (2 M/F)
Food Runner (2 M/F)
Side Worker (Server Assistant) (2 M/F)
Host(2 M/F)
Busser (2 M/F)
Job location
Myrtle Beach, SC
Rate
Server  ($2.13 per hour plus tips when you are done training and on your own. The hourly wage while training is $7.25/hr until you pass your audit. The faster you complete your training and pass the audit, the faster you will make tips)
Kitchen Staff  $13.00 (Kitchen Staff positions include dishwashing, Line Cook, Prep Cook, Fry or Sautee Cook, and Pantry. You will be placed based on your abilities in the kitchen. )
Food Runner  $12.00 per hour
Side Worker (Server Assistant)  $12.00 per hour
Host  $4.00/hr + tips (averaging about $10/hr)
Busser  $3.00/hr + tips (averaging about $10/hr)
Hours
32-40 hours per week
Start Date
7 Mar 2024 – 15 Apr 2024
End Date
10 Jun 2024 – 7 Jul 2024
English level
Upper Intermediate – Advanced
Housing
$125.00 per week ($115-$150 per week , maybe more/less) (Must Arrange Own)
** Deposit amount $300 Upon Arrival
Transportation to work
On foot or bike, public transportation is available to you as well. Depending on the option depends on how long it will take.
** งานนี้ไม่ต้องชำระค่า Premium Job ใดๆทั้งสิ้นนะคะ และข้อมูลของงานดังกล่าว นายจ้างหรือองค์กรแลกเปลี่ยน USA อาจมีการเปลี่ยนแปลงได้ในภายหลัง โดยขึ้นอยู่กับปัจจัยในด้านธุรกิจของนายจ้างนะคะ โดยบริษัทฯ ไม่สามารถควบคุมการเปลี่ยนแปลงใดๆได้ค่ะ หากมีการเปลี่ยนแปลงใดๆเกิดขึ้นทางพี่ทีมงานจะรีบแจ้งข้อมูลอัพเดตให้ทันทีค่ะ 🙂 C
Related Jobs