(เต็มแล้วจ้า) Olde Towne Pizza
Willamsburg, VA
Job Description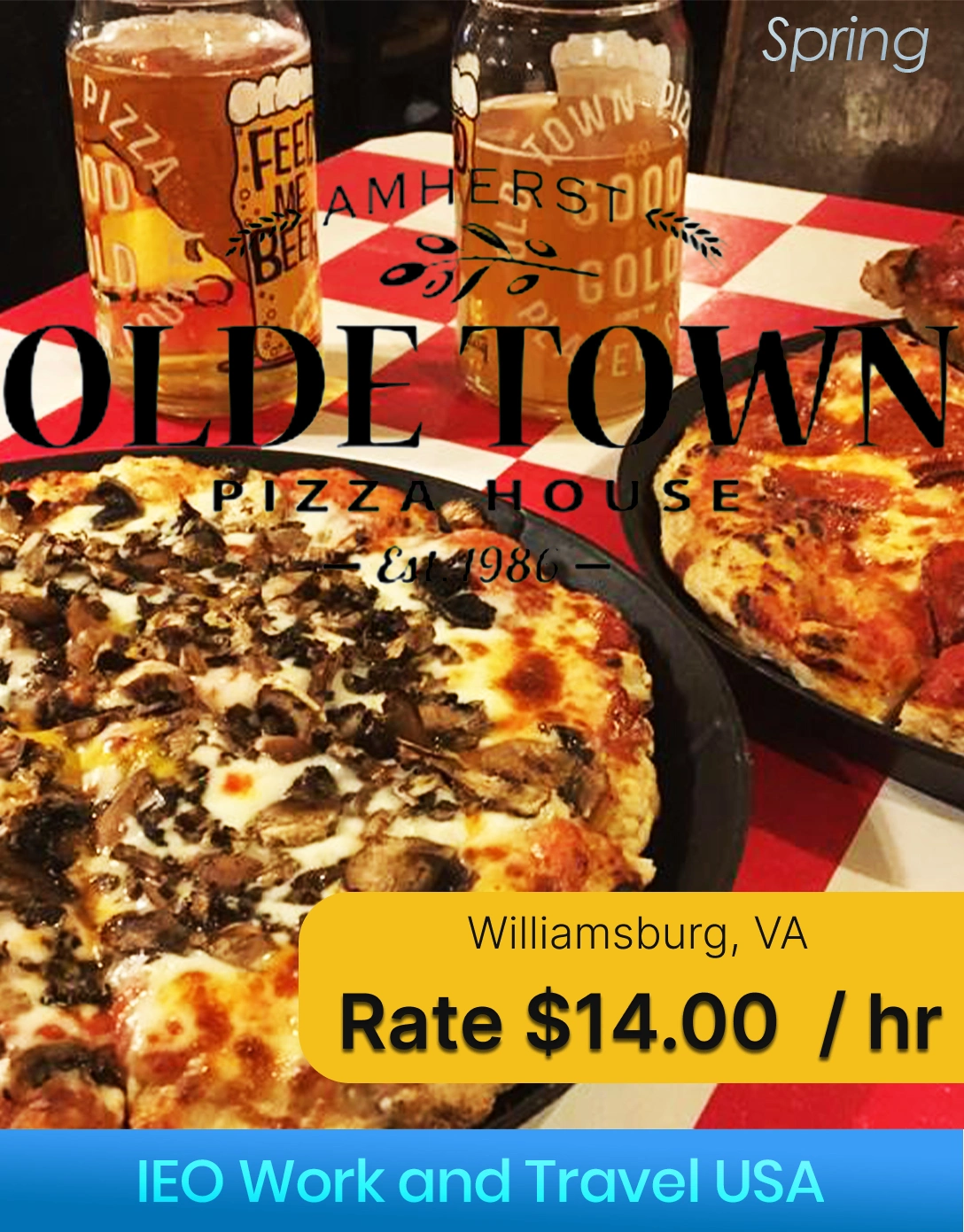 Kitchen  : Pleases customers by providing a pleasant dining experience. Serves meals by reviewing recipes; assembling, combining, and cooking ingredients; and maintaining a sanitary kitchen. Executes cold food production in accordance with standards of plating guide specifications. Attends to the detail and presentation of each order. Places and expedites orders. Prepares ingredients by following recipes; slicing, cutting, chopping, mincing, stirring, whipping, and mixing ingredients; adding seasonings; verifying taste; and plating meals. Completes hot meal preparation by grilling, sautéing, roasting, frying, and broiling ingredients and assembling and refrigerating cold ingredients.
Position
Kitchen  (2 M/F)
Location
Willamsburg, VA
Rate
$14.00 / hour
Extra Benefits
Free pizza and salad
Hours
32-40 hours per week
Start Date
15 Mar 2024 – 10 Apr 2024
End Date
10 Jun 2024 – 7 Jul 2024
English level
Intermediate – Advanced
Housing
$125++ USD per week (Rodeway Inn)
Transportation to work
Students can walk or ride a bike.
** งานนี้ไม่ต้องชำระค่า Premium Job ใดๆทั้งสิ้นนะคะ และข้อมูลของงานดังกล่าว นายจ้างหรือองค์กรแลกเปลี่ยน USA อาจมีการเปลี่ยนแปลงได้ในภายหลัง โดยขึ้นอยู่กับปัจจัยในด้านธุรกิจของนายจ้างนะคะ โดยบริษัทฯ ไม่สามารถควบคุมการเปลี่ยนแปลงใดๆได้ค่ะ หากมีการเปลี่ยนแปลงใดๆเกิดขึ้นทางพี่ทีมงานจะรีบแจ้งข้อมูลอัพเดตให้ทันทีค่ะ 🙂 W
Related Jobs