🆕 Red Roof Inn Market Common Myrtle Beach
MYRTLE BEACH , SC
Job Description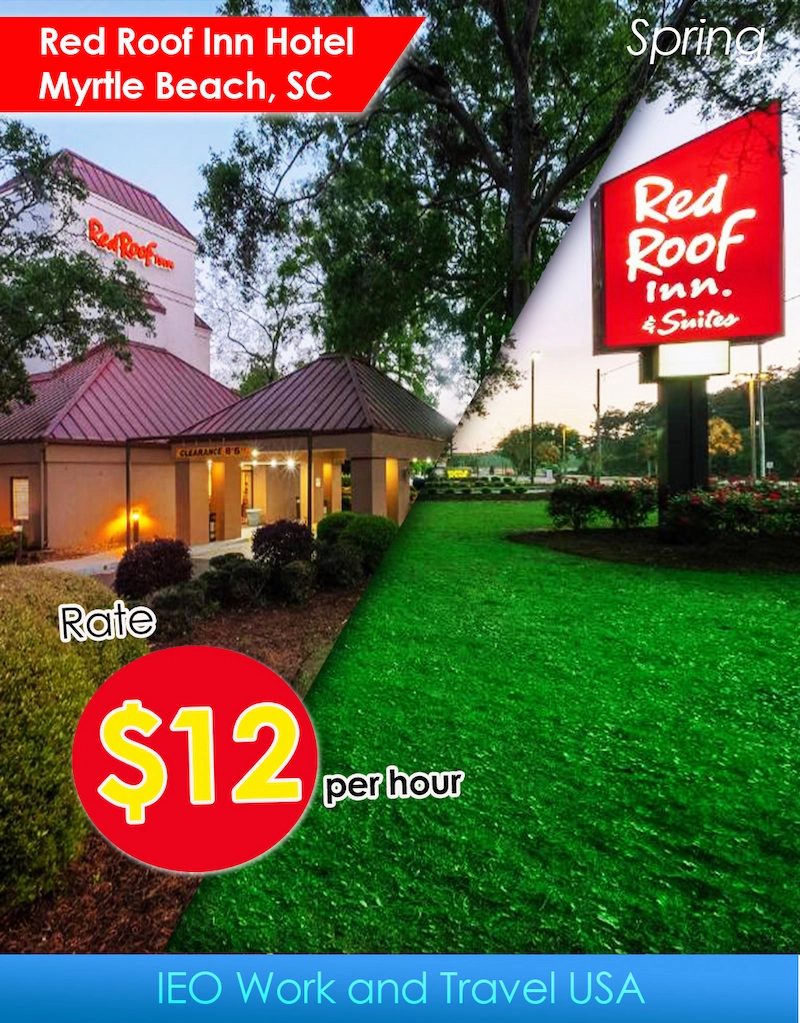 Housekeeping : Keep facilities and common areas clean and maintained. Vacuum, sweep, and mop floors.
Clean and stock restrooms. Clean up spills with appropriate equipment. Notify managers of necessary repairs.
Collect and dispose of trash. Assist guests when necessary. Keep linen room stocked. Properly clean upholstered furniture.
Laundry : Laundry Workers are employed by laundry cleaning services or organizations like hospitals and hotels. Usual duties listed on a Laundry Worker resume include operating washing machines, sorting laundry, removing stains, tagging items, selecting cleaning agents, and drying clothes.
Position
Housekeeping, Laundry  (2 M/F)
Location
Myrtle Beach , SC
Rate
$12.00/hr per hour
Hours
32-40 hours per week
Start Date
1 Apr 2024 – 15 Apr 2024
End Date
7 Jul 2024
English level
Upper Intermediate
Housing
$0.00 / Month (Employer)
3 people / room
Participants must keep their rooms clean at all times. This is mandatory. There will be weekly walk though to check the conditions of your rooms. If there are any damages, everyone in the room is responsible. Job and housing go hand in hand. If you lose your job, you lose your
housing. You can only stay in the hotel while you are working.
Transportation to work
Walking (Housing and employer are on the same property.)
** งานนี้ไม่ต้องชำระค่า Premium Job ใดๆทั้งสิ้นนะคะ และข้อมูลของงานดังกล่าว นายจ้างหรือองค์กรแลกเปลี่ยน USA อาจมีการเปลี่ยนแปลงได้ในภายหลัง โดยขึ้นอยู่กับปัจจัยในด้านธุรกิจของนายจ้างนะคะ โดยบริษัทฯ ไม่สามารถควบคุมการเปลี่ยนแปลงใดๆได้ค่ะ หากมีการเปลี่ยนแปลงใดๆเกิดขึ้นทางพี่ทีมงานจะรีบแจ้งข้อมูลอัพเดตให้ทันทีค่ะ 🙂 C
Related Jobs