🆕 Sand and Sun – Broadway at the Beach – Myrtle Beach, SC
MYRTLE BEACH , SC
Job Description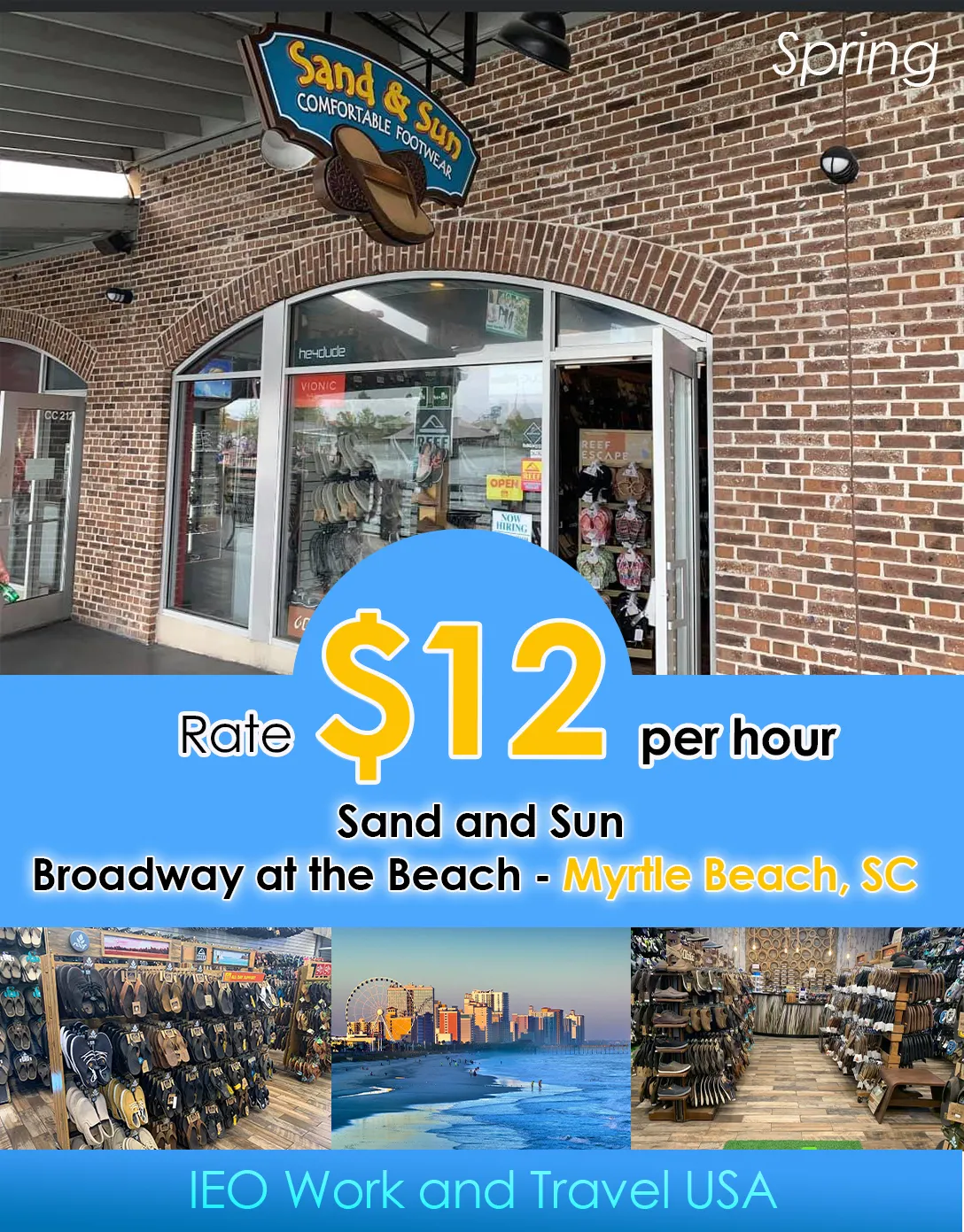 Sales Assistant : Assisting the customers find what shoe/sandal they are looking for, have the ability to answer any questions they may have about any style of shoe, and tendering cash/credit transactions. Being knowledgeable of all products in the shop will help you succeed in this position.
Position
Sales Assistant (2 M/F)
Location
Myrtle Beach, SC
Rate
$12.00/hr. Performance-based raise may apply during your program
Hours
32-40 hours per week
Start Date
7 Mar 2024 – 15 Apr 2024
End Date
10 Jun 2024 – 7 Jul 2024
English level
Upper Intermediate – Advanced
Housing
$125.00 per Week ($115-$150 per week, maybe more/less) (Must Arrange Own)
Deposit amount: $300.00 (Depends)
Transportation to work
On foot or bike, public tran is available to you as well. Depending on the option depends osportationn how long it will take.
** งานนี้ไม่ต้องชำระค่า Premium Job ใดๆทั้งสิ้นนะคะ และข้อมูลของงานดังกล่าว นายจ้างหรือองค์กรแลกเปลี่ยน USA อาจมีการเปลี่ยนแปลงได้ในภายหลัง โดยขึ้นอยู่กับปัจจัยในด้านธุรกิจของนายจ้างนะคะ โดยบริษัทฯ ไม่สามารถควบคุมการเปลี่ยนแปลงใดๆได้ค่ะ หากมีการเปลี่ยนแปลงใดๆเกิดขึ้นทางพี่ทีมงานจะรีบแจ้งข้อมูลอัพเดตให้ทันทีค่ะ 🙂 C
Related Jobs