🆕 Americ Inn Lodge And Suites
Okoboji , IA
Job Description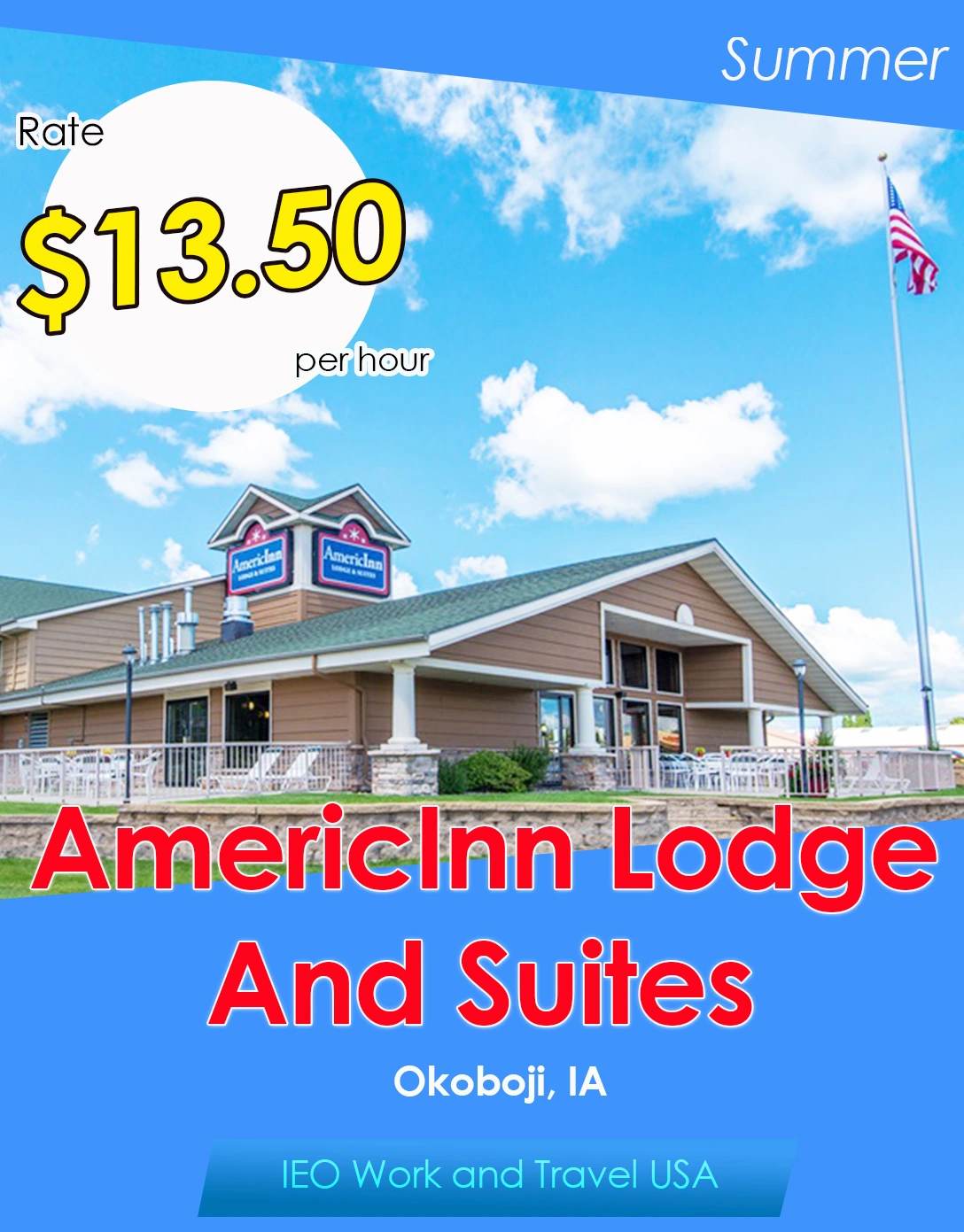 Housekeeping: Participants will be responsible for cleaning and preparing guest rooms, cleaning bathrooms, reporting necessary maintenance repairs, and assisting guests in a kind and courteous manner. Additional responsibilities may include washing and folding of all bed linens and towels, sorting, folding, and distributing clean linens, and delivering and picking up laundry. General cleaning and additional duties may be assigned by supervisor as necessary. Participants will be in contact with cleaning chemicals in this position.
Position
Housekeeping (3 Female)
Rate
$13.50 per hour
Hours
32-40 hours per week
Start Date
1 Jun 2024 – 10 Jun 2024
End Date
25 Aug 2024 – 7 Sep 2024
English level
Intermediate – Upper Intermediate
Housing
$83.25 per person, per week
Deposit Amount $333 per person
Housing will be in a 2 bedroom, 2 bathroom condominium with a living room, kitchen, deck, pool access, washer, and dryer. Each bedroom will have 2 sets of bunk beds and will accommodate 4 people for a total of up to 8 in the full apartment. No smoking or pets are allowed.
Transportation to work
Students can walk or ride a bike.
** งานนี้ไม่ต้องชำระค่า Premium Job ใดๆทั้งสิ้นนะคะ และข้อมูลของงานดังกล่าว นายจ้างหรือองค์กรแลกเปลี่ยน USA อาจมีการเปลี่ยนแปลงได้ในภายหลัง โดยขึ้นอยู่กับปัจจัยในด้านธุรกิจของนายจ้างนะคะ โดยบริษัทฯ ไม่สามารถควบคุมการเปลี่ยนแปลงใดๆได้ค่ะ หากมีการเปลี่ยนแปลงใดๆเกิดขึ้นทางพี่ทีมงานจะรีบแจ้งข้อมูลอัพเดตให้ทันทีค่ะ 🙂 S
Related Jobs