🆕 Aramark – Citi Field
Flushing , NY
Job Description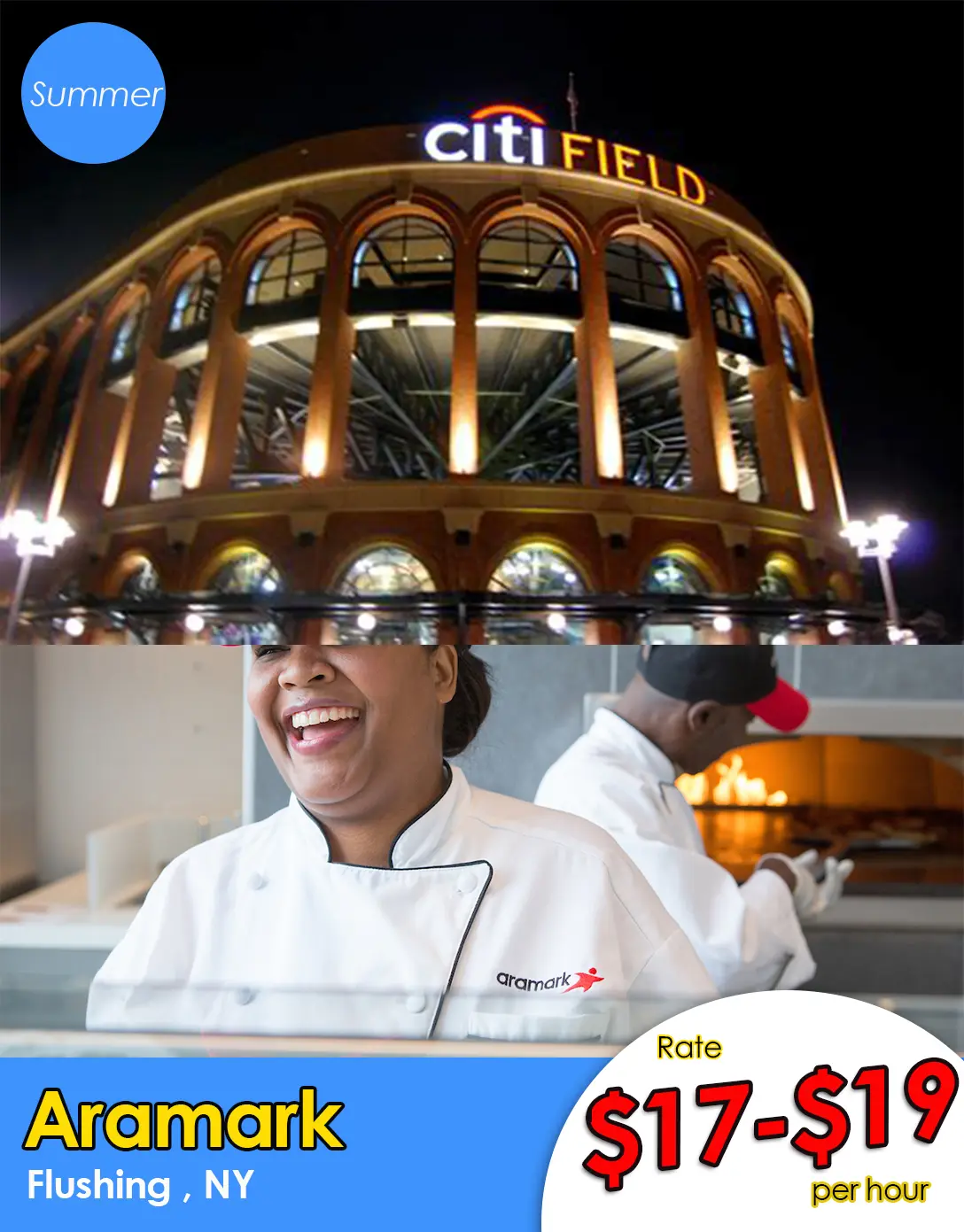 Cook : is responsible for cooking and preparing food according to recipes and production guidelines while adhering to food safety, food handling, and sanitation procedures. The Cook should safely handle knives and equipment such as grills, fryers, ovens, broilers, etc.
Cooks and prepare a variety of food according to production guidelines and standardized recipes Sets up workstation with all needed ingredients and equipment
Prepares ingredients by measuring, weighing, mixing, chopping, trimming, and peeling food items Safely utilizes a variety of utensils including knives Operates equipment such as ovens, stoves, slicers, mixers, etc. Bakes, roasts, broils, steams, and uses a variety of cooking methods on meat, vegetables, and other foods Arranges, garnishes, and portions food according to established guidelines Properly stores food by adhering to food safety policies and procedures Cleans and sanitizes work areas, equipment, and utensils Maintains excellent customer service and positive attitude towards guests, customers, clients, co-workers, etc. Adheres to Aramark safety policies and procedures including proper food safety and sanitation Other duties and tasks as assigned by manager
Stand Associate: The Aramark Stand Associate is responsible for accurately processing retail merchandise transactions, maintaining the balance of the cash drawer, providing customer service to guests, preparing or building food items while providing customer service and adhering to food safety, food handling, and sanitation procedures. .
Operates a register and handles cash and credit card transactions Greet and assists customers while anticipating their needs Count, organize, and balance cash drawer; fill out the cashier slip; and make deposits Adheres to cash handling policies and procedures Ensures security of company assets Prepares and builds food items according to standardized recipes and directions Properly stores food by adhering to food safety policies and procedures Sets up workstations including prep tables, service counters, hot wells, steam tables, etc. Breaks down, cleans, and sanitizes work stations Serves food to customers while ensuring guest satisfaction and anticipating the customers'
needs Replenishes food items and ensures product is stocked to appropriate levels Maintains excellent customer service and positive attitude towards guests, customers, clients, co-workers, etc. Adheres to Aramark safety policies and procedures including proper food safety and sanitation Other duties and tasks as assigned by manager
Position
Cook – Event Based Position – Second Time W&T Preferred (6 M/F)
Stand Associate – Event Based Position – Second Time W&T Preferred (6 M/F)
Location
Flushing , NY
Rate
Cook $19.00 per hour
Stand Associate $17.00 per hour
Hours
32-40 hours per week
Start Date
8 May 2024 – 15 Jun 2024
End Date
22 Aug 2024 – 7 Sep 2024
English level
Upper Intermediate – Advanced
Housing
$45.00 per day (Must Arrange Own) **Starting at $45 a night
**Deposit $600 – $800 (Upon Arrival)
Transportation to work
Public transportation
** งานนี้ไม่ต้องชำระค่า Premium Job ใดๆทั้งสิ้นนะคะ และข้อมูลของงานดังกล่าว นายจ้างหรือองค์กรแลกเปลี่ยน USA อาจมีการเปลี่ยนแปลงได้ในภายหลัง โดยขึ้นอยู่กับปัจจัยในด้านธุรกิจของนายจ้างนะคะ โดยบริษัทฯ ไม่สามารถควบคุมการเปลี่ยนแปลงใดๆได้ค่ะ หากมีการเปลี่ยนแปลงใดๆเกิดขึ้นทางพี่ทีมงานจะรีบแจ้งข้อมูลอัพเดตให้ทันทีค่ะ 🙂 C
Related Jobs