🆕 Atlantic Pier Amusements
Amusement Park Atlantic City, NJ
Job Description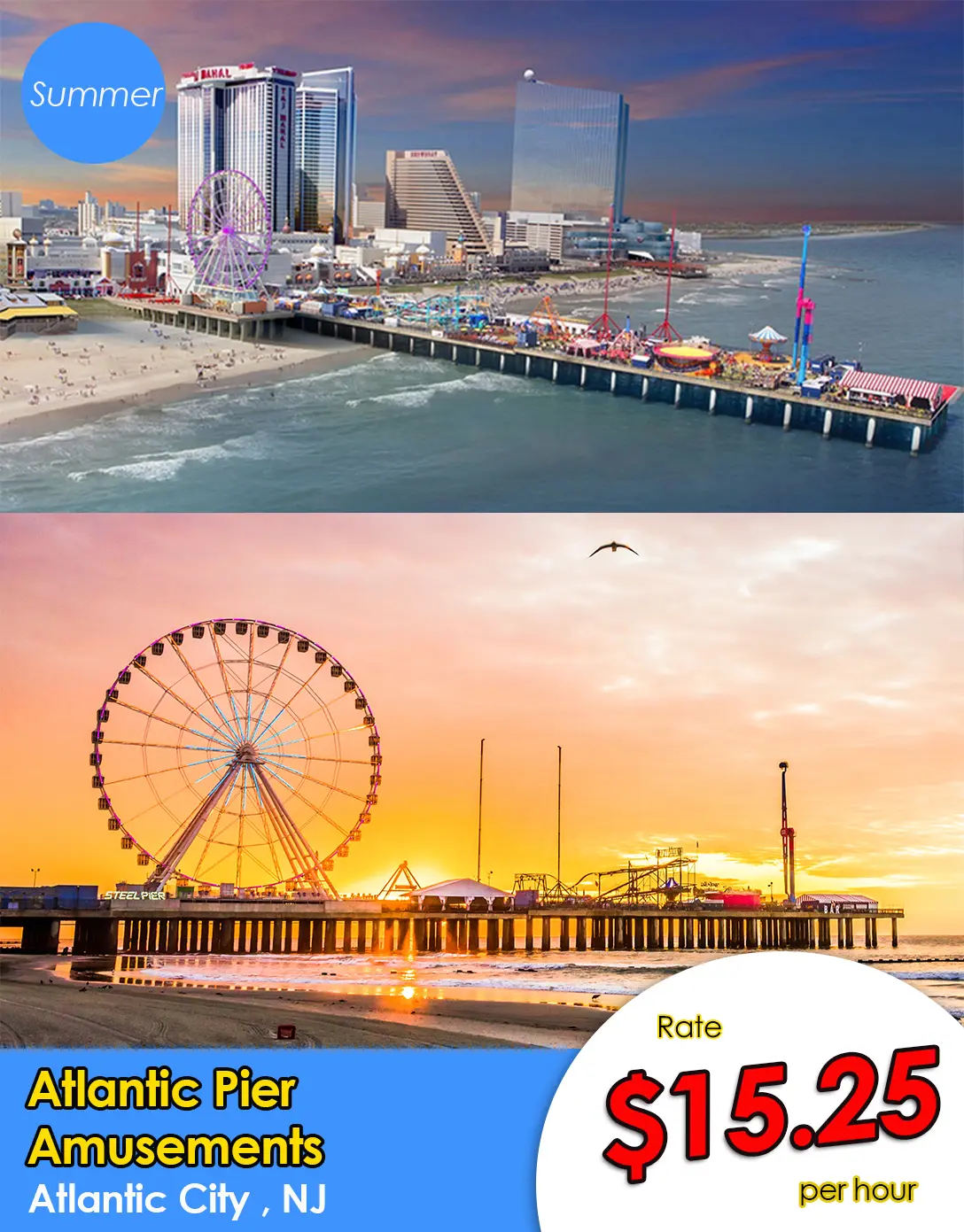 Groundskeeper :
Keep all flower pots throughout the park clean and debris free.
Clean all areas of the park regardless of the designated area.
Clean restrooms – sweep/mop floors, toilets, walls, and sinks on a daily and hourly basis. Restock hand towels and hand soap.
Remove trash from a designated area or wherever needed.
Maintain a clean dumpster area.
Follow a detailed worksheet for the designated area.
Clean windows, glass partitions, and mirrors wherever needed.
Clean and maintain all outside food areas.
Help to move equipment and inventory throughout the park.
Keep the equipment storage room neat, clean, and organized.
Return all materials and equipment used back to design
Ride Operator :
Ensure ride perimeter fencing is locked and secured
Conduct ride and area safety checks
Operate attractions per standard operating procedure
Climb raised platforms and staircases
Provide verbal safety instructions to guests
Monitor and respond to inappropriate guest behavior, by enforcing rules and regulations
Responsible for the safe and efficient operation of the attra
Game Attendant :
Greet pier guests in a friendly and enthusiastic manner.
Answer questions and provide information about the games, prizes, and rules.
Use a microphone to make announcements and encourage guests to try out the different games and attractions.
Highlight the unique features and prizes associated with each game.
Convey a sense of excitement and enthusiasm to attract guests to your area.
Clearly explain the rules and instructions for each game to ensure guests understand how to play.
Assist guests in understanding the chances of winning and any special requirements for participation.
Collect payments from guests who wish to play games or purchase tickets.
Provide change and receipts as necessary.
Keep an eye on the game areas to ensure they are clean and organized.
Distribute prizes to guests who win games or accumulate enough points/tickets.
Manage lines and queues to maintain order and fairness.
Suggest combo deals or promotions to encourage guests to participate in multiple games.
Be attentive to upselling opportunities without
Slingshot – Ride Operator :
Direct patrons on how to enter and exit rides.
Help people get on and off rides. Ability to lift children that weigh 40 lbs (18 kgs) or more. Make sure that patrons are securely seated in rides.
Keep an eye on patrons and their movements to ensure they are not in any danger.
If necessary, take proper steps to remove disorderly people from rides.
Responsible for keeping work stations and surrounding areas clean and maintai
Retail Sales Associate :
Demonstrate the use of toys, particularly bubble blowers, to engage and excite pier visitors.
Interact with children, encouraging them to express interest and enthusiasm for our toys and merchandise.
Assist customers in selecting and purchasing a variety of items, including toys, shirts, bag and novelties.
Provide detailed and accurate product information to assist customers in making informedpurchasing decisions.
Deliver exceptional customer service by promptly addressing questions, concerns, andinquiries.
Ensure accurate and efficient transactions at the cash register, handling cash andprocessing payments with precision.
Maintain an attractive, organized, and well-stocked display area to showcase merchandiseeffectively.
Promote a safe and secure shopping environment by adhering to pier safety policies andguidelines.
Ability to communicate effectively in a professional manner with coworkers, supervisors,and pier guests
Ability to learn and understand all policies and procedures pertinent to the departmentand the functions of the job
Must be able to interact in a multicultural environment with a variety of ages
Able to work in all weather conditions
Must be able to lift 50lbs (22 Kgs) or more
Maintaining a clean, safe, hazard-free work environment within the area of responsibility.
Performing other duties as assigned
Ticket Cashier :
Greet guests warmly and provide information about ticket options and pricing.
Assist guests in selecting the appropriate tickets or wristbands according to their needs.
Handle cash transactions accurately and provide change when required.
Answer guest questions and address concerns related to tickets or wristbands.
Utilize a cash register or point-of-sale (POS) system to record and process sales.
Collect payments from guests, including cash, credit/debit cards, or other methods.
Securely process credit card payments in accordance with established procedures.
Maintain a clean and organized work area to ensure efficient operations.
Properly dispose of waste and litter, such as ticket stubs
Position
Groundskeeper (3 M/F)❌ (เต็มแล้วจ้า)
Ride Operator (5 M/F)
Game Attendant (5 M/F)❌ (เต็มแล้วจ้า)
Slingshot – Ride Operator (4 M/F)❌ (เต็มแล้วจ้า)
Retail Sales Associate (5 M/F) ❌ (เต็มแล้วจ้า)
Ticket Cashier (4 M/F) ❌ (เต็มแล้วจ้า)
Location
ATLANTIC CITY, NJ
Rate
$15.25 per hour
Hours
32-40 hours per week
Start Date
15 May 2024 – 15 Jun 2024
End Date
3 Sep 2024 – 7 Sep 2024
English level
Upper Intermediate – Advanced
Housing
$162.50 to $243.75 per person per Week (Must Arrange Own)
Deposit amount : $575 to $743.75 (On Arrival)
Transportation to work
Students can walk or ride a bike.
** งานนี้ไม่ต้องชำระค่า Premium Job ใดๆทั้งสิ้นนะคะ และข้อมูลของงานดังกล่าว นายจ้างหรือองค์กรแลกเปลี่ยน USA อาจมีการเปลี่ยนแปลงได้ในภายหลัง โดยขึ้นอยู่กับปัจจัยในด้านธุรกิจของนายจ้างนะคะ โดยบริษัทฯ ไม่สามารถควบคุมการเปลี่ยนแปลงใดๆได้ค่ะ หากมีการเปลี่ยนแปลงใดๆเกิดขึ้นทางพี่ทีมงานจะรีบแจ้งข้อมูลอัพเดตให้ทันทีค่ะ 🙂 C
Related Jobs