🆕 Bakers Bakery and Cafe
Bakery Custer, SD
Job Description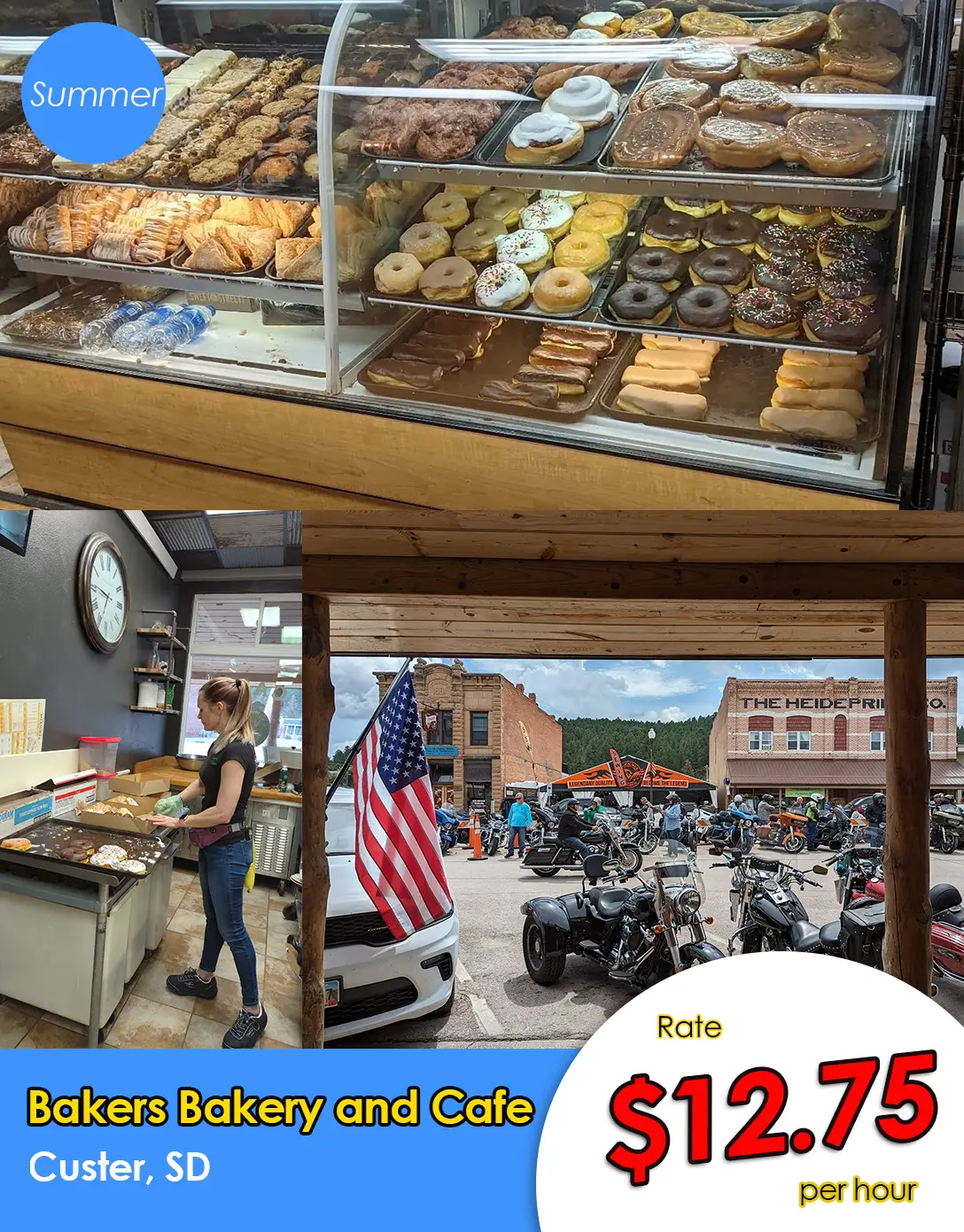 Back of House Associate  Back of House Associate will train and potentially rotate through various positions within the kitchen area.
Busser/Dishwasher duties include but are not limited to clearing tables, taking dirty dishes to the dishwasher and making sure the front of the house is neat and clean. Duties also include taking out the trash, sweeping the floor and keeping all tables cleared and clean. Cleaning restrooms may also be required as well as other duties as assigned by the supervisor. Dishwashers will wash, dry and take care of dishes and provide kitchen assistance as needed. Will lift, carry and empty dish tubs. Will scrape, stack and rinse dishes, load dish trays and run through the dishwasher. Will return clean dishes to proper location in the kitchen. Must be able to work in a hot, wet work environment. General cleaning is required and other duties may be assigned by supervisor as necessary.
Baker/Prep Cook duties may include but are not limited to baking bread and pastries, prep, organization and cleanliness of station. Prepare menu items to the specifications of the restaurant. When necessary, prep cook will assist other stations in the kitchen, prepare food to order or work on prep, stock necessary items or work on cleaning projects. General cleaning is required and other duties may be assigned by supervisor as necessary.
This position requires standing and lifting.
Participant should be flexible with position assignments. Position requires participant to use cleaning chemicals.
Position
Back of House Associate (3 Female 3 Male)
Location
Custer, SD
Rate
$12.75 per hour
Hours
32-40 hours per week
Start Date
7 May 2024 – 15 Jun 2024
End Date
1 Sep 2024 – 7 Sep 2024
English level
Upper intermediate – Advanced
Housing
$75 per person per week
Deposit Amount $300
**Participant will live in either an on-site apartment or an off-site single family home. Host employer will determine housing based on gender. Participant will be placed at one of the following housing locations: – A 2 bedroom, 1 bathroom apartment which includes a full kitchen and internet. Coin operated laundry facilities nearby. This apartment is location on-site. – A shared single family house with 2 bedrooms, 2 bathrooms, a full kitchen, sitting area, internet and laundry facilities. This house is located two blocks away from worksite. $200 flat utility and wifi fee for the season is required upon arrival.
Transportation to work
Walk
** งานนี้ไม่ต้องชำระค่า Premium Job ใดๆทั้งสิ้นนะคะ และข้อมูลของงานดังกล่าว นายจ้างหรือองค์กรแลกเปลี่ยน USA อาจมีการเปลี่ยนแปลงได้ในภายหลัง โดยขึ้นอยู่กับปัจจัยในด้านธุรกิจของนายจ้างนะคะ โดยบริษัทฯ ไม่สามารถควบคุมการเปลี่ยนแปลงใดๆได้ค่ะ หากมีการเปลี่ยนแปลงใดๆเกิดขึ้นทางพี่ทีมงานจะรีบแจ้งข้อมูลอัพเดตให้ทันทีค่ะ 🙂 S
Related Jobs