🆕 Best Western Weston Inn
Hotel West Yellowstone , MT
Job Description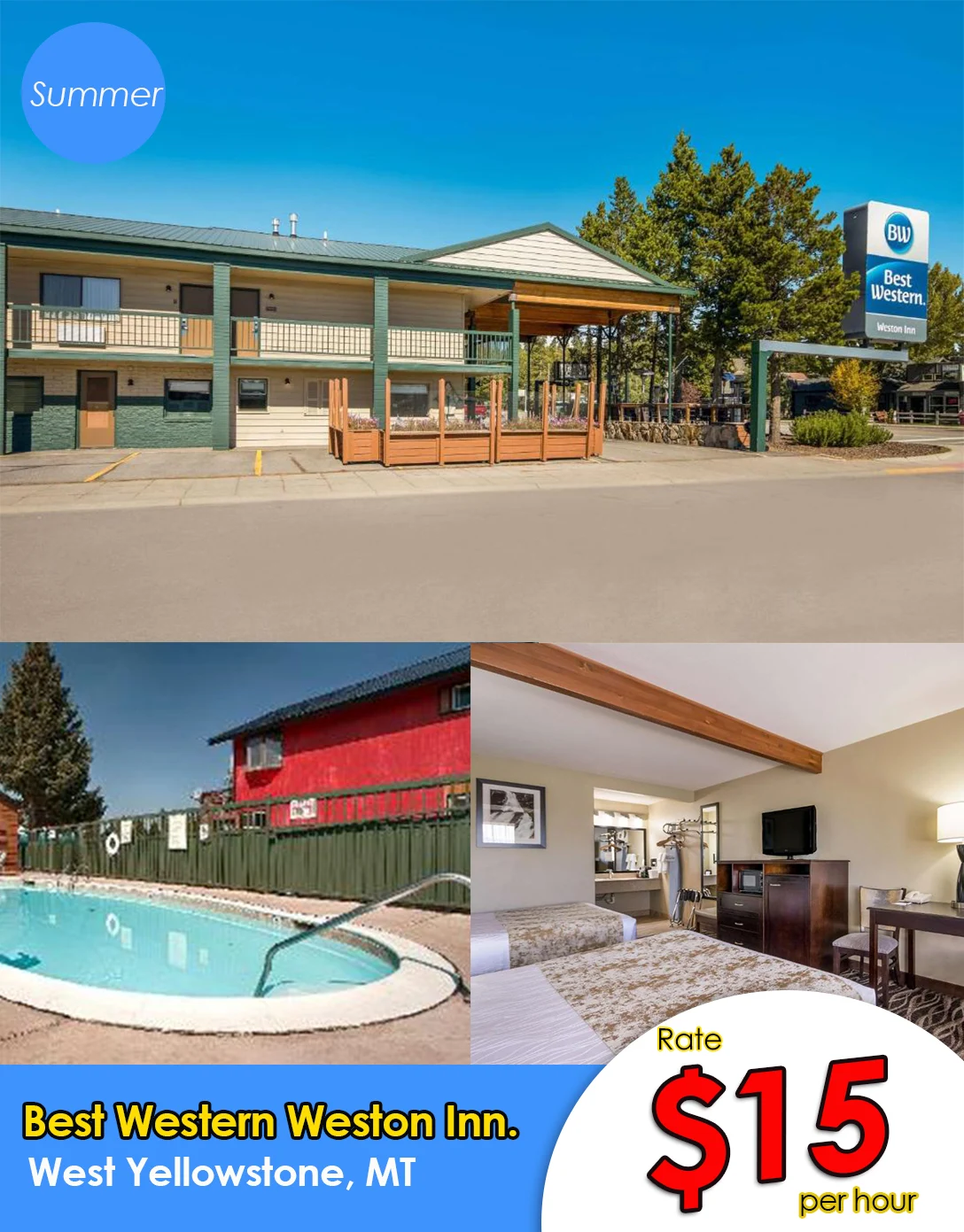 Front Desk Agent/Breakfast Attendant : Front desk duties include but are not limited to: greeting and assisting customers, handling reservations, checking customers in and out of motel, processing payments, answering guest questions, answering phones and maintaining cleanliness of hotel lobby.
Breakfast attendant duties include but are not limited to: preparing hot and cold breakfast foods and drinks, maintaining buffet area, and ensuring the general area is clean. General cleaning and other duties may be assigned by supervisor as necessary. This job requires lifting, standing, walking, and bending.
Position
Front Desk Agent/Breakfast Attendant (4 M/F)
Location
West Yellowstone , MT
Rate
$15.00 per hour.
Hours
32-40 hours per week
Start Date
23 May 2024 – 15 Jun 2024
End Date
2 Sep 2024 – 6 Sep 2024
English level
Upper Intermediate – Advanced
Housing
$7 per person, per day (Employer)
Deposit Amount $0
**Participants will live in housing provided by the employer. The unit is a three bedroom, 2.5 bathroom home. The house has a common living space and kitchen. Rent is returned if participants stay through their program end date and if they are in good standing with the employer at discretion of employer.
Transportation to work
Students can walk or ride a bike.
** งานนี้ไม่ต้องชำระค่า Premium Job ใดๆทั้งสิ้นนะคะ และข้อมูลของงานดังกล่าว นายจ้างหรือองค์กรแลกเปลี่ยน USA อาจมีการเปลี่ยนแปลงได้ในภายหลัง โดยขึ้นอยู่กับปัจจัยในด้านธุรกิจของนายจ้างนะคะ โดยบริษัทฯ ไม่สามารถควบคุมการเปลี่ยนแปลงใดๆได้ค่ะ หากมีการเปลี่ยนแปลงใดๆเกิดขึ้นทางพี่ทีมงานจะรีบแจ้งข้อมูลอัพเดตให้ทันทีค่ะ 🙂 S
Related Jobs