🆕 Bracco Restaurant
Arnolds Park , IA Restaurant
Job Description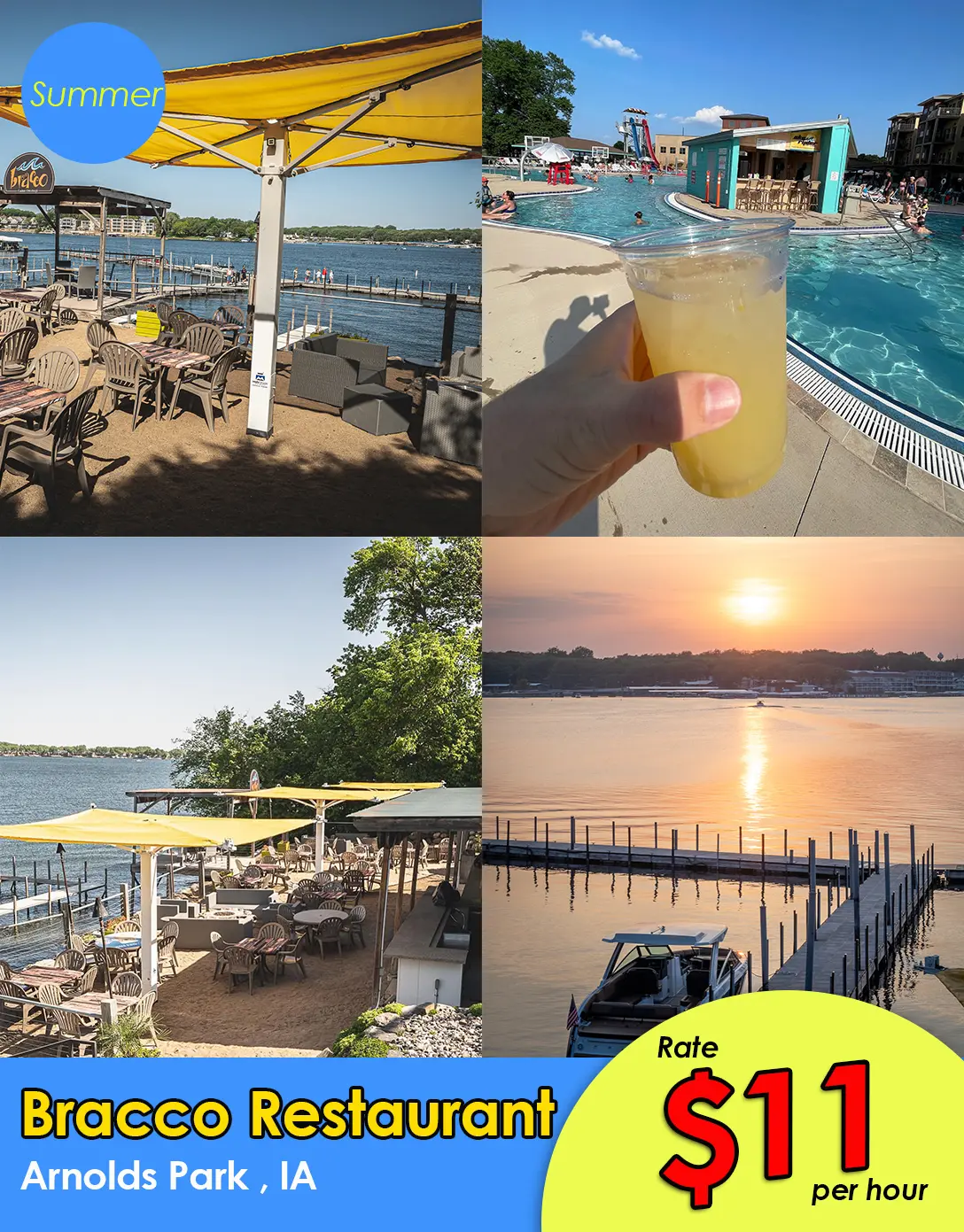 General Restaurant Employee : Employment and housing are offered as a package. Participant must be prepared and willing to work any of the following positions. In all positions, general cleaning is required and additional duties may be assigned by supervisor.
Bussers are responsible for maintaining a clean and organized restaurant, primarily in the dining area. Clearing and setting tables are primary duties.
Cooks are responsible for cleaning the kitchen and preparing items on the menu.
Dishwashers are responsible for maintaining kitchen work areas, washing dishes and utensils, sweeping and mopping floors, and monitoring proper chemical levels in dishwasher.
Prep cooks are responsible for light preparation of food and assembling ingredients for items on menu.
Food and drink runners are responsible for delivering food and beverages to customers.
Cashiers are responsible for ringing up and producing receipts, helping with guest transactions, and welcoming guests as they enter the restaurant.
General restaurant cleaners are responsible for maintaining the general cleanliness of the restaurant. Sweeping, mopping, emptying the trash, cleaning tables, cleaning bathrooms, and dusting are primary duties.
The restaurant is open from 10am-12am. Participants may be asked to work shifts at any time between 10am-12am, and must be willing to work evenings, weekends, and holidays. Participants must be comfortable using cleaning chemicals.
Position
General Restaurant Employee (13 M/F) 
Location
Arnolds Park , IA
Rate
$11.00 per hour
Hours
32-40 hours per week
Start Date – End Date
Start 7 May 2024 – 5 Jun 2024
End 15 Aug 2024 – 7 Sep 2024
Start 20 May – 10 Jun 2024
End 31 Aug 2024 – 7 Sep 2024
English level
Upper Intermediate – Advanced
Housing
$450 per person, per month
** Deposit amount $150
**Housing will be in an employee dormitory with 12 rooms and 2 shared bathrooms with 3 showers and 3 toilet stalls in each. There is 1 bathroom per floor which will be shared by up to 12 people. Each bathroom has 3 sinks, 3 stalls with toilets, and 3 stalls with individual showers. Bathrooms are separated by gender. Bedrooms are shared by 2 people per room. Housing includes one shared kitchen and laundry room per floor. Bedrooms are shared by 2 people per room, and there is one shared kitchen and laundry room per floor.
Transportation to work
Walk, bike, or take Boji Rides taxi service
** งานนี้ไม่ต้องชำระค่า Premium Job ใดๆทั้งสิ้นนะคะ และข้อมูลของงานดังกล่าว นายจ้างหรือองค์กรแลกเปลี่ยน USA อาจมีการเปลี่ยนแปลงได้ในภายหลัง โดยขึ้นอยู่กับปัจจัยในด้านธุรกิจของนายจ้างนะคะ โดยบริษัทฯ ไม่สามารถควบคุมการเปลี่ยนแปลงใดๆได้ค่ะ หากมีการเปลี่ยนแปลงใดๆเกิดขึ้นทางพี่ทีมงานจะรีบแจ้งข้อมูลอัพเดตให้ทันทีค่ะ 🙂 S
Related Jobs