🆕 Burro Azul – The Spot LLC. Restaurant
Gulf Shores , AL
Job Description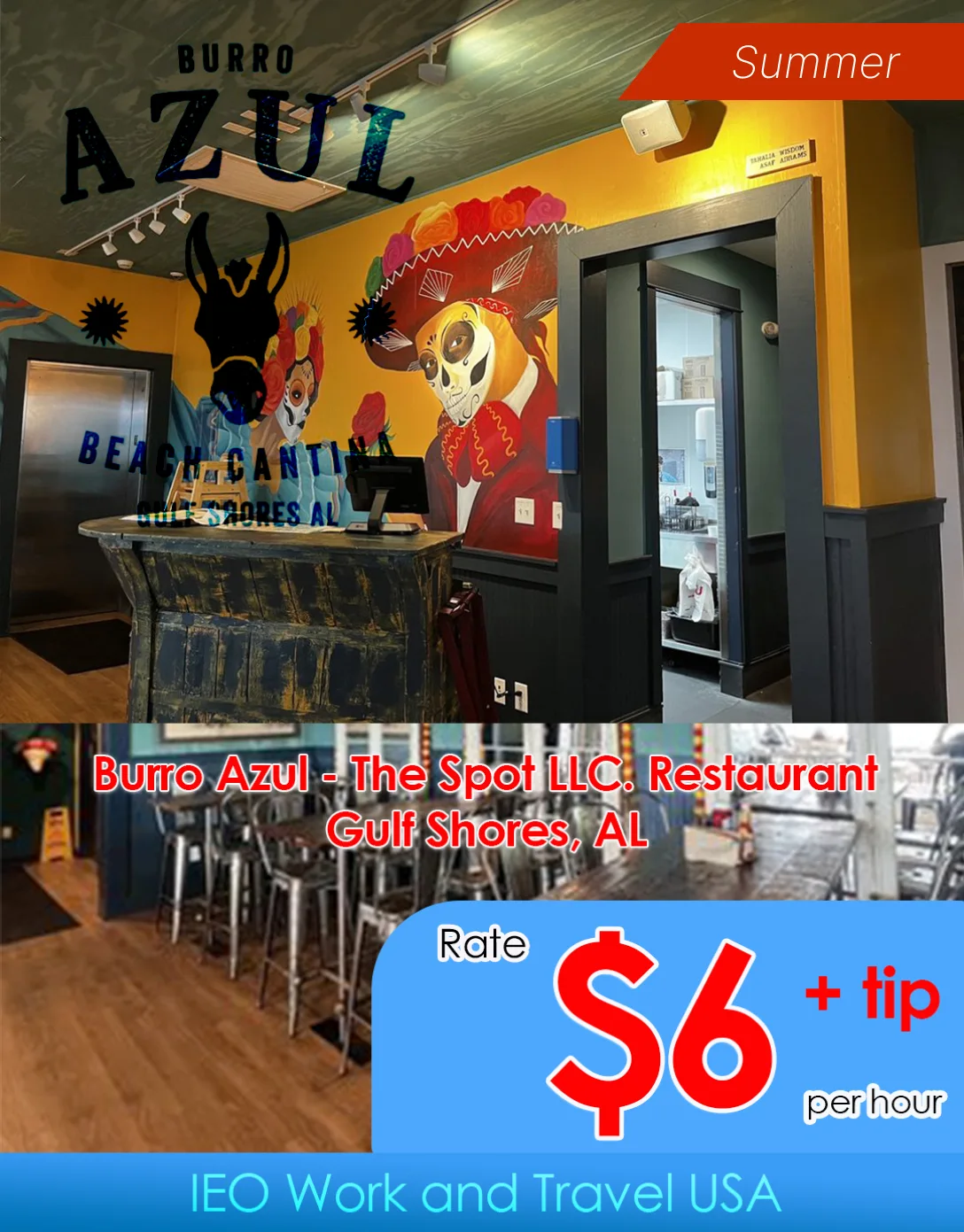 Food Runner and Busser : Participants will rotate between the Food Runner and Busser Positions.
Food Runner responsibilities include, but are not limited to: ensuring a consistent flow of service to guests and servers by efficiently organizing and delivering food to the tables; ensuring the quality of food before leaving the kitchen; delivering food to the correct person at the correct table; maintaining a clean and organized working environment.
Bussing responsibilities include, but are not limited to: maintains the cleanliness of dining and beach areas, removes dishes, utensils, glassware, and paper products from tables and dining areas; delivers dishes and utensils to the dishwasher for cleaning; empties food and paper waste to trash; arranges tables and chairs upon guest's departure; sweeps around and under each table/chair upon guest departure; mops when necessary.
Other duties will be assigned by the supervisor as necessary.
Position
Food Runner and Busser (4 M/F)
Location
Gulf Shores, AL
Rate
$6.00 per hour plus tips to equal minimum of $12.00 per hour.
Hours
32-40 hours per week
Start Date – End Date
Start 7 May 2024 – 13 May 2024
End 17 Aug 2024 – 30 Jun 2024 (*not arrive between May 14 -20; no exceptions*)
Start 21 May 2024 – 2 Jun 2024
End 20 Aug 2024 – 7 Sep 2024 (*not arrive between May 14 – May 20*)
English level
Intermediate – Advanced
Housing
$150 per person, per week
Deposit Amount $150
Transportation to work
Employer arranged shuttle $0 to walk / $0 for employer arranged shuttle
** งานนี้ไม่ต้องชำระค่า Premium Job ใดๆทั้งสิ้นนะคะ และข้อมูลของงานดังกล่าว นายจ้างหรือองค์กรแลกเปลี่ยน USA อาจมีการเปลี่ยนแปลงได้ในภายหลัง โดยขึ้นอยู่กับปัจจัยในด้านธุรกิจของนายจ้างนะคะ โดยบริษัทฯ ไม่สามารถควบคุมการเปลี่ยนแปลงใดๆได้ค่ะ หากมีการเปลี่ยนแปลงใดๆเกิดขึ้นทางพี่ทีมงานจะรีบแจ้งข้อมูลอัพเดตให้ทันทีค่ะ 🙂 S
Related Jobs