🆕 CC Shirts
Hampton , NH Store
Job Description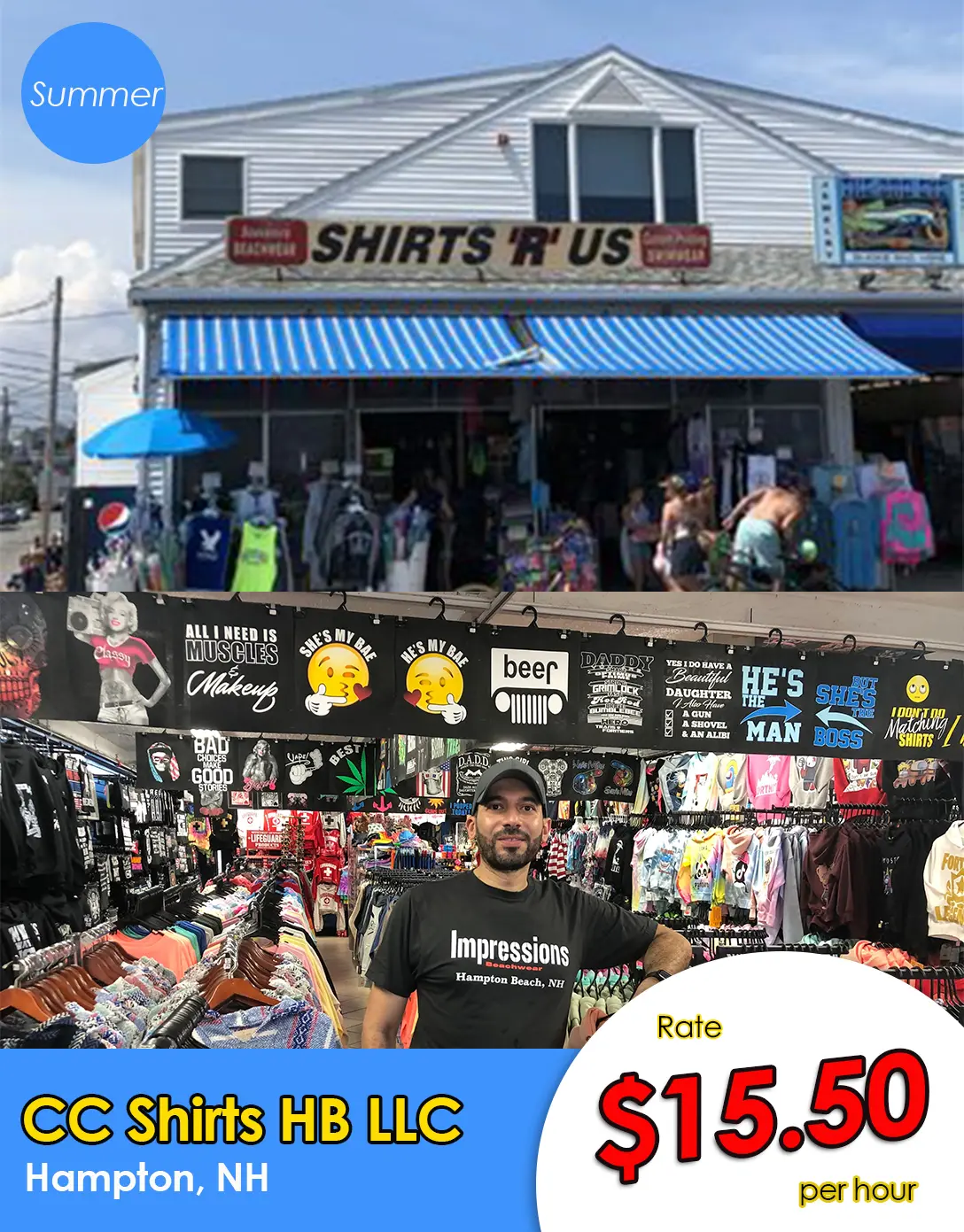 Retail Store Associate: Participant duties include but are not limited to: greeting customers and informing them about daily specials, restocking merchandise, checking customers out on the cash register, and some daily cleaning and maintenance of store.
Other duties may be assigned by manager as needed. Position requires use of cleaning chemicals. This position requires standing for long periods of time and lifting.
Position
Retail Store Associate (6 Female)
Location
Hampton, NH
Rate
$15.50 per hour
Hours
32-40 hours per week
Start Date
1 Jun 2024 – 15 Jun 2024
End Date
1 Sep 2024 – 7 Sep 2024
English level
Upper Intermediate – Advanced
Housing
$140 per person per week
**Deposit $250
**Participant will share an apartment to be determined by host employer. Apartment includes 1 bathroom a full kitchen and internet. Laundry facilities not available in housing but coin-operated facilities are nearby. Participant must bring their own linens and toiletries.
Transportation to work
Students can walk or ride a bike.
** งานนี้ไม่ต้องชำระค่า Premium Job ใดๆทั้งสิ้นนะคะ และข้อมูลของงานดังกล่าว นายจ้างหรือองค์กรแลกเปลี่ยน USA อาจมีการเปลี่ยนแปลงได้ในภายหลัง โดยขึ้นอยู่กับปัจจัยในด้านธุรกิจของนายจ้างนะคะ โดยบริษัทฯ ไม่สามารถควบคุมการเปลี่ยนแปลงใดๆได้ค่ะ หากมีการเปลี่ยนแปลงใดๆเกิดขึ้นทางพี่ทีมงานจะรีบแจ้งข้อมูลอัพเดตให้ทันทีค่ะ 🙂 S
Related Jobs