🆕 Cliff House Maine
Cape Neddick, ME
Job Description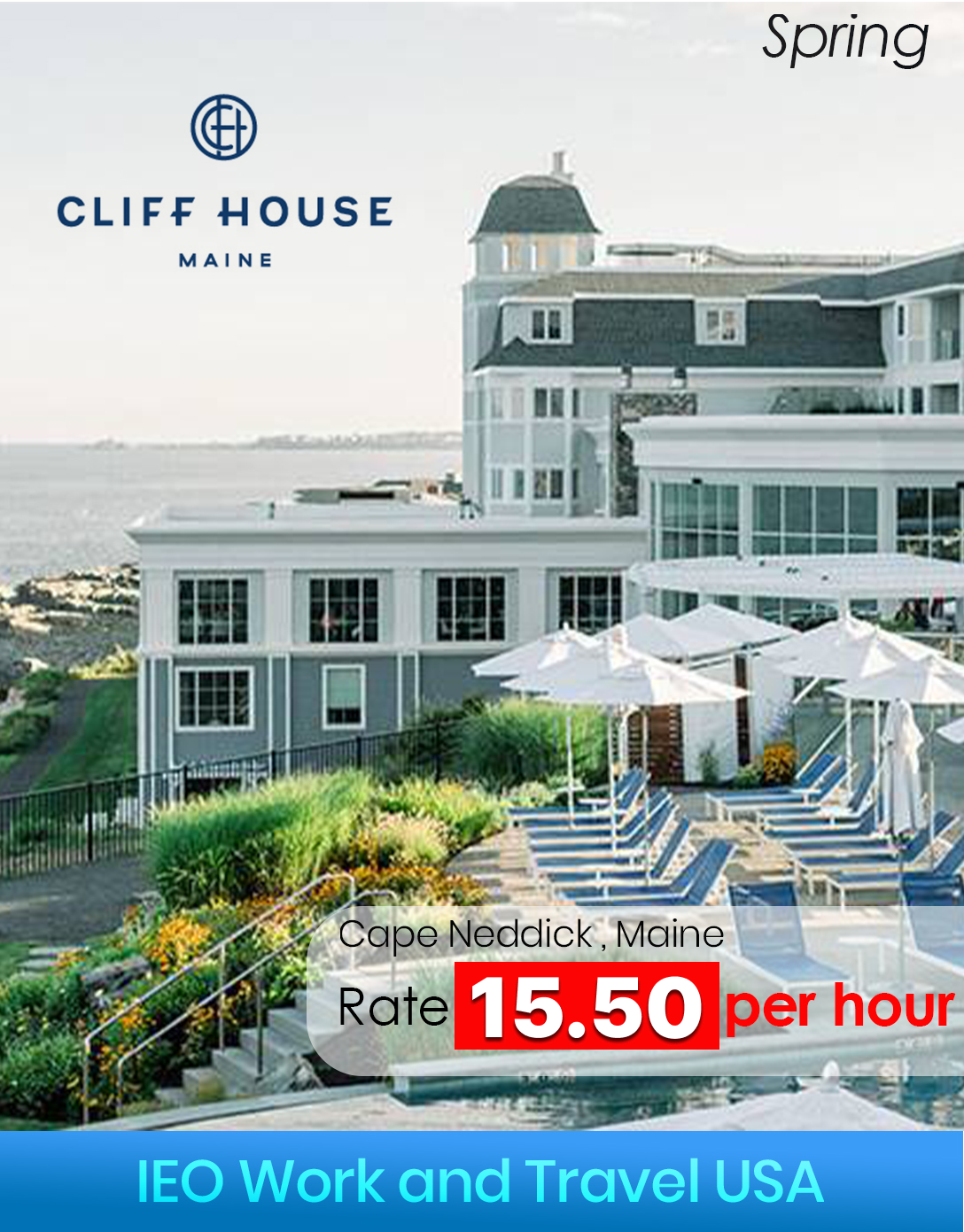 Busser : The primary role is busser, however, participants must be willing to do any position at the restaurant, at any given time of their schedules. Duties include but are not limited to food preparation, dishwashing, cleaning tables and the area around, serving food, and other tasks assigned by the employer. Must be able to lift 40 lbs. It's important to stay flexible. Must have open availability
Housekeeper : Responsibilities include cleaning duties, in-room, public areas and laundry as designated by the housekeeping manager. Perform a combination of cleaning duties to maintain guest rooms and/or public hallway areas in a clean, professional and orderly manner. Guest rooms may include bedrooms, toilet/shower area, kitchen, living area, fireplace and deck/porch. Must be able to; stand and walk 6-8 hrs/shift, detail-oriented, be flexible and a team player. Students may be assigned to one duty based on performance and business needs.
Steward : Duties include but are not limited to food preparation, cooking, dishwashing, cleaning, and other tasks assigned by the employer. Must be able to lift 40 lbs. It is important to stay flexible.
Spa Locker Attendant : Responsibilities are the overall cleanliness and presentation of the spa, pool and hot tubs,
the fitness center, and the locker rooms. Must be able to lift 40 lbs. Students must be flexible and willing to do any positions.
Position
Busser (2 F/M) 🟢 ว่าง 1 ตำแหน่ง
Housekeeper  (2 F/M) ❌ (เต็มแล้วจ้า)
Steward  (2 F/M)
Spa Locker Attendant  (2 F/M)
Location
Beach Town Cape Neddick , ME
Rate
Busser (7.00 per/hour)
Housekeeper  (15.50 per/hour)
Steward  (14.50 per/hour)
Spa Locker Attendant  (13.80 per/hour)
Hours
32-40 hours per week
Start Date
7 Mar 2024 – 5 Apr 2024
End Date
10 Jun 2024 – 24 Jun 2024
English level
Upper Intermediate – Advanced
Housing
$135 USD per week (Employer Housing)
Deposit : $200 (Upon Arrival)
Transportation to work
Students can walk or ride a bike.
** งานนี้ไม่ต้องชำระค่า Premium Job ใดๆทั้งสิ้นนะคะ และข้อมูลของงานดังกล่าว นายจ้างหรือองค์กรแลกเปลี่ยน USA อาจมีการเปลี่ยนแปลงได้ในภายหลัง โดยขึ้นอยู่กับปัจจัยในด้านธุรกิจของนายจ้างนะคะ โดยบริษัทฯ ไม่สามารถควบคุมการเปลี่ยนแปลงใดๆได้ค่ะ หากมีการเปลี่ยนแปลงใดๆเกิดขึ้นทางพี่ทีมงานจะรีบแจ้งข้อมูลอัพเดตให้ทันทีค่ะ 🙂 c
Related Jobs