(เต็มแล้วจ้า) Coons Franklin Lodge
Arbor Vitae , WI
Job Description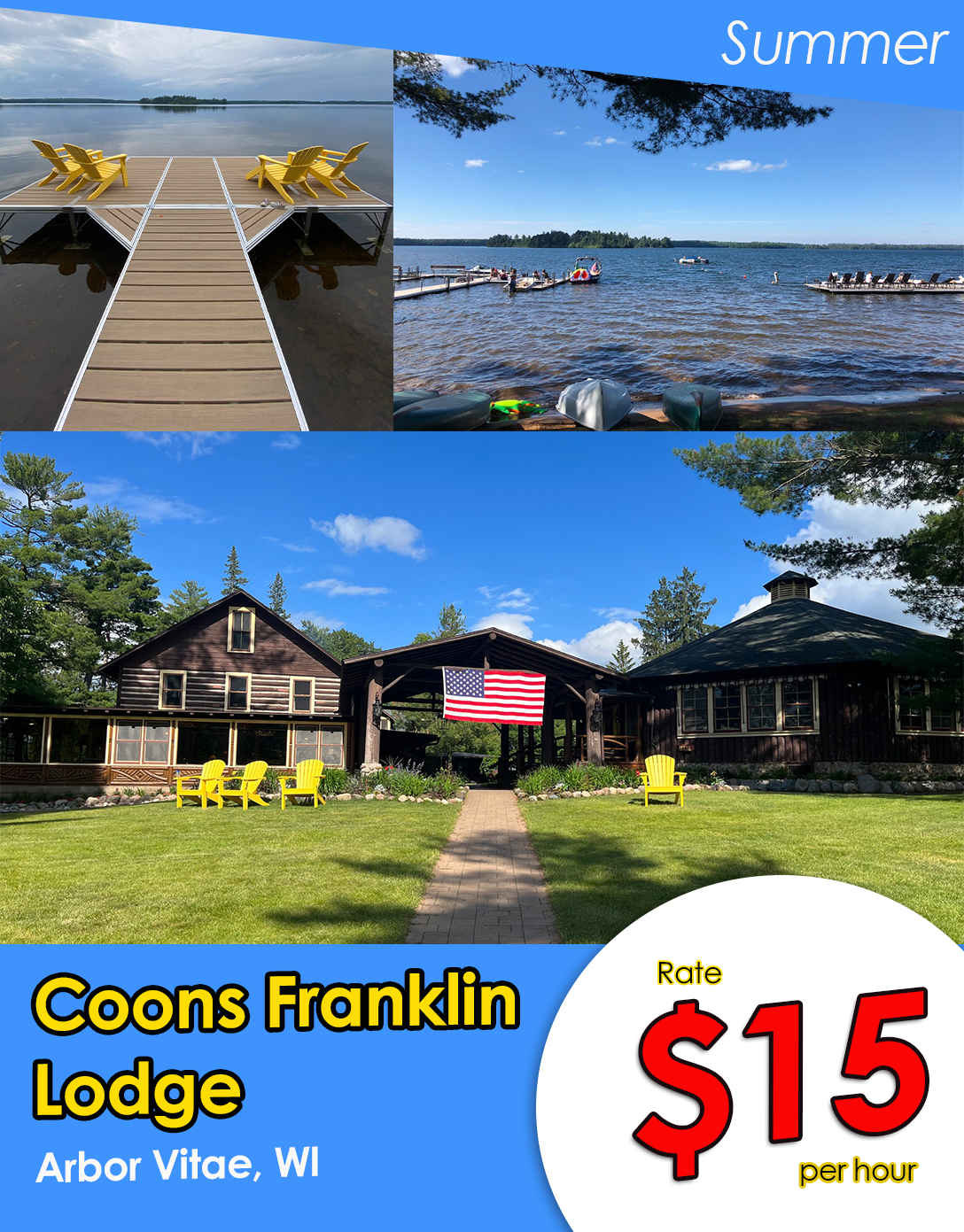 Food Prep/Dishwasher : PPosition duties include but are not limited to, preparing meal ingredients as directed by other staff, washing all dish items by hand or machine including washing equipment, floors, and walls, maintaining compliance with applicable health, safety, food handling, and hygiene codes and standards, and assisting with unloading, inspection, and storage of raw ingredients and supplies. Other duties may be assigned by supervisor as necessary. Participants must be comfortable handling pork.
Position
Food Prep/Dishwasher
Start 20 May (2 M/F)
Start 1 Jun (4 M/F)
Location
Arbor Vitae , WI
Rate
$15.00 per hour
Hours
32-40 hours per week
Start Date – End Date
Start 20 May 2024 – 5 Jun 2024
End 25 Aug 2024 – 7 Sep 2024
Start 1 Jun 2024 – 25 Jun 2024
End 4 Sep 2024 – 7 Sep 2024
English level
Intermediate – Advanced
Housing
$35 per person, per week
**Participants will live in dormitory style housing. Employer will assign participants to housing upon arrival. 3 meals a day are provided by the resort and included in the $35 per week housing charge. Kitchen facilities are not available for use. Washer and Dryer are available on site at no charge. Internet service is available in the main lodge, and in room WI-FI is NOT included.
Transportation to work
Students can walk, ride a bike.
** งานนี้ไม่ต้องชำระค่า Premium Job ใดๆทั้งสิ้นนะคะ และข้อมูลของงานดังกล่าว นายจ้างหรือองค์กรแลกเปลี่ยน USA อาจมีการเปลี่ยนแปลงได้ในภายหลัง โดยขึ้นอยู่กับปัจจัยในด้านธุรกิจของนายจ้างนะคะ โดยบริษัทฯ ไม่สามารถควบคุมการเปลี่ยนแปลงใดๆได้ค่ะ หากมีการเปลี่ยนแปลงใดๆเกิดขึ้นทางพี่ทีมงานจะรีบแจ้งข้อมูลอัพเดตให้ทันทีค่ะ 🙂 S
Related Jobs