(เต็มแล้วจ้า) Courtyard ANC Airport
Anchorage , AK Hotel
Job Description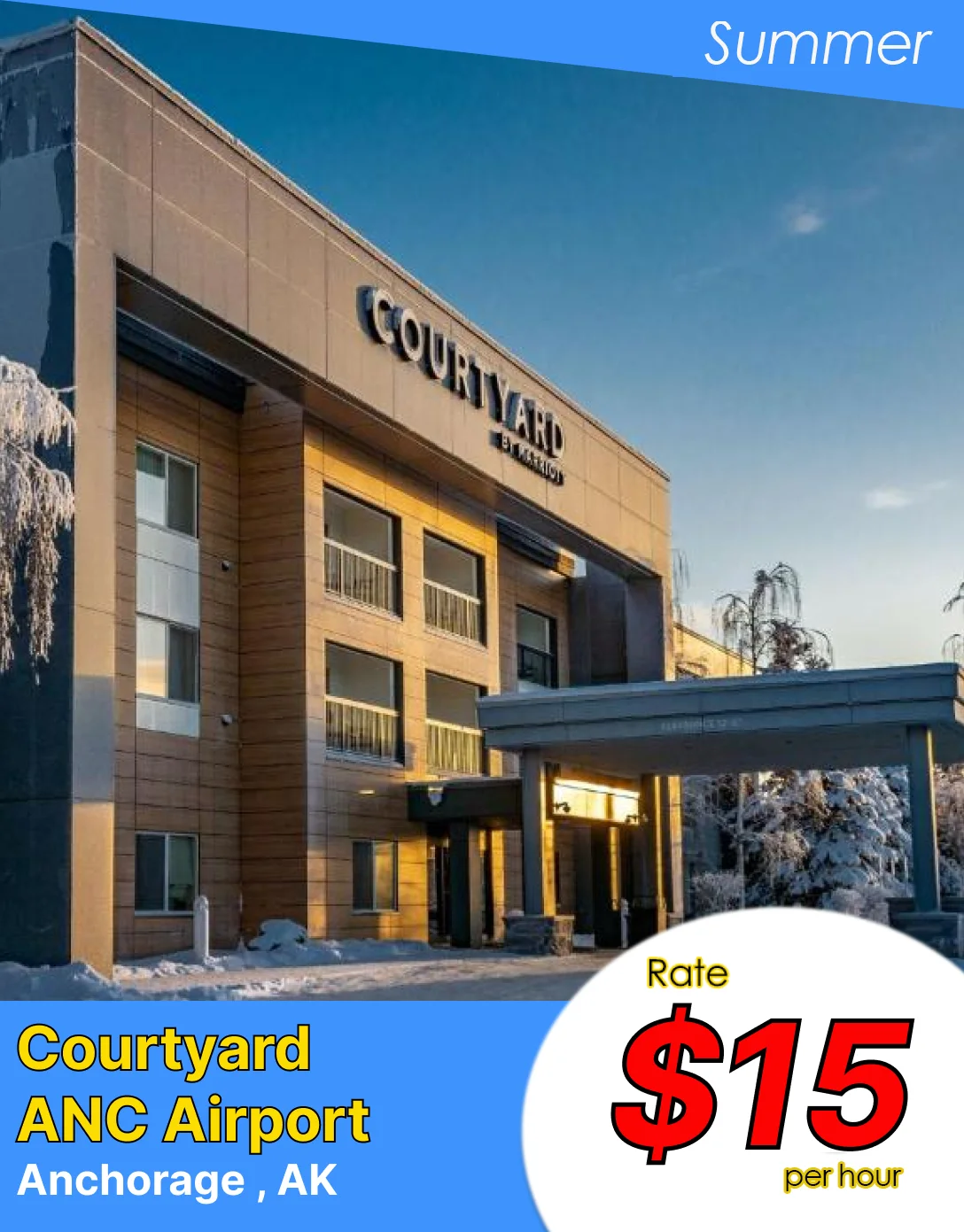 Housekeeping : Duties will include, but not limited to: cleaning rooms and common areas, including bathrooms, toilets and showers, changing linens, laundry, dusting, vacuuming and emptying trash, etc. Very physically demanding. Be prepared to stand, bend, and push a 50lb/23kg cart all day. Requires attention to detail, punctuality, and a great service attitude & team spirit. Please do not apply if you are sensitive to any kind of chemicals or lotions or have physical limitations that would keep you from doing your job. Must be 18 years old, have previous work experience and can lift up to 50lbs/23kg.
Food Service Associate : Check station before, during and after shifts for proper set-up and cleanliness. Clear and clean tables as they become available; wash utensils, china, etc.; clean up spills; remove trash; replenish guest tables and self-service stations as needed Clean work areas and floors (sweep, mop or vacuum) for appearance and safety Greet the guests in a friendly and courteous manner and explain any specials and/or restaurant promotions for guest awareness. Record the details of the order form the guests, repeating the order to the guest to check for accuracy. Market and serve upon request any liquor items or specialty coffees.
Input the order into the system to inform kitchen of the particulars in the order being placed. When completed, retrieve order from kitchen, confirm its accuracy, lift and deliver to guest along with appropriate condiments. Abide by all State, Federal and Corporate liquor regulations pertaining to serving alcoholic beverages to minors and intoxicated guests. Check with guests for overall satisfaction. Ascertain guest satisfaction and present check. Process check per restaurant procedures. Perform any general cleaning tasks using standard restaurant cleaning products as assigned by supervisor to adhere to health standards.
Position
Housekeeping (1 M/F) ❌ (เต็มแล้วจ้า)
Food Service Associate (2 M/F) 🟢 ว่าง 1 ตำแหน่ง
Location
Anchorage , AK
Rate
$15.00 USD
Hours
32-40 hours per week
Start Date
7 May 2024 – 15 Jun 2024
End Date
31 Aug 2024 – 7 Sep 2024
English level
Upper Intermediate – Advanced
Housing
$10.00 per day (Employer)
Deposit amount : $300 Upon Arrival The deposit may be refunded if participants stay until their contract end date and leave the housing in a clean, undamaged condition.
Transportation to work
Walking
** งานนี้ไม่ต้องชำระค่า Premium Job ใดๆทั้งสิ้นนะคะ และข้อมูลของงานดังกล่าว นายจ้างหรือองค์กรแลกเปลี่ยน USA อาจมีการเปลี่ยนแปลงได้ในภายหลัง โดยขึ้นอยู่กับปัจจัยในด้านธุรกิจของนายจ้างนะคะ โดยบริษัทฯ ไม่สามารถควบคุมการเปลี่ยนแปลงใดๆได้ค่ะ หากมีการเปลี่ยนแปลงใดๆเกิดขึ้นทางพี่ทีมงานจะรีบแจ้งข้อมูลอัพเดตให้ทันทีค่ะ 🙂 C
Related Jobs