(เต็มแล้วจ้า) Dairy Queen Hiawassee
Fast Food Hiawassee, GA
Job Description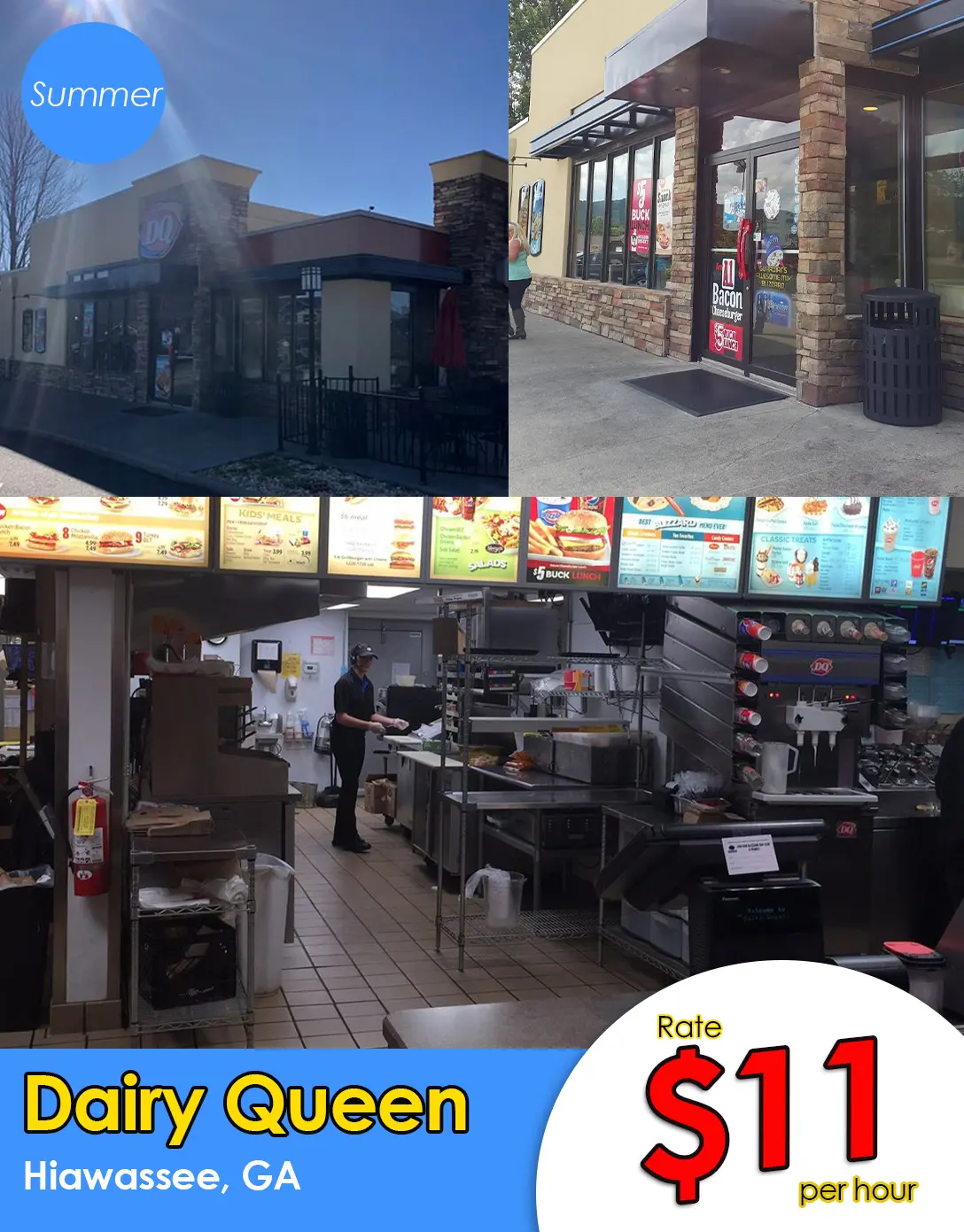 Crew Member : Crew Member duties include but are not limited to: working the drive through, front counter, and grill. Employees working in the drive through and at the front counter are responsible for greeting customers, taking orders, taking payment, assembling and presenting orders and thanking the customer. Employees must work as a team to serve customers. Employees working on the grill are responsible for preparing and assembling all the finished menu items that are served to customers. General daily cleaning tasks are required in the kitchen and service areas, including the bathrooms, as well as outside of the restaurant.
Other duties may be assigned by supervisor as necessary. This position requires long periods of standing and some lifting.
Position
Crew Member (2 M/F)
Location
Hiawassee, GA
Rate
$11.00 per hour but potential for increase to $13 after a few weeks of training based on performance.
Hours
32-40 hours per week
Start Date
May 26 – Jun 24 Aug 31 – Oct
26 May 2024- 15 Jun 2024
End Date
31 Aug 2024 – 7 Sep 2024
English level
Intermediate – Advanced
Housing
$0 Free of charge
**Deposit $100
**Participant will share a 3 bedroom 2 bathroom house, with other participants. Owner and his family (host employer) will reside in the housing in the beginning of the program until June 1. They may periodically stay at the house when they are in town throughout the program, as well. House includes a dining room, a full kitchen, laundry facilities, and internet. Participant will share a bedroom with 1-2 other participants. Participant will be provided 50% off their meal purchase during their work shifts. Host employer will arrange transportation to and from work with a local employee.
Transportation to work
Host employer will arrange transportation to and from site of activity
** งานนี้ไม่ต้องชำระค่า Premium Job ใดๆทั้งสิ้นนะคะ และข้อมูลของงานดังกล่าว นายจ้างหรือองค์กรแลกเปลี่ยน USA อาจมีการเปลี่ยนแปลงได้ในภายหลัง โดยขึ้นอยู่กับปัจจัยในด้านธุรกิจของนายจ้างนะคะ โดยบริษัทฯ ไม่สามารถควบคุมการเปลี่ยนแปลงใดๆได้ค่ะ หากมีการเปลี่ยนแปลงใดๆเกิดขึ้นทางพี่ทีมงานจะรีบแจ้งข้อมูลอัพเดตให้ทันทีค่ะ 🙂 S
Related Jobs