🆕 Dallas Zoo
Dallas , TX
Job Description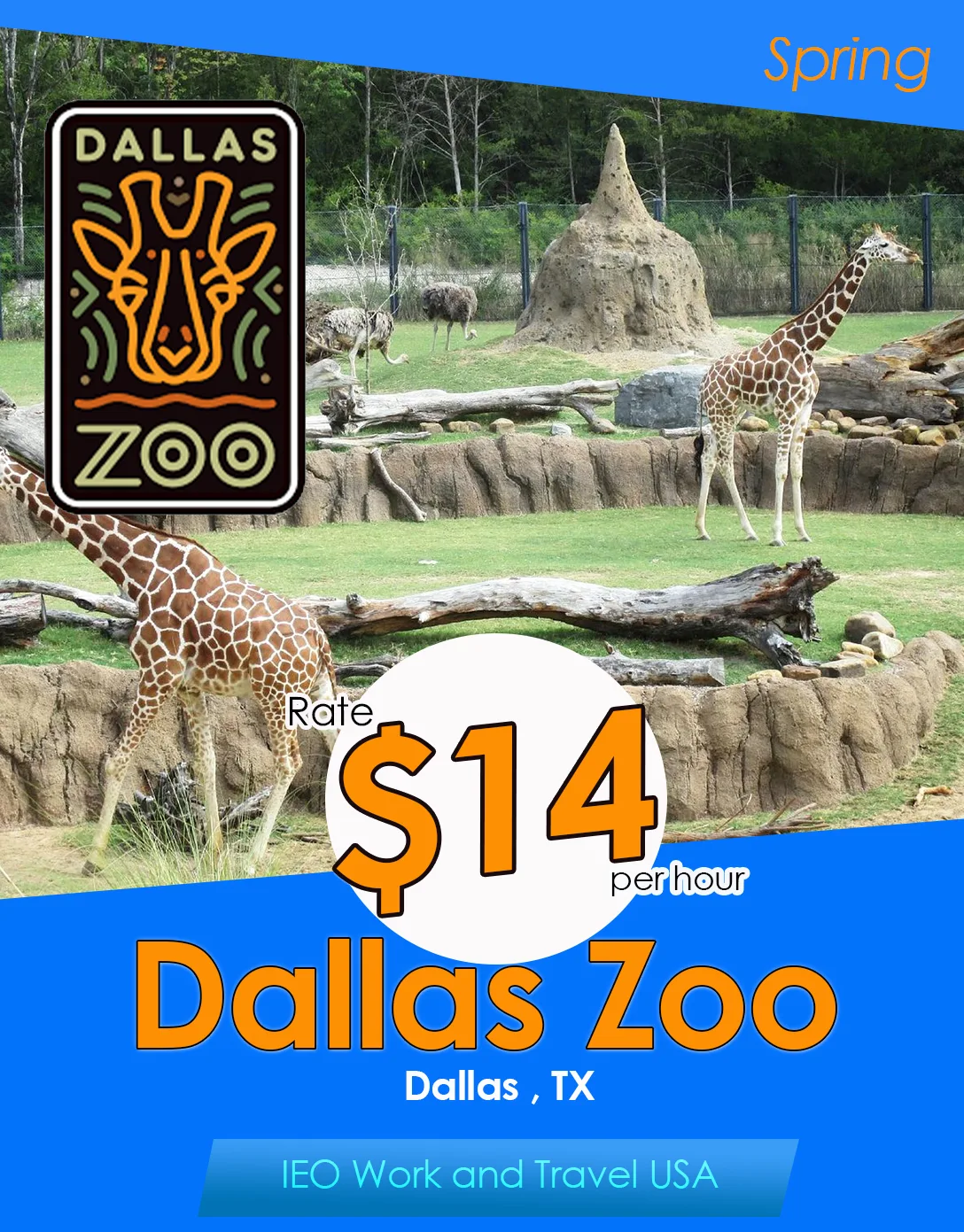 Food Service Associate/Cashier : Take payment for customer's food. Will handle American currency. Simple food preparation. Very fast-paced snack stands/restaurants!
Food Service Associate : A food service associate will work at food counters, food trucks, or fast-food restaurants helping with preparing food and cleaning the facility. Some of their duties include taking orders, serving customers, cleaning tables and cleaning kitchen areas.
Cashier : Registers sales on a cash register by scanning items, itemizing and totaling customers' purchases. Resolves customer issues and answers questions. Bags purchases if needed. … Collects payments by accepting cash, check, or charge payments from customers and makes change for cash customers.
Position
Food Service Associate/Cashier (2 M/F)
Job location
Dallas , TX
Rate
$14.00 an hour
Hours
32-40 hours per week
Start Date
7 Mar 2024
End Date
7 Jun 2024
English level
Intermediate – Advanced
Housing
$250.00 / week (Must Arrange Own)
Deposit $250 (Arrival)
Transportation to work
You may choose to walk or ride a bike.
** งานนี้ไม่ต้องชำระค่า Premium Job ใดๆทั้งสิ้นนะคะ และข้อมูลของงานดังกล่าว นายจ้างหรือองค์กรแลกเปลี่ยน USA อาจมีการเปลี่ยนแปลงได้ในภายหลัง โดยขึ้นอยู่กับปัจจัยในด้านธุรกิจของนายจ้างนะคะ โดยบริษัทฯ ไม่สามารถควบคุมการเปลี่ยนแปลงใดๆได้ค่ะ หากมีการเปลี่ยนแปลงใดๆเกิดขึ้นทางพี่ทีมงานจะรีบแจ้งข้อมูลอัพเดตให้ทันทีค่ะ 🙂 C
Related Jobs