🆕 Disney Aulani Resort, Oahu Island
Kapolei, HI
Job Description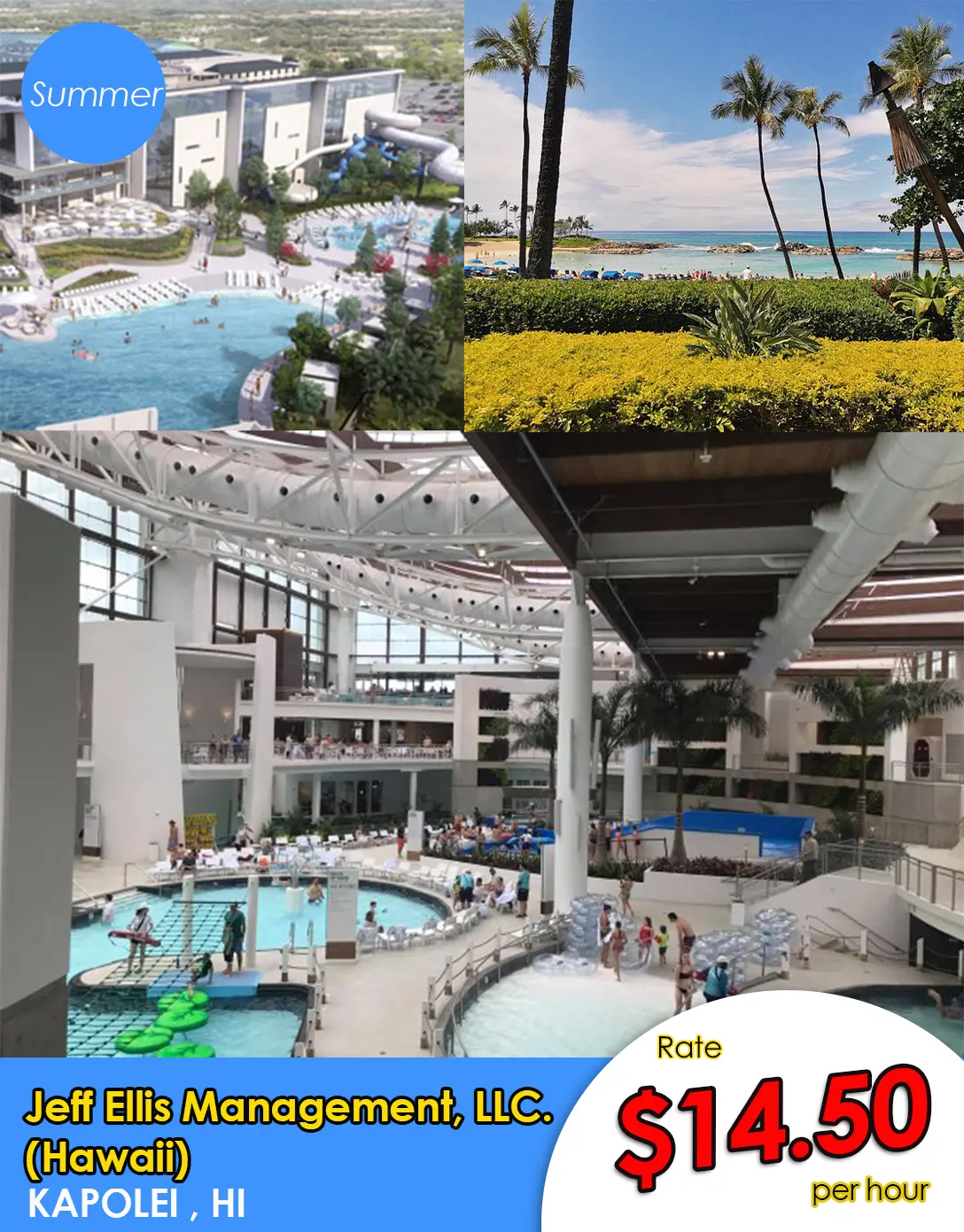 Lifeguard : Your Placement Start Date must be May 13
Must be an advanced, very strong swimmer and have submitted a swimming video to be hired. Need to be outgoing, friendly, approachable, and helpful. Ensure the safety of all guests by watching the assigned pool area; and speaking up if guests are running or playing too rough. You will be working outside in all types of weather – hot sun, cooler days, light rain, etc. Standing and sitting in the hot sun for long periods of time. You will be required to get in the water daily. Might be asked to assist with pool cleaning. Employer will conduct inperson training & certification with students to be licensed lifeguards. The employer pays the Lifeguard License fee. Must be dependable, hardworking, friendly, trustworthy & honest person. Employer will conduct random drug tests during the season. If you fail the drug test
you will be terminated and you could be placing your W&T program in jeopardy. Overtime, if there is any, may be paid at a rate of 1.5x pay on select holidays.
Must be dependable, hard-working, friendly, and a very trustworthy and honest individual. Positions require attention to detail, punctuality, and a great service attitude & team spirit. Flexible to help out as requested. Additional tasks as requested by management. You will be working all weekends (Friday, Saturday, and Sunday), all holidays, and evening shifts. You may not work the same shifts as your friends. Nor will you have the same days off as your friends. No job, or hours at a job, can be 100% guaranteed. Regardless of what your work contract states, there is always a possibility that you will work more or fewer hours. Some days will be slower than others.
Employer will make two airport pickups on May 11. The first at 12 pm and the second at 5 pm.
Employer will make two airport pickups on May 12. The first at 12 pm and the second at 5 pm.
If you can't make either of these times, you will need to secure a taxi to your housing. Be prepared — taxis in Hawaii are very very expensive
Position
Lifeguard   (1 Female / 1 Male)
Location
KAPOLEI , HI
Rate
14.50 per hour
Hours
32-40 hours per week
Start Date
13 May 2024
End Date
13 Aug 2024 – 7 Sep 2024
English level
Advanced
Housing
$520.00 per Month (Employer)
**Deposit $200.00 (Upon arrival)
Transportation to work
House is about a 15-minute walk to work. You may also get a bike and helmet to ride to work but make sure you know the rules of the road.
** งานนี้ไม่ต้องชำระค่า Premium Job ใดๆทั้งสิ้นนะคะ และข้อมูลของงานดังกล่าว นายจ้างหรือองค์กรแลกเปลี่ยน USA อาจมีการเปลี่ยนแปลงได้ในภายหลัง โดยขึ้นอยู่กับปัจจัยในด้านธุรกิจของนายจ้างนะคะ โดยบริษัทฯ ไม่สามารถควบคุมการเปลี่ยนแปลงใดๆได้ค่ะ หากมีการเปลี่ยนแปลงใดๆเกิดขึ้นทางพี่ทีมงานจะรีบแจ้งข้อมูลอัพเดตให้ทันทีค่ะ 🙂 C
Related Jobs