🆕 Evergreen Campground
Campground WILD ROSE , WI
Job Description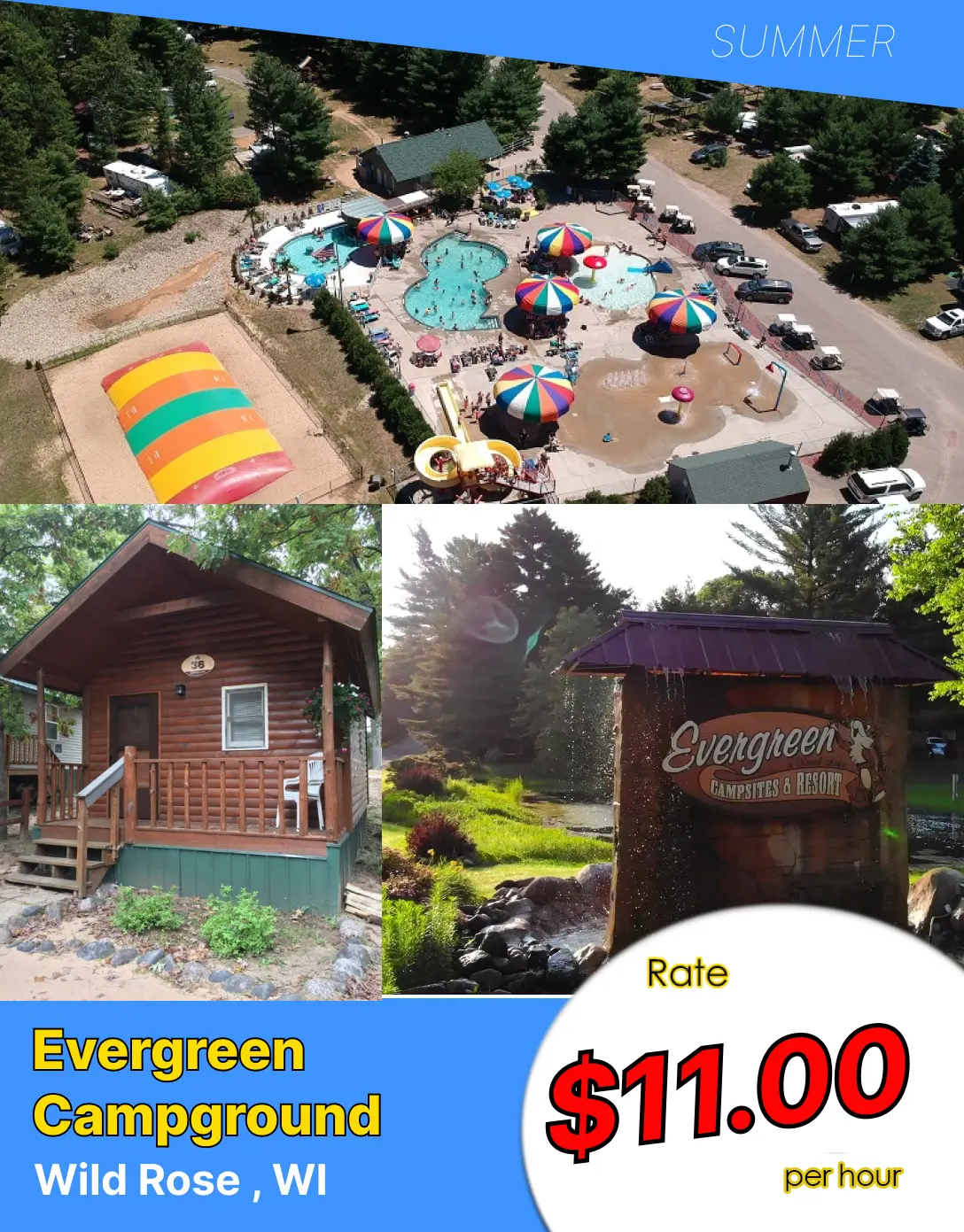 Housekeeper, Store Clerk, Activities Support, Outside Suppor :
Housekeeper Keep facilities and common areas clean and maintained. Vacuum, sweep, and mop floors. Clean and stock restrooms. Clean up spills with appropriate equipment. Notify managers of necessary repairs. Collect and dispose of trash. Assist guests when necessary. Keep linen room stocked. Properly clean upholstered furniture.
Store Clerk provides in-store assistance to customers browsing inventory or checking out items. Their duties include welcoming customers to the store, answering questions about products and using a cash register to process purchases.
Activities Help Activities Assistants oversee the implementation of activities in a variety of leisure or care institutions, such as camps, recreation centers, shelters, retreats or nursing homes. Their purpose is to help people socialize, but they are also responsible for logistics.
Outside Suppor An outside sales representative conducts sales out in the field via face-to-face interactions with both potential and existing customers. They are responsible for offering the best possible customer experience as well as providing hands-on explanations of any new or updated products when necessary.
Position
Housekeeper, Store Clerk, Activities Support, Outside Suppor (2 M/F)
Location
WILD ROSE , WI
Rate
$11.00 per hour
Hours
32-40 hours per week
Start Date
7 May 2024 – 15 Jun 2024
End Date
15 Aug 2024 – 7 Sep 2024
English level
Upper Intermediate – Advanced
Housing
$25.00 per week (Employer)
Deposit amount : N/A
Transportation to work
Housing is on-site so you will be walking to work or using a golf cart if available.
** งานนี้ไม่ต้องชำระค่า Premium Job ใดๆทั้งสิ้นนะคะ และข้อมูลของงานดังกล่าว นายจ้างหรือองค์กรแลกเปลี่ยน USA อาจมีการเปลี่ยนแปลงได้ในภายหลัง โดยขึ้นอยู่กับปัจจัยในด้านธุรกิจของนายจ้างนะคะ โดยบริษัทฯ ไม่สามารถควบคุมการเปลี่ยนแปลงใดๆได้ค่ะ หากมีการเปลี่ยนแปลงใดๆเกิดขึ้นทางพี่ทีมงานจะรีบแจ้งข้อมูลอัพเดตให้ทันทีค่ะ 🙂 C
Related Jobs