(เต็มแล้วจ้า) Everline Resort and Spa
Lake Tahoe , NV
Job Description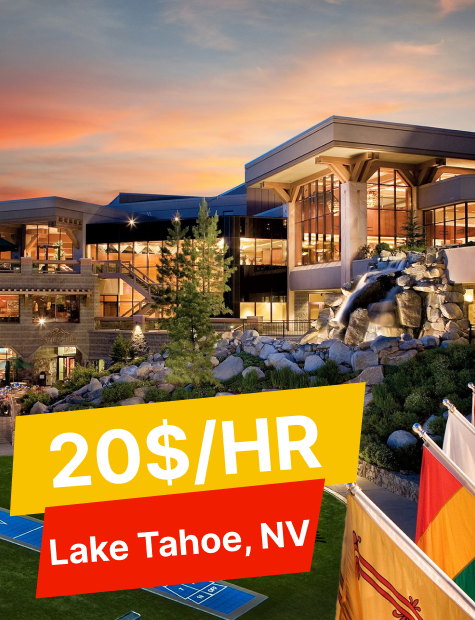 Kitchen helper: is primarily responsible Prepare a variety of food items for cooking , Wash, peel, and/or cut food items, including fruits, vegetables, or certain types of meats. kitchen helper will assigned job by chef.
Steward: are responsible for ensuring the cleanliness and sanitization of dishes, tableware, glassware, pots, pans, and utensils through manual and machine cleaning methods. Additionally, dishwashers are expected to keep the dishwarshing area clean and safe.
**สำหรับน้องๆที่สามารถทำอาหารได้ และรักในการทำอาหาร 
Position
Kitchen helper  (2 M/F) ว่าง 1 ตำแหน่ง
Steward  (2 M/F)
Location
Lake Tahoe, NV
Rate
$20.00 per hour
Hours
32-40 hours per week
Start Date
1 Jun 2024
End Date
15 Aug 2024 – 7 Sep 2024
English level
Upper Intermediate – Advanced
Housing
$650++ per month, this includes all utilities, internet and transportation.
Transportation to work
Students can walk or ride a bike.
** งานนี้ไม่ต้องชำระค่า Premium Job ใดๆทั้งสิ้นนะคะ และข้อมูลของงานดังกล่าว นายจ้างหรือองค์กรแลกเปลี่ยน USA อาจมีการเปลี่ยนแปลงได้ในภายหลัง โดยขึ้นอยู่กับปัจจัยในด้านธุรกิจของนายจ้างนะคะ โดยบริษัทฯ ไม่สามารถควบคุมการเปลี่ยนแปลงใดๆได้ค่ะ หากมีการเปลี่ยนแปลงใดๆเกิดขึ้นทางพี่ทีมงานจะรีบแจ้งข้อมูลอัพเดตให้ทันทีค่ะ 🙂 W
Related Jobs