Extreme Pizza Myrtle Beach SC
MYRTLE BEACH , SC
Job Description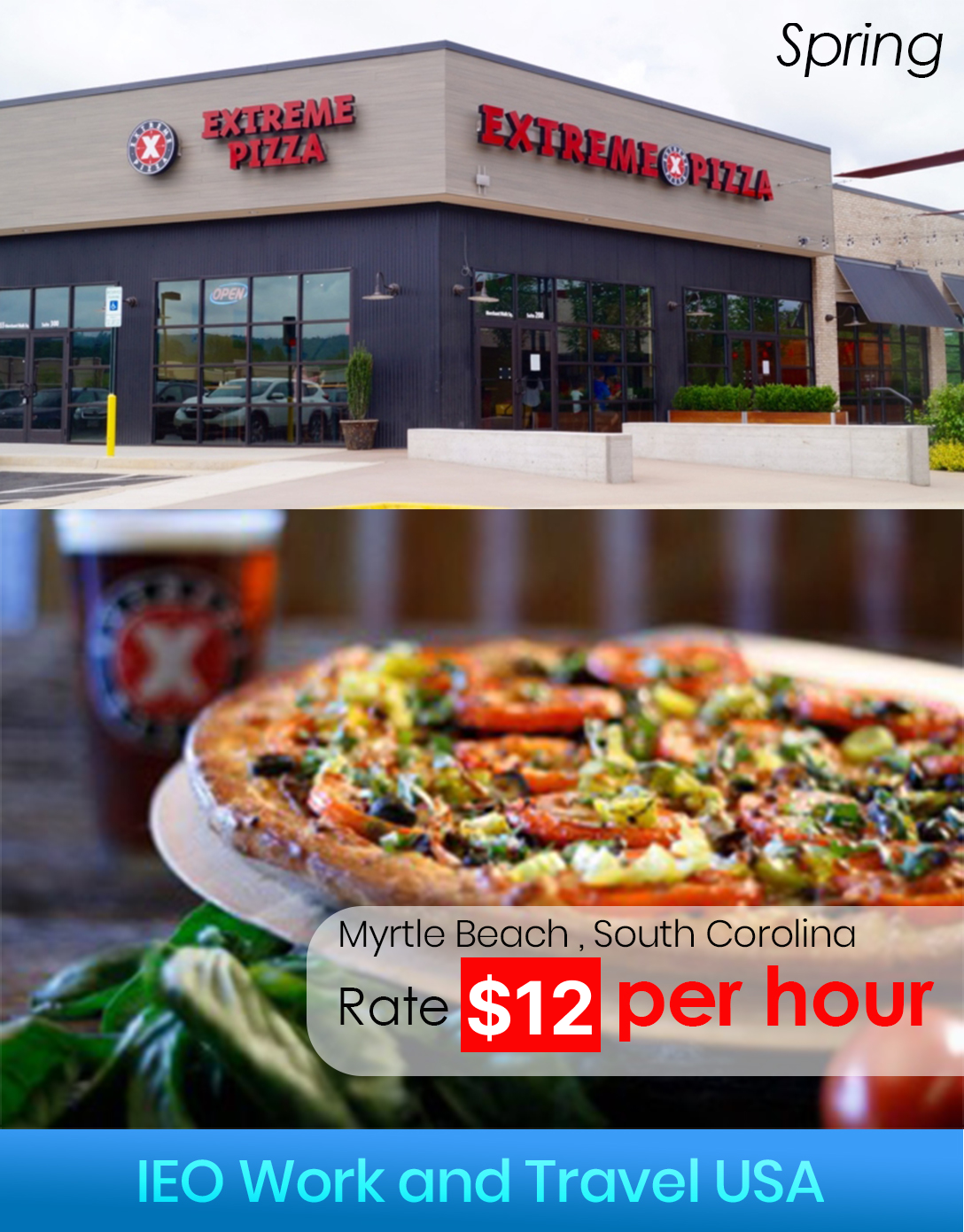 Restaurant Worker : Restaurant Worker position requires flexibility; you will be moved around into various areas within the restaurant based on the Host Companies needs/your abilities and skills. Duties include but are not limited to: learning menu, preparing food (cutting veggies, cooking/preparing pizzas, sandwiches, other menu items), washing dishes, fryer station, cleaning, monitoring the open dining sections of the restaurant for empty and cleaned tables, cleaning tables, seating customers, answering the phone, bringing glass rack and buspans to the kitchen to be cleaned, taking out trash, stocking tables, ensuring bathrooms are cleaned and stocked, and other requests from management. Must be ready for standing for long shifts.
Server : Duties include but are not limited to learning the menu, taking food & beverage orders, taking to-go orders for customers, serving customers, cleaning, side work. You must complete training before you can become a server- must be able to preform duties Must speak and read English on an advanced level. Ideal Candidate: Comfortable speaking advanced English, prior serving experience is preferred but not required, pleasant personality, outgoing, good multitasker, works well with others.
Position
Restaurant Worker (4 M/F)
Server (4 M/F) ว่าง 2 ตำแหน่ง
Job location
MYRTLE BEACH , SC
Rate
Restaurant Worker $12.00/hr
Server $2.15/hr + Tip
Wage comments
Restaurant Worker Back of the house: $12.00/hour
(possibility of performance-based raise and possible overtime- not guaranteed!)
Restaurant Worker Front of the house $11.00/hour plus tips
Host Company will place the participant in the positions based on abilities and business needs.
Meal : 60% off your meal on a working day
Hours
32-40 hours per week
Start Date
7 Mar  2024  – 20 Mar 2024
End Date
10 Jun 2024 – 15 Jun 2024
English level
Advanced
Housing
Cost Details $115-$150 per week, maybe more/less (Must Arrange Own)
** Deposit amount $300 (To be paid upon arrival.)
Transportation to work
On foot or bike, public transportation is available to you as well. Depending on the option
depends on how long it will take.
** งานนี้ไม่ต้องชำระค่า Premium Job ใดๆทั้งสิ้นนะคะ และข้อมูลของงานดังกล่าว นายจ้างหรือองค์กรแลกเปลี่ยน USA อาจมีการเปลี่ยนแปลงได้ในภายหลัง โดยขึ้นอยู่กับปัจจัยในด้านธุรกิจของนายจ้างนะคะ โดยบริษัทฯ ไม่สามารถควบคุมการเปลี่ยนแปลงใดๆได้ค่ะ หากมีการเปลี่ยนแปลงใดๆเกิดขึ้นทางพี่ทีมงานจะรีบแจ้งข้อมูลอัพเดตให้ทันทีค่ะ 🙂 C
Related Jobs