🆕 Family Center IGA
Port Aransas , TX
Job Description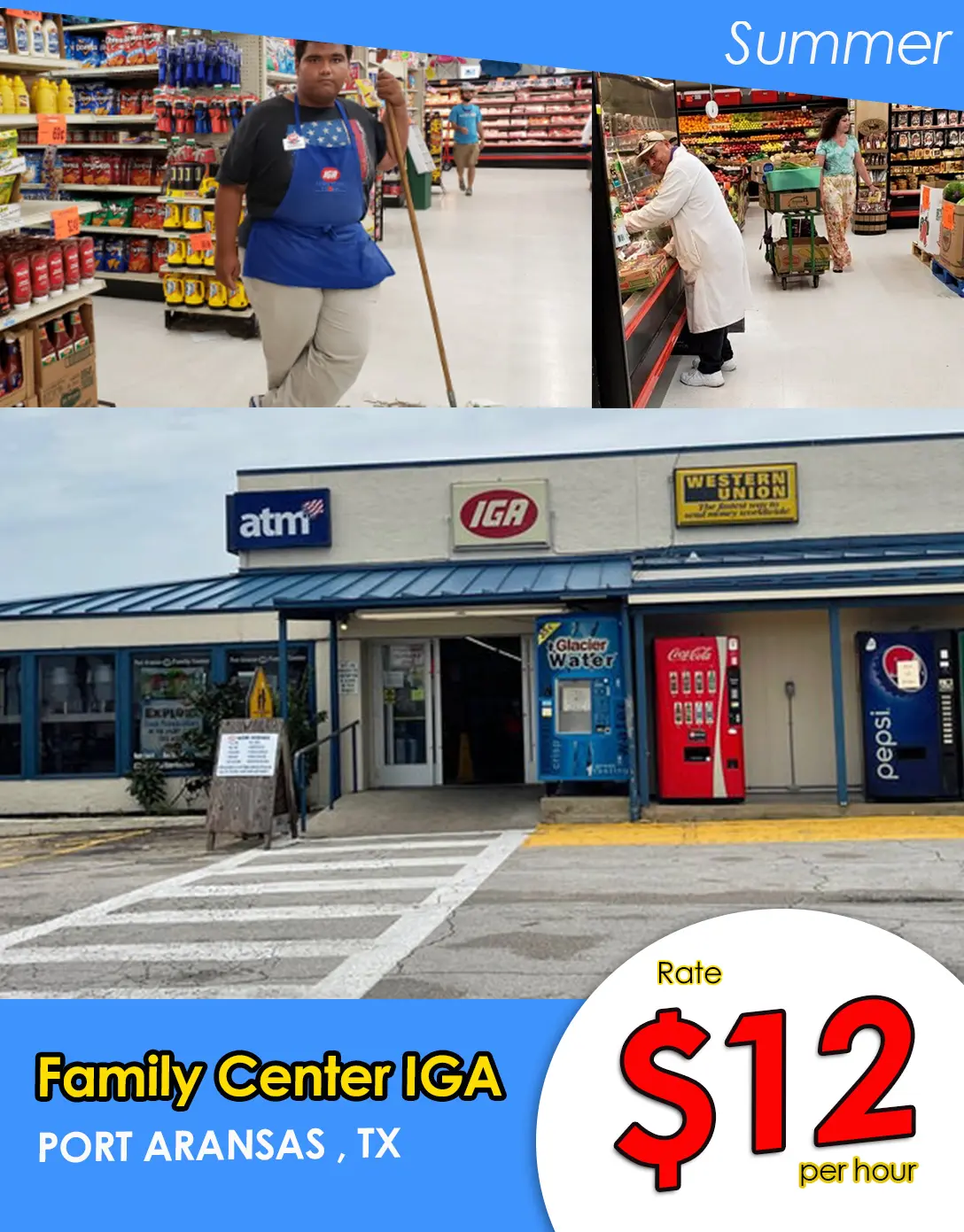 Cashiers : You will be trained and receive T.A.B.C. certification before you start working on your own. You will work as a cashier, operating cash registers, handling American currency, waiting on customers and working with the public. There is a possibility you might help out in the deli or bakery, washing dishes, stocking, and anything else that needs to be done. This is a busy, fast-paced job. Must be able to lift up to 30lbs/13kg, bend & stand for the entire shift. Must have a strong work ethic, a great attitude and like working with people. Only apply if you like to work and have team spirit.
Position
Cashiers  (8 F) 🟢 ว่าง 3 ตำแหน่ง
Location
PORT ARANSAS , TX
Rate
$12.00 USD
Hours
32-40 hours per week
Start Date
7 May 2024 – 15 Jun 2024
End Date
25 Aug 2024 – 7 Sep 2024
English level
Upper Intermediate – Advanced
Housing
$0.00 (Employer) Apartment Number of people to a room : 4+
Deposit amount : $150 Upon Arrival
Transportation to work
Students can walk to work.
** งานนี้ไม่ต้องชำระค่า Premium Job ใดๆทั้งสิ้นนะคะ และข้อมูลของงานดังกล่าว นายจ้างหรือองค์กรแลกเปลี่ยน USA อาจมีการเปลี่ยนแปลงได้ในภายหลัง โดยขึ้นอยู่กับปัจจัยในด้านธุรกิจของนายจ้างนะคะ โดยบริษัทฯ ไม่สามารถควบคุมการเปลี่ยนแปลงใดๆได้ค่ะ หากมีการเปลี่ยนแปลงใดๆเกิดขึ้นทางพี่ทีมงานจะรีบแจ้งข้อมูลอัพเดตให้ทันทีค่ะ 🙂 C
Related Jobs