🆕 Fins Grill and Icehouse
Port Aransas , TX Restaurant
Job Description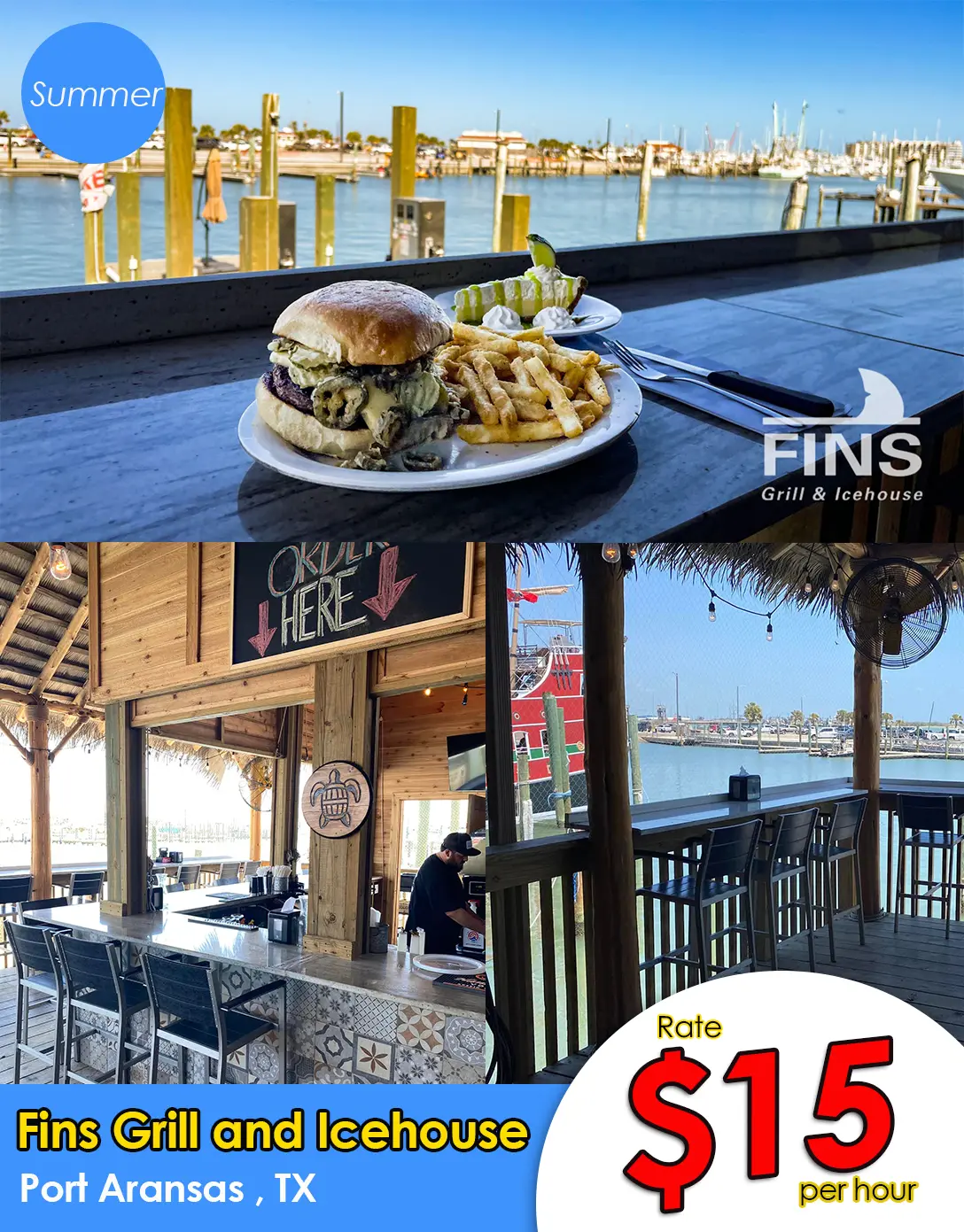 Host, Hostess : As a Host/Hostess, you must present a positive first impression to our guests demonstrating our friendliness, excellent service, and high standards. You will greet our guests upon arrival, inform our guests of their wait time, monitor a waiting list, enter guest names into the computer system, show our guests to their table in a courteous and proficient manner, and bid our guests farewell as they leave all the while demonstrating your friendliness with a smile.
A Host/Hostess must be able to carry natural conversation with guests without sounding scripted or intrusive. Additionally, duties include: refilling beverages for our guests and performs light housekeeping duties such as cleaning glasses and menus, restocking the host station, and ensures restrooms are clean, stocked, and orderly. As a member of an energetic team, the Host/Hostess may also need to answer the phones and fill to-go orders when needed. During peak business times, you may be asked to assist with running drinks and food orders to the guests as well as help set the tables. You will be asked to help with bussing duties as needed. Those duties include: Clearing tables of dirty dishes and taking them to the dish room. Additionally, you will be asked to help with dishwashing duties. That includes: scrapping dishware of food, spraying with water, loading into racks for the dishwasher, removing hot dishes from dishwasher and stacking in the correct place within the kitchen.
Must have a great team attitude, and be a dependable, hard-working, friendly, and very trustworthy and honest individual. May be cross-trained in other departments as needed. Must like dealing with people and be professional and have an outgoing personality. Requires attention to detail, punctuality, and a great service attitude & team spirit. Follow all safety policies, interact positively with the guests and other crew members. You will be standing the entire shift. Must be able to lift and carry 25lb/11kg. Need to be flexible to handle additional tasks as assigned by your manager.
Kitchen Helper, Food Prep : Food Prep – prepare food items for cooking. Clean, wash, stock restaurant supplies and equipment while maintaining a clean work area. Must be able to work in a fast-paced environment, follow directions and read safety manual. Must be able to lift heavy items, bend, stoop, reach items on high shelves. Dishwasher – wash pots and pans by hand in very hot water, and use the dishwashing machine for glasses, dishes, and cutlery and then stack clean items in appropriate area. Will also be removing trash and helping keep the kitchen area clean. Must be able to stand for your entire shift and be able to lift up to 50lb/23kg. Must be dependable, hard-working, friendly and be a very trustworthy and honest individual. If the individual shows proficiency in assigned kitchen tasks, they may be trained to become a line cook. Possibility of performing other duties like busing tables, or other duties as needed.
Position
Host, Hostess (2 M/F)
Kitchen Helper, Food Prep (1 M/F) ❌ (เต็มแล้วจ้า)
Location
PORT ARANSAS , TX
Rate
$15.00 per hour
Hours
32-40 hours per week
Start Date
10 May 2024 – 15 Jun 2024
End Date
25 Aug 2024 – 7 Sep 2024
English level
Upper Intermediate – Advanced
Housing
$130 per student per week, regular inspections will be done to ensure housing stays clean and undamaged. (Employer)
Deposit amount : $200
Transportation to work
shuttle bus, contracted by the employer. Will be picked up as a group and dropped off each way as a group. You can also ride the bus.
** งานนี้ไม่ต้องชำระค่า Premium Job ใดๆทั้งสิ้นนะคะ และข้อมูลของงานดังกล่าว นายจ้างหรือองค์กรแลกเปลี่ยน USA อาจมีการเปลี่ยนแปลงได้ในภายหลัง โดยขึ้นอยู่กับปัจจัยในด้านธุรกิจของนายจ้างนะคะ โดยบริษัทฯ ไม่สามารถควบคุมการเปลี่ยนแปลงใดๆได้ค่ะ หากมีการเปลี่ยนแปลงใดๆเกิดขึ้นทางพี่ทีมงานจะรีบแจ้งข้อมูลอัพเดตให้ทันทีค่ะ 🙂 C
Related Jobs