🆕 Four Seasons Resort Jackson Hole
Hotel Teton Village , WY
Job Description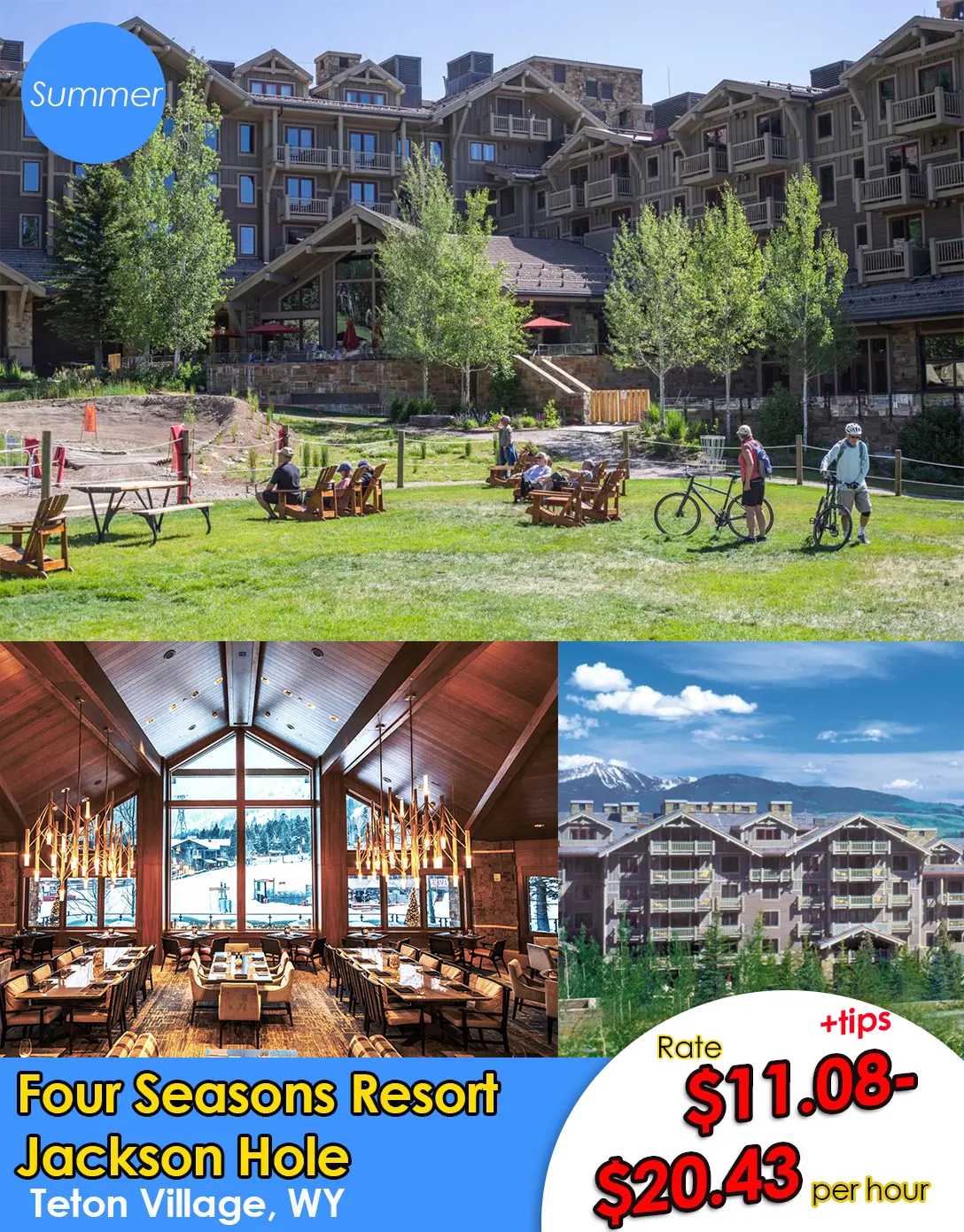 Server Assistant/Food Runner : In this position, participants will greet guests and provide an enjoyable dining experience. Duties include greeting guests, distributing menus, taking orders, answering questions about the menu, bringing guests food and beverages, exchanging American currency, and completing general side work assigned by manager. Participants may also serve as food runners or bussers as necessary. General cleaning and other duties may be assigned by supervisor as necessary.
Spa Attendant : The Spa Attendant will handle a variety of tasks throughout their work day. They will be responsible for: maintaining the cleanliness, set-ups, and spa standards throughout the locker room, work out areas, tennis and game rooms, as well as respond to all guest interactions in an efficient, courteous and professional manner. They will also assist guests of the Pool Deck, providing them will things like warmed towels and amenities, and work to keep Pool Deck clean according to hotel standards.
Additionally, they will: retrieve and fold towels, stock towel warming station at pool deck, retrieve, deliver, and store/set-up products from purchasing, clean and stock waiting area, assist other staff with set-up and breakdown of their respective treatment areas (coordinators, massage therapists, fitness instructors, etc.), and assist with duties at the Pool, such as greeting guests and stocking the warmed towels. General cleaning and other duties may be assigned by supervisor as necessary.
Steward : The Steward's main duty is ensuring the Food and Beverage department is set and ready to go. They are in charge of ensuring the cleanliness of all dishware, appliances, and general areas of Back of House Food and Beverage. This position works hand in hand with our Culinary team. General cleaning and other duties may be assigned by supervisor as necessary.
Position
Server Assistant/Food Runner : (1 M/F) 🟢 ว่าง 1 ตำแหน่ง
Spa Attendant : (1 M/F) 🟢 ว่าง 1 ตำแหน่ง
Steward : (4 M/F) ❌ (เต็มแล้วจ้า)
Location
Teton Village, WY
Rate
Server Assistant/Food Runner : $11.08 + tips (guaranteed average of at least $15.25 per hour)
Spa Attendant : $19.65 per hour
Steward : $20.43 per hour
Start Date
10 Jun 2024 –  17 Jun 2024
End Date
7 Sep 2024
English level
Intermediate – Advanced
Housing
$850 – $950 per person, per month for a shared room
Deposit Amount : $400
**Participant will live in either a dormitory on-site or one of 2 off-site hotels determined by host employer. Participants staying in the off-site hotel will have access to a picnic and grilling area with access to grocery stores and restaurants nearby. Some units will have 2 people per room and some larger units will have 3 people to a room. All rooms will include a mini refrigerator and microwave. Participant will receive 2 meals per day in the Four Seasons cafeteria. Housing assignments are done at the discretion of the employer and are determined by position and program dates. Requests are not allowed. If participants move out of employer provided housing during their program, they will no longer have a job at Four Seasons and will be responsible for the terms of the housing agreement. There is a $1,000 early-move out fee.
Transportation to work
On-site: Walk, Off-site: Bus.
** งานนี้ไม่ต้องชำระค่า Premium Job ใดๆทั้งสิ้นนะคะ และข้อมูลของงานดังกล่าว นายจ้างหรือองค์กรแลกเปลี่ยน USA อาจมีการเปลี่ยนแปลงได้ในภายหลัง โดยขึ้นอยู่กับปัจจัยในด้านธุรกิจของนายจ้างนะคะ โดยบริษัทฯ ไม่สามารถควบคุมการเปลี่ยนแปลงใดๆได้ค่ะ หากมีการเปลี่ยนแปลงใดๆเกิดขึ้นทางพี่ทีมงานจะรีบแจ้งข้อมูลอัพเดตให้ทันทีค่ะ 🙂 S
Related Jobs