(เต็มแล้วจ้า) Gateway Arch Store
Hotel SAINT LOUIS , MO
Job Description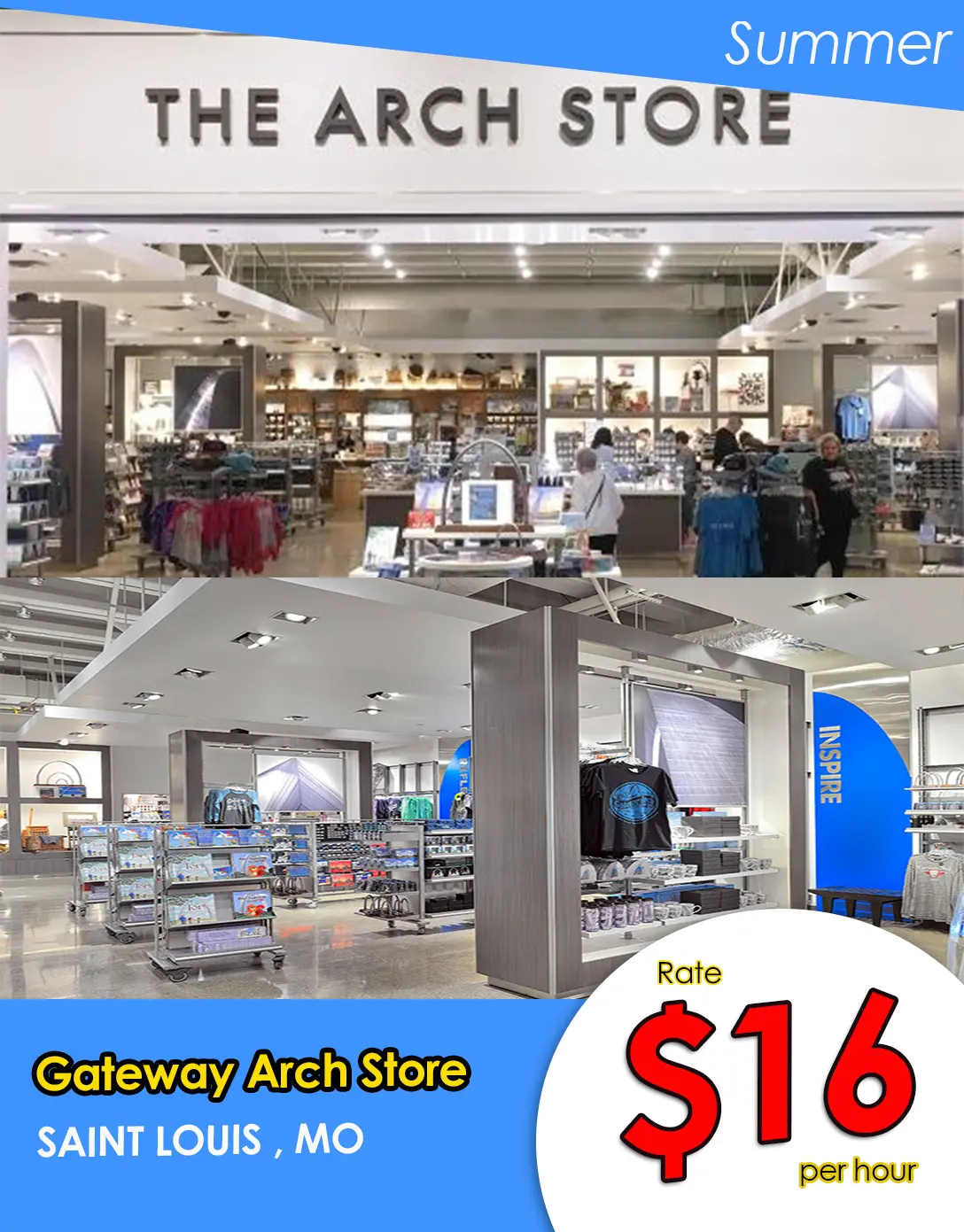 Retail Sales Clerk :Participants must like working with the public and be friendly, approachable, and helpful.
Providing outstanding customer service is our top priority. You will work as a team member and must be respectful of your coworkers and management. Participants must be flexible and willing to do additional tasks as requested by management and willing to work other positions as needed due to business needs. You may not have the same shift as your friends and can not ask for the same days off. Be prepared to lift and carry up to 35 pounds (15 kg), bend, reach, and physical ability to be on your feed for the entire shift. You will work all weekends and holidays. If you have any physical limitations or allergies to cleaning chemicals you must notify us during your interview. Duties include assisting customers with their purchase selections, being friendly and approachable; stocking shelves, organizing merchandise, restocking and working the register.
Position
Retail Sales Clerk (5 M/F) 🟢 ว่าง 3 ตำแหน่ง
Location
SAINT LOUIS , MO
Rate
$16.00 per hour
Hours
32-40 hours per week
Start Date
19 May 2024 – 24 May 2024
End Date
5 Sep 2024 – 7 Sep 2024
English level
Upper Intermediate – Advanced
Housing
$125 per person, per week (Must Arrange Own)
$60 – $130 depending on size of apartment and based on 5 students
Deposit amount $200.00
Transportation to work
Arrival date for housing will need to be discussed with Steve. Also, some locations are within walking distance of the housing and some will require you to take public transportation to get to work.
** งานนี้ไม่ต้องชำระค่า Premium Job ใดๆทั้งสิ้นนะคะ และข้อมูลของงานดังกล่าว นายจ้างหรือองค์กรแลกเปลี่ยน USA อาจมีการเปลี่ยนแปลงได้ในภายหลัง โดยขึ้นอยู่กับปัจจัยในด้านธุรกิจของนายจ้างนะคะ โดยบริษัทฯ ไม่สามารถควบคุมการเปลี่ยนแปลงใดๆได้ค่ะ หากมีการเปลี่ยนแปลงใดๆเกิดขึ้นทางพี่ทีมงานจะรีบแจ้งข้อมูลอัพเดตให้ทันทีค่ะ 🙂 C
Related Jobs