🆕 Ghirardelli Chocolate Company, San Francisco
SAN FRANCISCO , CA
Job Description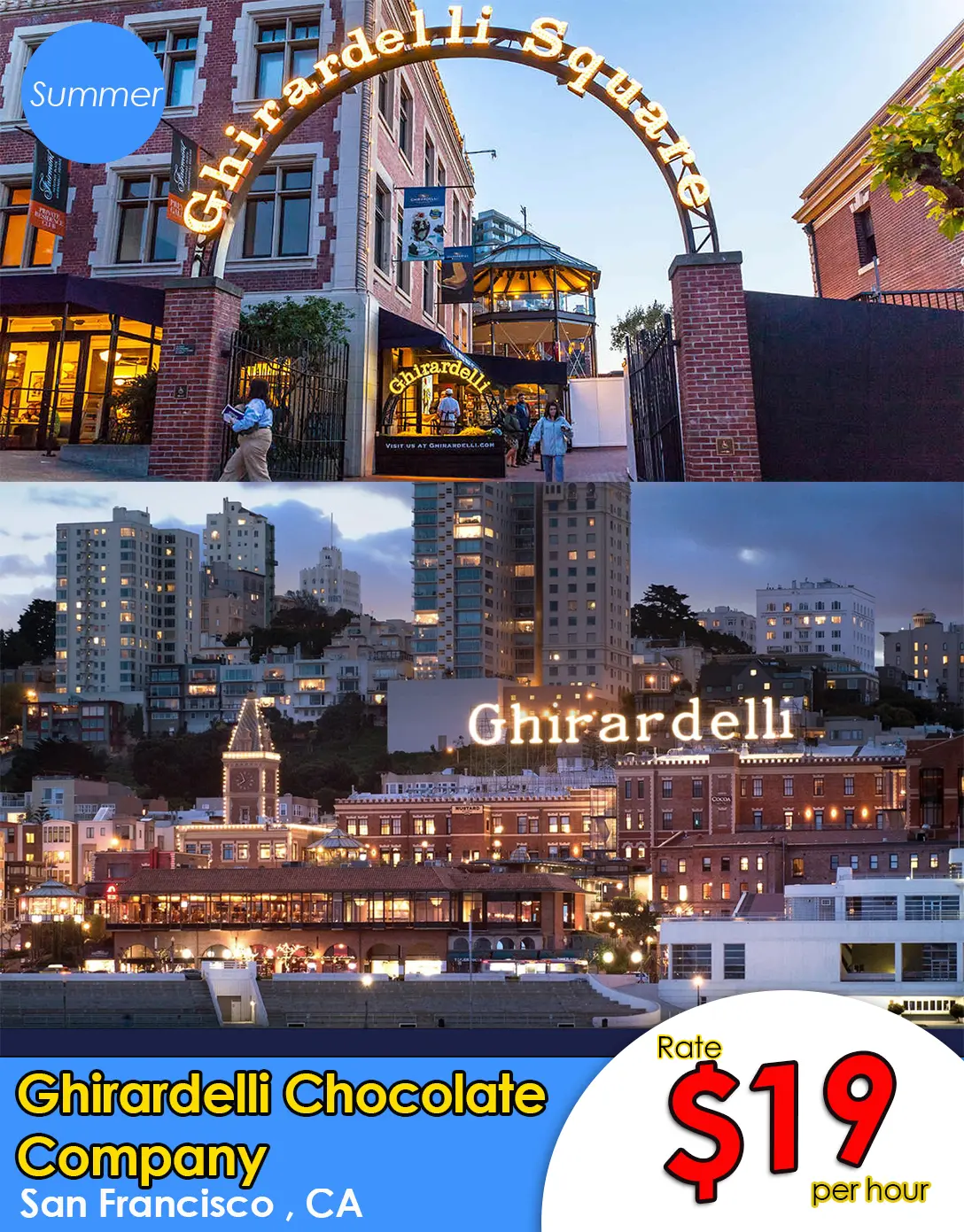 Chocolatier : You may work at any of the San Francisco locations including the Palace Hotel or at Oracle Park. MUST be friendly, approachable, smiling have a great attitude and have excellent customer service skills. Must be able and willing to perform ALL duties, including standing for up to 8 hours, scooping ice cream, preparing food and drinks, greeting, cashier, cleaning, sorting garbage products into proper containers including compost (wet trash items), recyclables, and trash; taking out trash several times daily, mopping the floor, bussing tables, pre-packing chocolate, stocking merchandise, lifting heavy cases 10-30 lbs (4-13 kg) and unloading trucks. CHOCOLATIER-STOCKER: Pre-packing chocolate, stocking merchandise, cleaning projects, lifting heavy cases (fem: 10-35lbs/4-15kg, males: 50-75lbs/22 -34kg) and unloading trucks 3 times a week. RETAIL SALES/GREETER: Great communication/customer service skills and a strong knowledge of chocolate merchandise. FOUNTAIN/BUSSERS: Preparing ice cream sundaes, and coffee drinks, cleaning projects, taking out the trash, mopping the floor, and bussing tables. CASHIERS: Great customer service skills; American currency. Employer will assign duties as needed. Must have a strong knowledge of chocolate merchandise and knowledge & handling of US Currency. Must pass a drug test. This is a very physical and fast-paced job; must be a hard worker with a great personality. In all positions keeping your station sanitary and clean is very important. Washing and cleaning the counters are needed regularly as you work. You will be required to wear a mask while on shift. Please remember to wash your hands as you are working and dealing with our customers, even as you shift from one workstation to another, this is very important.
All participants will be scheduled 4-5 days a week; with a 6-8 hour shift, which includes a half -hour unpaid lunch break. Additional jobs (second jobs) can not interfere with this job, so only select this job if you can sustain yourself only working for Ghirardelli. You must share a local phone number with the employer to reach you when an open shift needs to be filled.
San Francisco is one of the leading cities in the U.S. focusing on sustainability and recycling. As a result, businesses in San Francisco are required to sort out recyclable and compostable items from their trash. Please be aware that you will be required to assist in this effort.
Oracle Park: Great personality is necessary for conversing with customers and selling products. You will be working in a concession stand selling food items. You will need to learn the items for sale and offer the customer the best service meeting Ghirardelli's high standards. Must understand American currency; handling & counting change. Must be dependable, hard-working, & honest. There may be periods of up to 10 days when there are no home games which means limited work. On days when there are no events at Oracle, you will be working at the Ghirardelli stores. The 28 hours include hours worked at other Ghirardelli locations. Working at the other locations will involve sorting compost and recyclable trash from garbage (SF city ordinance), scooping ice cream, preparing drinks, cashier, stocking products, working in the retail shop or working the fountain station or bussing. Must be willing to work any scheduled shifts to ensure you get your hours.
You will need to purchase a bus pass for transportation to and from the park. San Francisco is a large city; you must be prepared to arrange your own housing & live in a large metropolitan city environment. Housing in San Francisco is expensive; costing between $600 -$1000 per month per participant. Do not apply if you cannot afford this.
** Your work location will fluctuate You are expected to work at all locations including Oracle Park**
Must be dependable, hard-working, friendly, and a very trustworthy and honest individual. Positions require attention to detail, punctuality, and a great service attitude & team spirit. Flexible to help in other positions as requested. Additional tasks as requested by
management. You will be working all weekends (Friday, Saturday, and Sunday), all holidays, and evening shifts. You may not work the same shifts as your friends. Nor will you have the same days off as your friends. No job, or hours at a job, can be 100% guaranteed. Regardless of what your work contract states, there is always a possibility that you will work more or fewer hours. Some days will be slower than others.
Orientation Dates May 8, May 15, May 22, or May 29
Orientation Dates June 5, June 12, June 19, or June 26
Position
Chocolatier, San Francisco Stores and Oracle Park – Orientation Dates May 8, May 15, May 22, or May 29 (4M 4F) 🟢 ว่าง 1M 1F ตำแหน่ง
Chocolatier, San Francisco Stores and Oracle Park – Orientation Dates June 5, June 12, June 19, or June 26 (3M , 1M/F)❌ (เต็มแล้วจ้า)
Location
San Francisco , CA
Rate
$19.00 per hour
Start Date
Orientation Dates May 8, May 15, May 22, or May 29
7 May 2024 – 29 May 2024
Orientation Dates June 5, June 12, June 19, or June 26
5 Jun 2024 – 15 Jun 2024
End Date
Orientation Dates May 8, May 15, May 22, or May 29
25 Aug 2024 – 7 Sep 2024
Orientation Dates June 5, June 12, June 19, or June 26
25 Aug 2024 – 7 Sep 2024
English level
Upper Intermediate – Advanced
Housing
$50.00 per day (Must Arrange Own)
Transportation to work
Participants can walk, take the bus, ride a bike, etc to get around
** งานนี้ไม่ต้องชำระค่า Premium Job ใดๆทั้งสิ้นนะคะ และข้อมูลของงานดังกล่าว นายจ้างหรือองค์กรแลกเปลี่ยน USA อาจมีการเปลี่ยนแปลงได้ในภายหลัง โดยขึ้นอยู่กับปัจจัยในด้านธุรกิจของนายจ้างนะคะ โดยบริษัทฯ ไม่สามารถควบคุมการเปลี่ยนแปลงใดๆได้ค่ะ หากมีการเปลี่ยนแปลงใดๆเกิดขึ้นทางพี่ทีมงานจะรีบแจ้งข้อมูลอัพเดตให้ทันทีค่ะ 🙂 C
Related Jobs