🆕 Glen Dairy Queen
Glen , NH
Job Description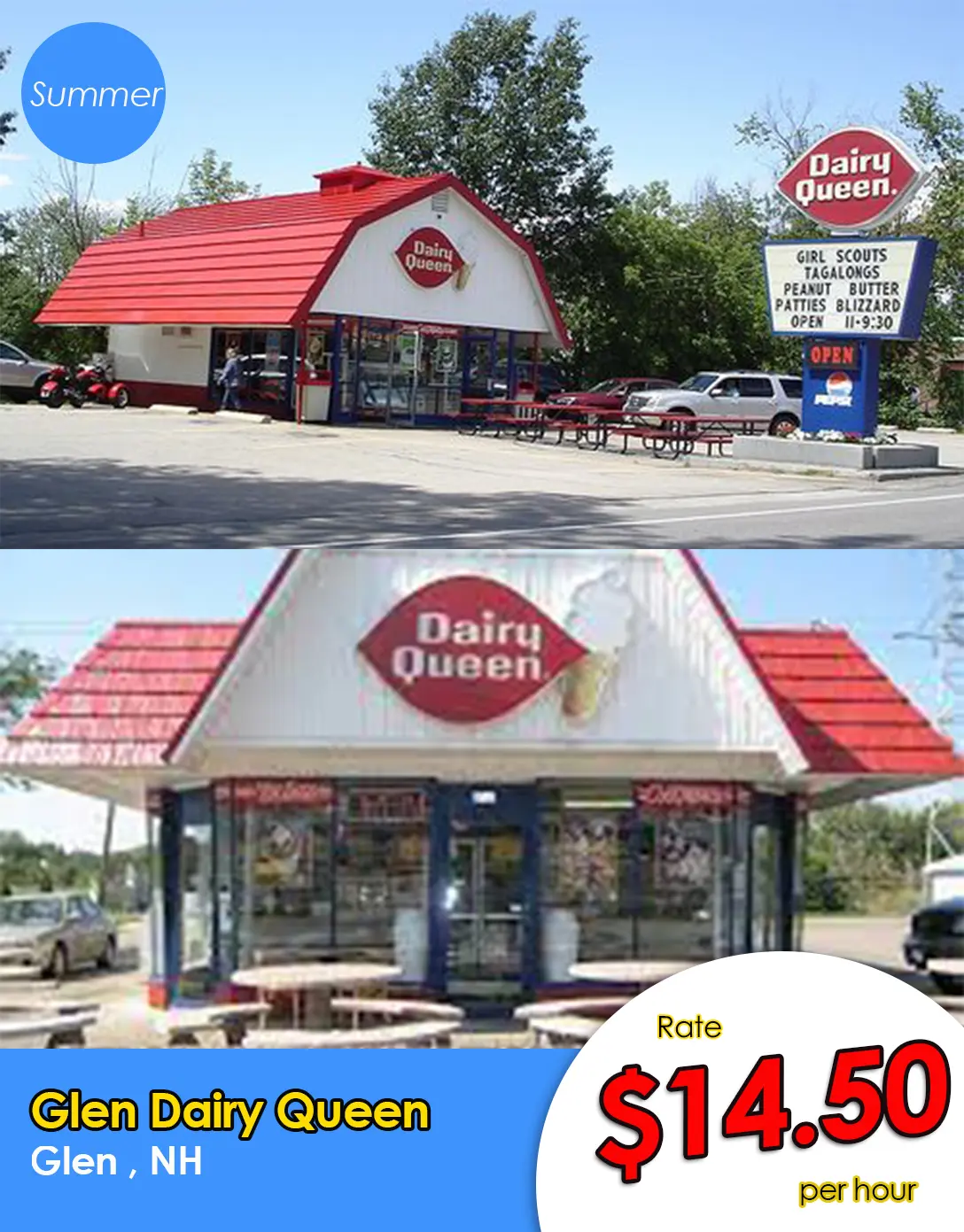 Cashier, Ice Cream Server, Grill Cook : In this position, participants will work in a busy ice cream/fast food company doing a variety
of duties from interacting with the customer to get a food order, preparation of burgers and other food items or ice cream, cashing out the customer. Daily set up, preparation, cleaning and breaking down of machines. Entire store cleaning daily. Additional tasks may be assigned by the manager. To thrive in this position flexibility and teamwork are essential. Additional jobs must work around DQ schedule. Schedules will vary on a weekly basis, though the host employer will try to schedule consistently in order to facilitate an additional job, if possible.
Position
Cashier, Ice Cream Server, Grill Cook  (5 M/F)
Location
Glen, NH
Rate
$14.50 hourly + tips received upon successful completion of work contract
Hours
32-40 hours per week
Start Date
7 May 2024 – 31 May 2024
End Date
5 Sep 2024 – 7 Sep 2024
English level
Upper Intermediate – Advanced
Housing
$130.00 per week (Employer)
Deposit amount : 200.00 (Housing deposit due on arrival.)
Transportation to work
Students can walk or ride a bike.
** งานนี้ไม่ต้องชำระค่า Premium Job ใดๆทั้งสิ้นนะคะ และข้อมูลของงานดังกล่าว นายจ้างหรือองค์กรแลกเปลี่ยน USA อาจมีการเปลี่ยนแปลงได้ในภายหลัง โดยขึ้นอยู่กับปัจจัยในด้านธุรกิจของนายจ้างนะคะ โดยบริษัทฯ ไม่สามารถควบคุมการเปลี่ยนแปลงใดๆได้ค่ะ หากมีการเปลี่ยนแปลงใดๆเกิดขึ้นทางพี่ทีมงานจะรีบแจ้งข้อมูลอัพเดตให้ทันทีค่ะ 🙂 C
Related Jobs