🆕 Grand Atlantic Resort
Hotel MYRTLE BEACH , SC
Job Description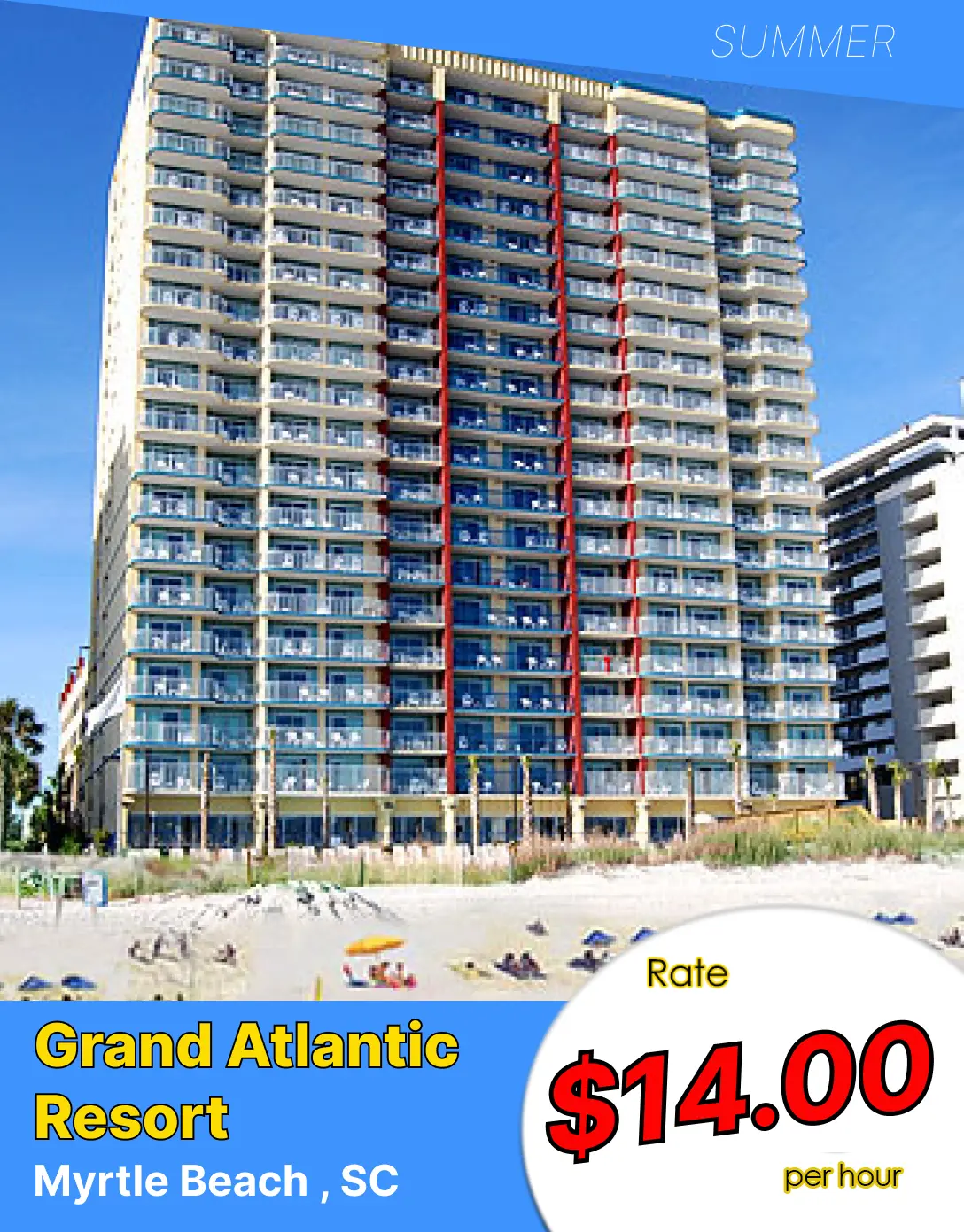 Housekeeper, Houseman, Laundry : Female applicants will do housekeeping: Cleaning rooms, vacuuming, dusting, cleaning bathrooms, changing towels/sheets, and doing laundry, taking out trash, cleaning public areas of the property. Grounds: picking up trash in the parking lot and around the pool. All are required to do constant bending, kneeling, and lifting (up to 10 kilos) each day throughout the day. You must be able to speak and understand English at a level of 7 or higher on the ESOL scale. Laundry: you will be responsible for doing and folding all the laundry for the resort. Houseman: will assist and supervise housekeepers and ensure all common areas are clean in the hotel.
Pool Attendant : Pool Attendants will monitor guest behavior and ensure that posted pool rules are being followed, keeping the pool area tidy and free of debris and trash. Perform basic maintenance activities on the pools including skimming and debris removal. Staff the pool towel stand and sign in/out pool towels for guests. Monitor pool area for any potential safety concerns and take appropriate actions for any issues found, ensure that only authorized guests\owners are using the pool area by verifying name and/or room numbers, and
maintain proper inventory of inflatable tubes for the lazy river.
Front Desk : A Front Desk Representative's responsibilities are varied depending on the company. They are responsible for greeting and welcoming guests, receiving and delivering all incoming and outgoing mail and packages, answering all calls and directing as needed, scheduling meetings, and coordinating office activities.
Position
Housekeeper, Houseman, Laundry  (5 M/F)
Pool Attendant (3 M/F)
Front Desk : (1 M/F)
Location
MYRTLE BEACH, SC
Rate
Housekeeper, Houseman, Laundry $14.00 per hour
Pool Attendant  $14.00 per hour
Front Desk : $14.00 per hour
Hours
32-40 hours per week
Start Date
7 May 2024 – 15 Jun 2024
End Date
20 Aug 2024- 7 Sep 2024
English level
Upper Intermediate – Advanced
Housing
$125.00 per week (Must Arrange Own) **$115-$150 per week, maybe more/less
Deposit amount : $300.00 (Depends)
Transportation to work
On foot or bike, public transportation is available to you as well. Depending on the option depends on how long it will take.
** งานนี้ไม่ต้องชำระค่า Premium Job ใดๆทั้งสิ้นนะคะ และข้อมูลของงานดังกล่าว นายจ้างหรือองค์กรแลกเปลี่ยน USA อาจมีการเปลี่ยนแปลงได้ในภายหลัง โดยขึ้นอยู่กับปัจจัยในด้านธุรกิจของนายจ้างนะคะ โดยบริษัทฯ ไม่สามารถควบคุมการเปลี่ยนแปลงใดๆได้ค่ะ หากมีการเปลี่ยนแปลงใดๆเกิดขึ้นทางพี่ทีมงานจะรีบแจ้งข้อมูลอัพเดตให้ทันทีค่ะ 🙂 C
Related Jobs