🆕 Great Wolf Lodge – Wisconsin Dells
Baraboo , WI
Job Description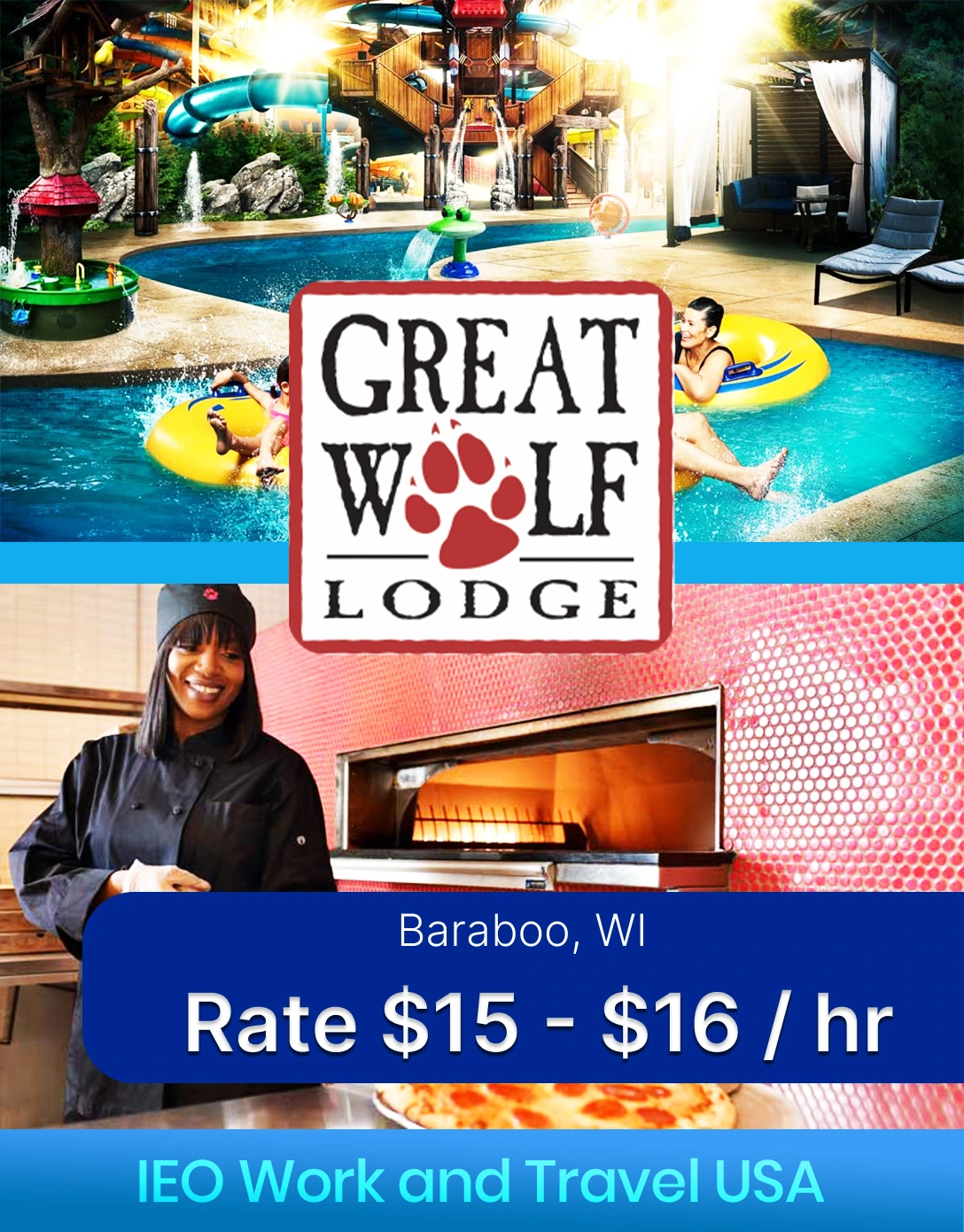 Lifeguard : – Current license in Ellis & Associates International Lifeguard Training Program including CPR, First Aid, and AED. Will receive this training upon arrival.
– Swim 50 yards in 4 ft. of water and retrieve a 10 lb brick at bottom of pool.
– Must sit or stand for extended periods of time.
– You will be working in a humid, warm environment and be immersed in water for extended periods of time.
– Position requires the ability to lift, push, and pull at least 50 lbs and up to 100 lbs.
– Climb multiple flights of stairs.
Public Area Attendant : – Prior experience with the handling of cleaning chemicals.
– Excellent customer service skills.
– Previous housekeeping or general cleaning experience.
– Able to lift up to 30 lbs.
– Able to push/pull up to 100 lbs.
– Able to bend, stretch, and twist.
– Able to stand and walk for long periods of time.
Room Attendant : Cleans guest suites and common area in an allotted period determined by management using the proper procedures and chemicals provided by management
Retail Associate : At Great Wolf, the Gift Shop Attendant provides customers with lasting memories by assisting in the sale of memorabilia. The Attendant guides customers while maintaining the cash register, ringing sales, processing returns, and closing out the register.
Essential Duties & Responsibilities
– Communicates with guests to assist in purchasing decisions
– Provides outstanding customer service and engage in suggestive selling
– Ensures the daily operation of the retail outlet adheres to operating procedure guidelines
– Assists in merchandising functions including display and store design, inventory receiving, stocking, and merchandise pricing
– Performs cash-handling functions, including point-of-sale (POS) system, registers, and daily reporting
– Ensures retail outlet adheres to the highest standards of cleanliness, presentation, and service
– Assists in other retail outlets as needed.
Position
Lifeguard (5 M/F)
Public Area Attendant (3 M/F)
Room Attendant (10 M/F)
Retail Associate (2 M/F)
Location
Baraboo , WI
Rate
Lifeguard ($15.50 per hour)
Public Area Attendant ($15.00 per hour)
Room Attendant ($16.00 per hour)
Retail Associate ($15.00 per hour)
Hours
32-40 hours per week
Start Date
25 Mar 2024- 7 Apr 2024
End Date
20 Jun 2024 – 7 Jul 2024
English level
Advanced (excellent)
Housing
$95 USD per week. (Host company assisted Dormitory)
Housing deposit 200 USD
-Full Private bath in each unit
-Free Wi-Fi Internet access on entire property
-Refrigerator and Microwave in each unit
-Common Kitchen areas on each floor
-Community Building with laundry and recreational lounge area
-Outdoor recreation areas
-Bicycle parking
-24 hour Security and Monitoring
-Near to all Dells Area Employers and Stores
Security deposit ($200.00), first 2 weeks rent ($190),and administration fee ($100) is
due upon arrival. Total of $490 due upon arrival
Transportation to work
There are several transportation options available: – Walking – Purchase Bike – Taxi – Dells City Taxi: 608-448-1818 (Employer does not provide transportation from housing to work site)
** งานนี้ไม่ต้องชำระค่า Premium Job ใดๆทั้งสิ้นนะคะ และข้อมูลของงานดังกล่าว นายจ้างหรือองค์กรแลกเปลี่ยน USA อาจมีการเปลี่ยนแปลงได้ในภายหลัง โดยขึ้นอยู่กับปัจจัยในด้านธุรกิจของนายจ้างนะคะ โดยบริษัทฯ ไม่สามารถควบคุมการเปลี่ยนแปลงใดๆได้ค่ะ หากมีการเปลี่ยนแปลงใดๆเกิดขึ้นทางพี่ทีมงานจะรีบแจ้งข้อมูลอัพเดตให้ทันทีค่ะ 🙂 A
Related Jobs