🆕 Great Wolf Lodge Wisconsin Dells
Baraboo , WI
Job Description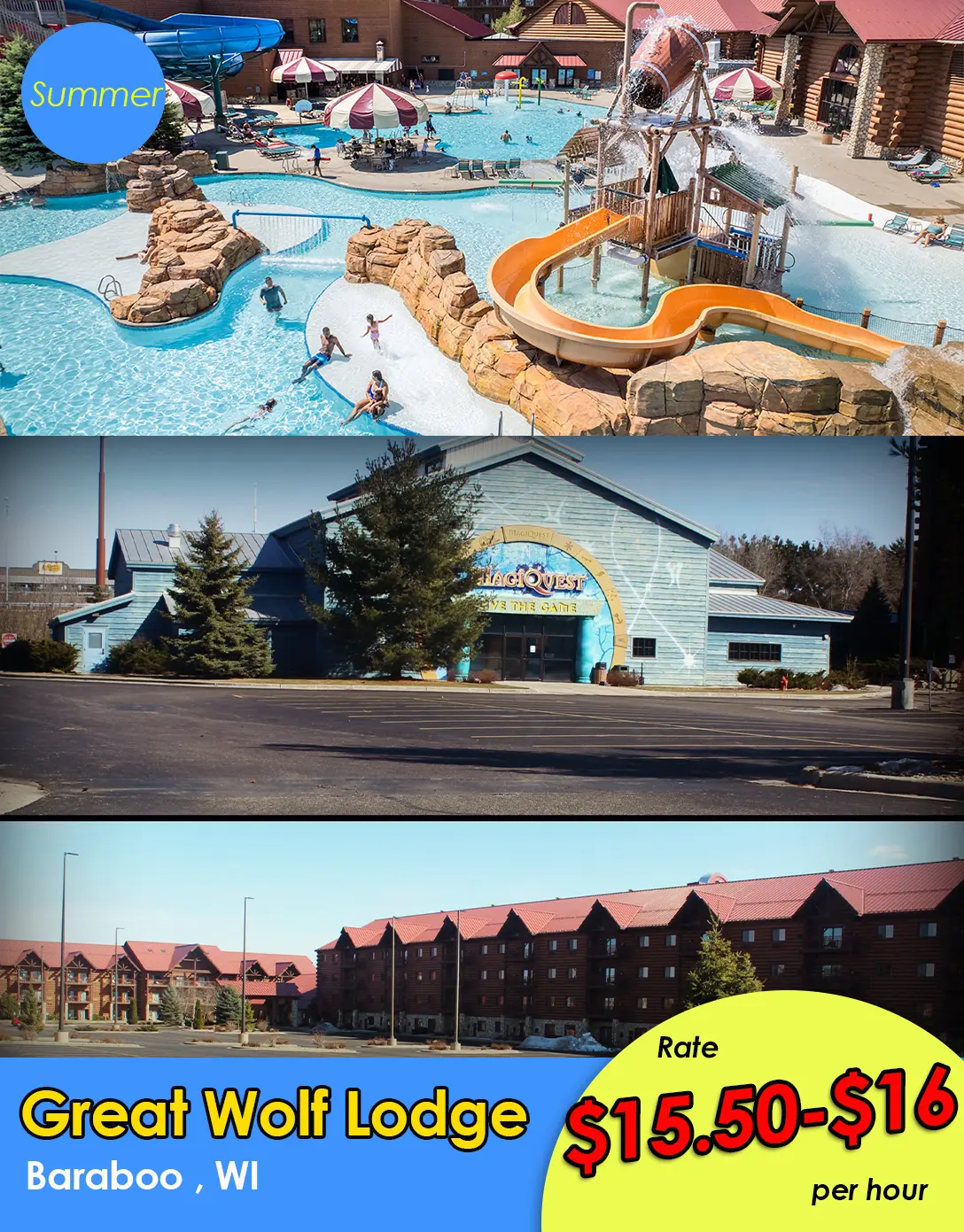 Lifeguard :The Lifeguard position is one of the most important positions, as they are vital to ensuring the safety of the guests, their families, and anyone that visits the waterpark attractions. No matter the situation, lifeguards are trained to respond and ensure all guests enjoy a safe and fun environment.
Duties include, but are not limited to:
•Supervising and providing surveillance of swimmers and guests during park hours, special events, and training sessions.
•Responding to emergency situations in assigned zone.
•Assisting in communicating emergency situations outside of assigned zone.
•Administering and coordinating emergency first aid as necessary.
•Enforcing the rules and regulations of the waterpark.
•Advising aquatics management of unsafe and unsanitary conditions.
•Providing superior customer service to all guests by assisting all in a polite and expedient manner.
•Performing daily routine chores and maintenance of waterpark to ensure neat and orderly appearance.
•Achieving certification in First Aid, CPR and Ellis & Associates Lifeguard Training.
•Performing within Ellis Certification standards.
Room Attendant / Housekeeper:The Room Attendant or Housekeeper is one of the most critical roles, as they create a clean and orderly environment for our guests. Housekeepers are responsible for general cleaning and maintenance duties, which may include: vacuuming, dusting, item washing, trash collecting and proper sorting. The housekeeping staff ensures guests can leave their daily responsibilities at home.
Duties include, but are not limited to:
•Cleaning guest rooms and guest areas, including: making beds; dusting and vacuuming; cleaning bathroom; replacing supplies; cleaning windows, mirrors, and patios.
•Utilizing chemicals according to directions and familiarizing self with all material safety data sheets.
•Maintaining a stocked, organized, and clean cart with sufficient supplies.
•Reporting maintenance issues through appropriate channels for resolution.
•Documenting and secureing lost and found items.
•Communicating with guests in a professional and friendly manner.
•Keeping supplies ready by restocking housekeeping cart at end of shift.
•Assisting House Attendant, including delivering guest requests and picking up used guest items.
•Conserving energy by closing shades and draperies; turning down air conditioning and heat of unoccupied rooms.
•Reporting hazardous conditions in work area or equipment to supervisor.
Position
Lifeguard : (5 M/F)
Room Attendant / Housekeeper: (4 M/F)
Location
Baraboo, WI
Rate
Lifeguard : $15.50 per hour
Room Attendant / Housekeeper: $16.00 per hour
Hours
32-40 hours per week
Start Date
May 15 – Jun 15 Aug 30 – Sep 30
15 May 2024 – 15 Jun 2024
End Date
30 Aug 2024 – 7 Sep 2024
English level
Intermediate – Advanced (excellent)
Housing
$100 per person, per week
Deposit Amount : $200
**Housing is located off-site at International Residence Hall. Rent cost is $100 per person, per week, with a $200 deposit and a $110 administration fee. The deposit is due at least 30 days before arrival, and the administration fee and rent for the first 2 weeks are due upon check in (total = $510 per person). If a participant needs to cancel because their visa is denied, the deposit will be refunded with proof of denial. International Residence Hall is dormitory-style housing, with large, dorm style bathrooms. Each room contains 3-4 beds (may include bunk beds). Each floor of the housing has a community kitchen and dining room. Laundry facilities are available on site. In the Community & Administration Building, there is a large area for occupants to rest and relax. The community room has couches, a TV, a ping pong table, and a billiard table. Participants are expected to clean up after themselves and help with keeping housing and common areas clean. International Residence Hall does not allow any alcohol in common areas including the kitchen, laundry, or outside. Failure to adhere to this policy could lead to eviction from housing.
Transportation to work
Students can walk or ride a bike.
** งานนี้ไม่ต้องชำระค่า Premium Job ใดๆทั้งสิ้นนะคะ และข้อมูลของงานดังกล่าว นายจ้างหรือองค์กรแลกเปลี่ยน USA อาจมีการเปลี่ยนแปลงได้ในภายหลัง โดยขึ้นอยู่กับปัจจัยในด้านธุรกิจของนายจ้างนะคะ โดยบริษัทฯ ไม่สามารถควบคุมการเปลี่ยนแปลงใดๆได้ค่ะ หากมีการเปลี่ยนแปลงใดๆเกิดขึ้นทางพี่ทีมงานจะรีบแจ้งข้อมูลอัพเดตให้ทันทีค่ะ 🙂 S
Related Jobs