(เต็มแล้วจ้า) Hard Rock Cafe
San Antonio , TX
Job Description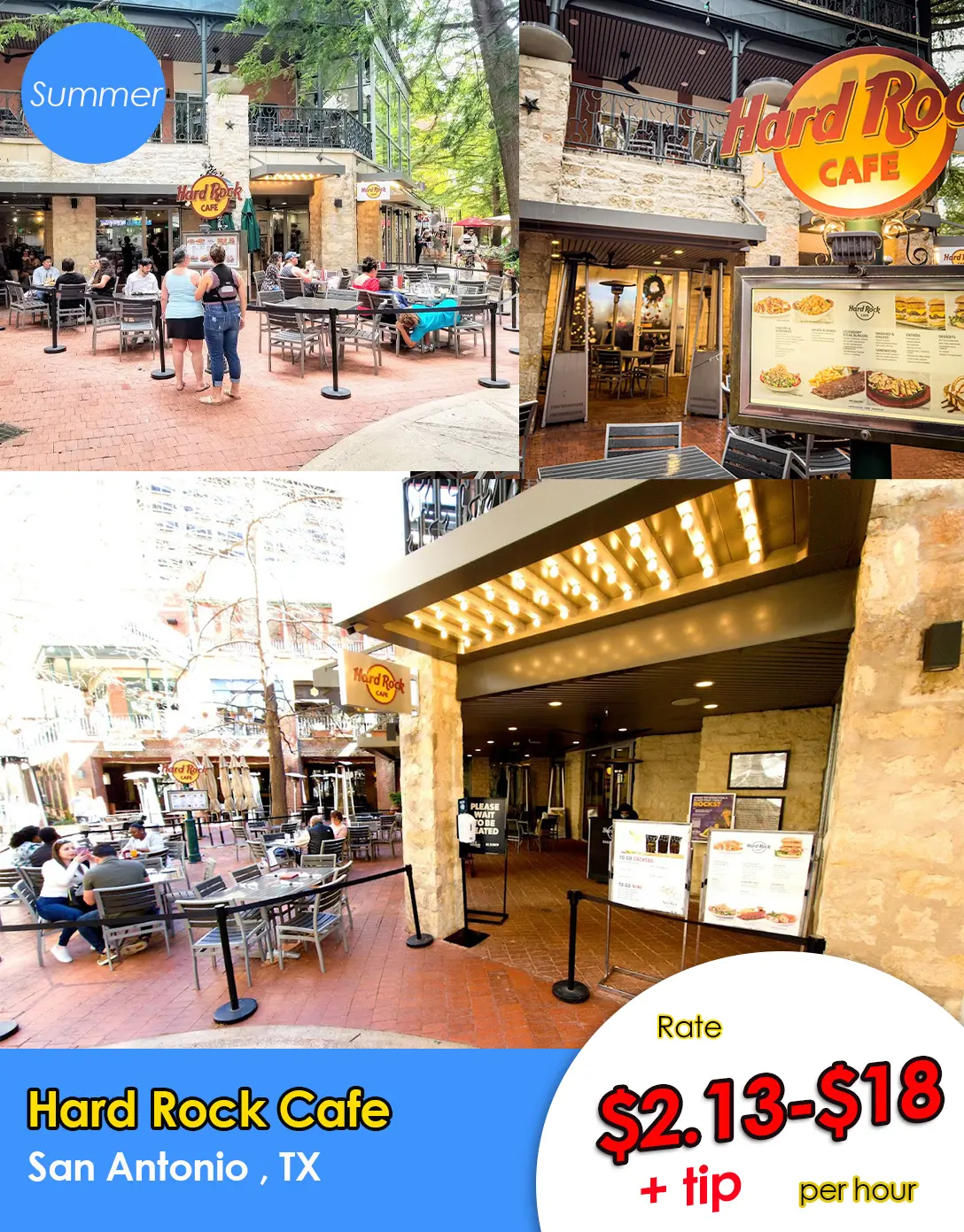 Server : Must be professional looking and very personable. You will serve guests food and drinks, clean the restaurant area – tables, chairs, floor, empty trash, remove dishes, etc. Requires attention to detail, punctuality, and a great service attitude & team spirit. This is a very physical job; need to lift 40lbs/18kg and need to be able to stand for 8 or more hours. Must be dependable, hard-working, friendly, and be a very trustworthy and honest individual. Employer guarantees a minimum of 32 hrs per week. You may not have the same days off as your friends. You will work all weekends and holidays in America.
Host/Busser/Retail : Busser: Responsible for cleaning and setting tables, general table maintenance, and maintaining a clean, sanitary, and safe work environment for all Staff Members and guests by performing the following duties:
• Maintains cleanliness around front façade of the building, guest restrooms, floors, and surrounding work areas by keeping the area swept, mopped, and free from spills, trash, debris, etc
• Gathers and clears all tableware soiled through use and delivers to dishwasher.
• Scrapes, racks, and stacks glassware/plateware/silverware in dishwashing area.
• Clears and sets tables according to established procedures and standards. Performs these tasks with speed and efficiency.
• Maintains adequate supply of ice to all service stations and ice bins.
• Moves tables and chairs to adjust floor plans for special functions, band performances, etc.
• Stocks all service stations with appropriate supplies, including glassware, silverware, paper products, etc.
• Pre-busses tables of all used glassware/plate ware/ silverware/etc. and maintains work areas, including organizing and cleaning service stations.
• Keeps all trash cans in service stations clean and empty; brings in empty cans after trash pickup.
• Understands and utilizes all safety and sanitation practices as defined in the safety program and reports any accidents to management.
• Performs other duties and tasks as assigned or determined by management or supervisors and moves with a sense of urgency.
Position
Server (4 M/F) 🟢 ว่าง 1 ตำแหน่ง
Host/Busser/Retail (7 M/F) 🟢 ว่าง 2 ตำแหน่ง
Location
San Antonio , TX
Rate
Server $2.13 per hour + tips
Host/Busser/Retail Host/Retail pays $18.00/hr Busser/Server pays $2.13/hr + tips
Hours
32-40 hours per week
Start Date
7 May 2024 – 15 Jun 2024
End Date
15 Aug 2024 – 7 Sep 2024
English level
Upper Intermediate – Advanced
Housing
$250.00 per week (Must Arrange Own)  **Most places cost between $250-300 a week
**Deposit $250.00 (On arrival)
Transportation to work
Students can walk or ride a bike.
** งานนี้ไม่ต้องชำระค่า Premium Job ใดๆทั้งสิ้นนะคะ และข้อมูลของงานดังกล่าว นายจ้างหรือองค์กรแลกเปลี่ยน USA อาจมีการเปลี่ยนแปลงได้ในภายหลัง โดยขึ้นอยู่กับปัจจัยในด้านธุรกิจของนายจ้างนะคะ โดยบริษัทฯ ไม่สามารถควบคุมการเปลี่ยนแปลงใดๆได้ค่ะ หากมีการเปลี่ยนแปลงใดๆเกิดขึ้นทางพี่ทีมงานจะรีบแจ้งข้อมูลอัพเดตให้ทันทีค่ะ 🙂 C
Related Jobs