🆕 Bubba Gump Shrimp Co
GALVESTON , TX Restaurant
Job Description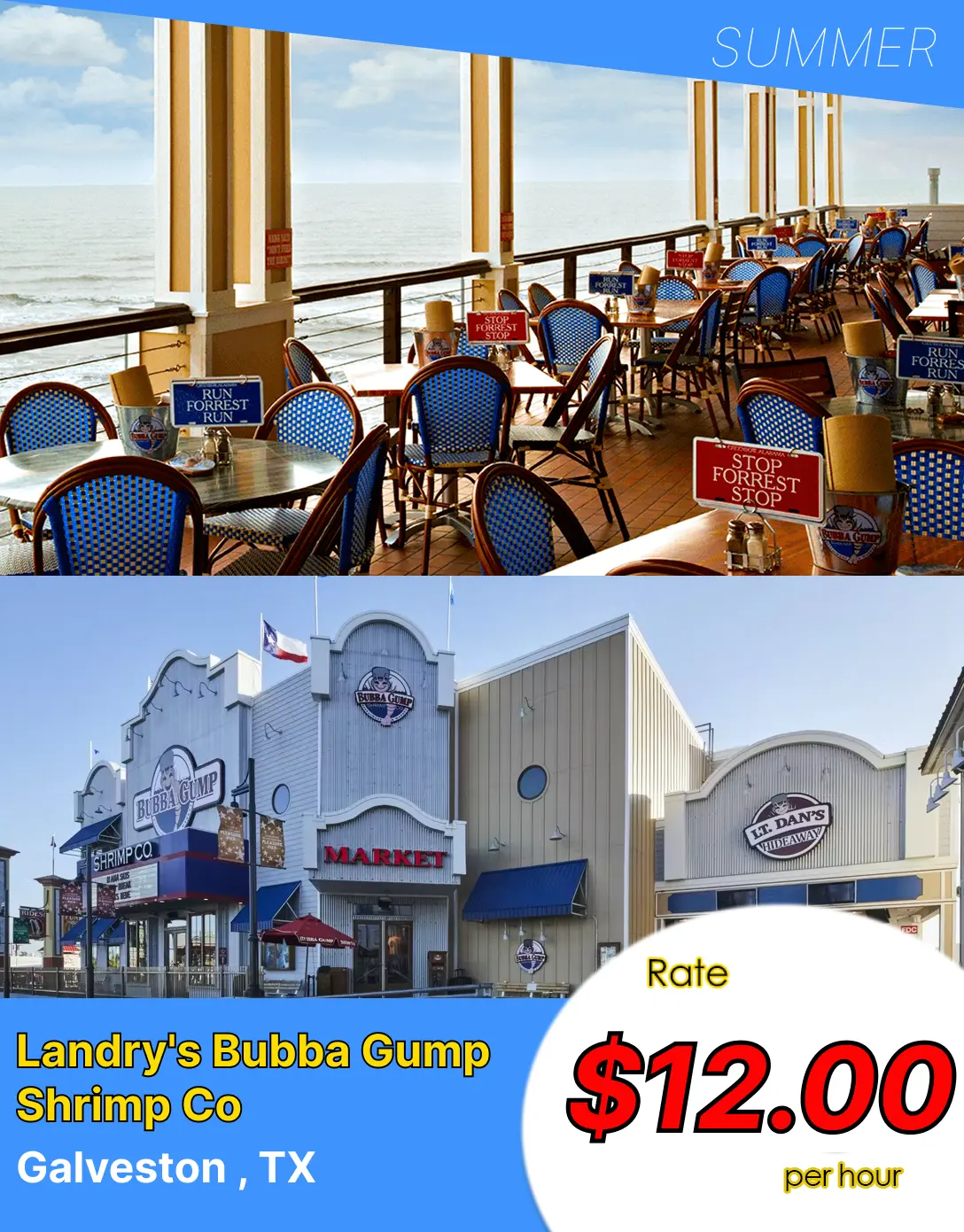 Host/Hostess : Responsible to greet arriving guests, welcome them into the establishment and seat them at a table. As the first contact between the customers and the restaurant, the host/hostess is a personal representation of the service and overall hospitality of the staff of the restaurant. While guests are waiting to be seated or waiting for take-out orders to be ready, it is the job of the hostess to ensure that the guests are made comfortable and kept informed of the status of their orders or wait times.
Specific duties may include but are not limited to any combination of the following:
-Monitors the open dining sections of the restaurant for empty and cleaned tables.
-Escorts the guests to the dining room.
-Estimates wait times for guests and monitoring the guest waiting list.
-Ensures that the needs of the guests are met while they are waiting.
-Keeps dining room occupancy chart current.
-Answers the telephone.
-Books reservations.
-Assist wait staff as needed, taking initial drink orders, moving tables together, etc.
-Inspect assigned restrooms and clean as needed.
-Complete additional duties as assigned by supervisor.
-Other duties may be assigned.
-Please be sure to review the menu before arriving to Bubba Gump Shrimp Company.
There is a lot of information that you will be required to know. If you do not know the menu, Bubba Gump cannot allow you to be a Host. You can find the menu here: www.bubbagump.com/menus.asp
Cook : Responsible to assist in the preparation of meals by chopping vegetables, making salads, and putting together entrees. Specific duties may include but are not limited to any combination of the following
-Accurately and efficiently cook meats, fish, vegetables, soups and other hot food products.
-Complies consistently with company standards on portion sizes, cooking methods, quality standards and kitchen rules, recipes, policies and procedures.
-Prepares and portions food products prior to cooking.
-Handle raw meats and maintain health and safety standards
-Ensures quality of products served.
-Follows proper plate presentation and garnish set up for all dishes.
-Utilizes a wide range of kitchen tools and utensils, including but not limited to knives, grinders, broilers, ovens, grills, and fryers according the health and safety standards.
-Performs kitchen maintenance tasks such as emptying the trash and washing dishes.
-Promptly reports equipment and food quality or shortage problems to Kitchen
Manager.
-Maintains a clean work station and assists with the cleaning, sanitation, and organization of kitchen and all storage areas.
-Monitors inventory levels to ensure product availability.
-Graciously and quickly fulfills any guest request possible.
-Completes opening and closing checklists. -Stocks and maintains sufficient levels of food products at line stations to assure a smooth service period.
-Completes additional duties as assigned by supervisor
-Other duties may be assigned.
-Please be sure to review the menu before arriving to Bubba Gump Shrimp Company. There is a lot of information that you will be required to know. If you do not know the menu, Bubba Gump cannot allow you to be a Cook. You can find the menu here: www.bubbagump.com/menus.asp
Server: Food and Beverage employees are required to perform various food and beverage related tasks including:
– Placing food items on serving plates or dishes along with required condiments and utensils to present to customers
– Preparing cold drinks, warm drinks, and other non-alcoholic beverages.
– Some employees will serve alcoholic beverages and must strictly follow all state and federal laws related to serving alcohol.
– F & B employees may be responsible for handling sales which will include: taking correct orders, entering sales in cash register, taking money, counting out correct change (coins/ bills), giving change to customers, and completing credit card transactions.
– All F & B employees will be responsible for maintaining and cleaning all Food Service areas including preparation tables, equipment, dishes, floors, supply areas, refrigerators, coolers, sales areas, and customer areas (tables, chairs, serving lines, condiment stands, etc.).
– Demonstrate a high level of customer service. Respond to and take appropriate action to resolve concerns and complaints of guests.
– Keep supervisor/ manager informed of situations relating to facility operation, patron complaints or concerns, accidents, emergency situations, damages, and potential
safety hazards.
– Attend departmental and team meetings as well as participate in all additional training courses.
– Perform all duties in a safe manner.
-Other duties may be assigned.
-Please be sure to review the menu before arriving to Bubba Gump Shrimp Company. There is a lot of information that you will be required to know. If you do not know the menu, Bubba Gump cannot allow you
Position
Host/Hostess : (2 M/F)
Cook : (10 M/F)
Server: (1 M/F)
Location
Galveston , TX
Rate
Host/Hostess : $8.00 / hour + tip share
Cook : $12.00 / hour
Server: $7.25 / hour + tip share
Hours
32-40 hours per week
Start Date – End Date
Host/Hostess :
Start 24 May 2024
End 5 Sep 2024
Cook :
Start 1 Jun 2024 – 15 Jun 2024
End 5 Sep 2024 – 7 Sep 2024
English level
Upper Intermediate – Advanced
Housing
$350.0 per month (Participant arranged)
**Deposit $150.00
Transportation to work
Public Transportation
** งานนี้ไม่ต้องชำระค่า Premium Job ใดๆทั้งสิ้นนะคะ และข้อมูลของงานดังกล่าว นายจ้างหรือองค์กรแลกเปลี่ยน USA อาจมีการเปลี่ยนแปลงได้ในภายหลัง โดยขึ้นอยู่กับปัจจัยในด้านธุรกิจของนายจ้างนะคะ โดยบริษัทฯ ไม่สามารถควบคุมการเปลี่ยนแปลงใดๆได้ค่ะ หากมีการเปลี่ยนแปลงใดๆเกิดขึ้นทางพี่ทีมงานจะรีบแจ้งข้อมูลอัพเดตให้ทันทีค่ะ 🙂 A
Related Jobs