🆕 Luna Park in Coney Island – Brooklyn
Amusement Park Brooklyn , NY
Job Description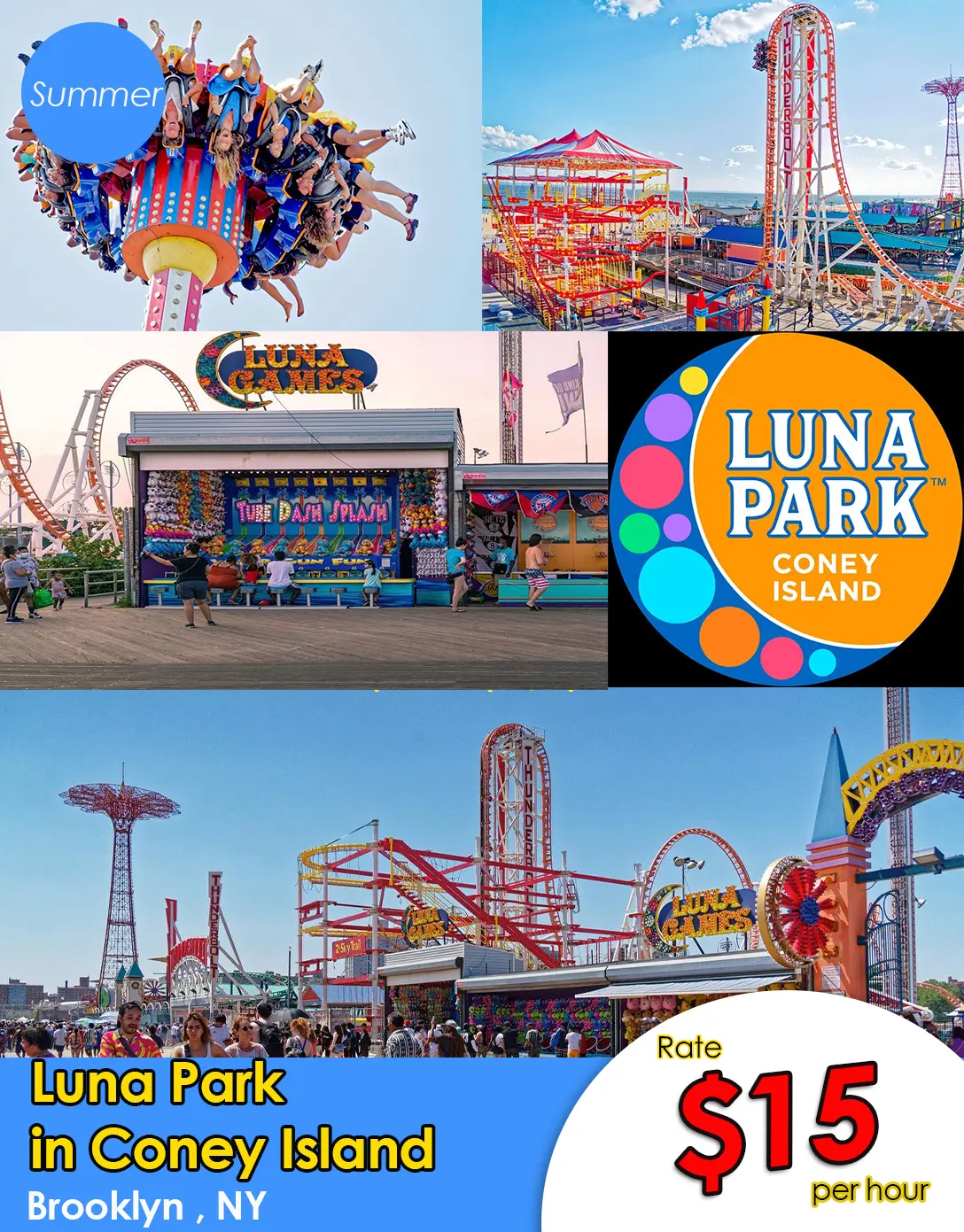 Ride Operations Associate : Working as a Ride Operator Associate at Luna Park is a demanding role that requires both physical and mental stamina. Your primary objective is to ensure the safety and enjoyment of our valued guests. This entails a range of daily tasks, including testing ride systems, securing fences, and performing thorough safety checks. During your shifts, you will be responsible for operating rides according to established procedures and providing clear safet instructions to our guests while also enforcing the necessary rules to maintain a safe environment. Quick decision-making and vigilant monitoring of guest behavior are crucial aspects of your role. Effective communication is key in this position, as you will need to interact with colleagues, supervisors, and guests regularly. Luna Park places great importance on adhering to all relevant policies and procedures, and you will be expected to learn and follow them diligently. Physical strength is essential for this role, as you may be required to lift heavy objects, including children who need assistance. You should be prepared to handle rush hours, which can be particularly intense, and be flexible with your work schedule, as it may include evenings, weekends, and holidays. You will be responsible for maintaining detailed logs and paperwork, ensuring that guests comply with ride policies, and adapting to a multicultural environment. Luna Park values qualities such as honesty, courtesy, and friendliness, which you should embody in your interactions with guests and colleagues. It's important to note that you will be working in various weather conditions, including heat and sun. Resilience and the ability to perform well regardless of the weather are vital qualities for success in this role. At Luna Park, we prioritize safety and fun, and we invite you to join us in creating memorable experiences for our guests.
Food & Beverage Associate : responsible for taking orders, ringing them up in the register, preparing the order, and cashing out the customer in a courteous and prompt manner. Maintaining a pleasant demeanor with guests at all times is essential. May also be required to work in the kitchen preparing food, stocking and cleaning
Park Services : As a Park Services team member at Luna Park, the role involves ensuring a clean, safe, and enjoyable environment for our guests. Your responsibilities include picking up litter and using provided cleaning supplies to maintain the cleanliness of assigned areas. You will empty and dispose of trash, keep containers tidy, and ensure restroom areas are swept and well-stocked. Regularly sweeping and cleaning paths and grounds throughout the park is essential. You'll also play a crucial role in monitoring guest behavior and promptly reporting any problems or rule violations. Providing excellent customer service to both guests and coworkers is a priority. Following company policies and procedures, including the safe use of chemical cleaners and power equipment, is a must to prevent property damage. You will receive instructions from the management team and head office, scheduling work assignments, setting priorities, and maintaining records and reports. This role requires adaptability, as you'll need to determine materials, supplies, and equipment needed. You should be prepared to work a variety of shifts, including holidays and weekends, in all weather conditions. Being outgoing, friendly, courteous, and honest is highly valued, and you must interact effectively in a multicultural environment with people of all ages. Physical strength to lift 50 lbs. ( 22kgs ) or more is necessary.
Position
Ride Operations Associate : (6 M/F)
Food & Beverage Associate : (6 M/F)
Park Services : (1 M/F)
Location
Brooklyn , NY
Rate
Ride Operations Associate : $15.00 per hour
Food & Beverage Associate : $15.00 per hour
Park Services : $15.00 per hour
Start Date
7 May 2024 – 15 Jun 2024
End Date
3 Sep 2024 – 7 Sep 2024
English level
Upper Intermediate – Advanced
Housing
$65.08 per day (Must Arrange Own) **65.08 ( 6 Bed Mixed Dorm )
Transportation to work
By subway: Take a Coney Island-bound, D, F, N, or Q train to Coney Island-Stillwell Av. You can also take a Coney Island-bound F or Q train to West 8 St-NY Aquarium.
By bus: Take the B36 toward Coney Island-West 37 St, the B64 or the B68 toward Coney IslandMermaid Av, or the B82 toward Mermaid Av Stillwell Av. Fare for most riders on subways and local, limited, and Select Bus Service buses: $2.90. Express buses cost $7. 7-Day or 30 Day Unlimited
Cost: $34 (7-day) or $132 (30-day). You have unlimited swipes on the subway and local buses for either 7 or 30 days.
** งานนี้ไม่ต้องชำระค่า Premium Job ใดๆทั้งสิ้นนะคะ และข้อมูลของงานดังกล่าว นายจ้างหรือองค์กรแลกเปลี่ยน USA อาจมีการเปลี่ยนแปลงได้ในภายหลัง โดยขึ้นอยู่กับปัจจัยในด้านธุรกิจของนายจ้างนะคะ โดยบริษัทฯ ไม่สามารถควบคุมการเปลี่ยนแปลงใดๆได้ค่ะ หากมีการเปลี่ยนแปลงใดๆเกิดขึ้นทางพี่ทีมงานจะรีบแจ้งข้อมูลอัพเดตให้ทันทีค่ะ 🙂 C
Related Jobs