Mabel's Lobster Claw
KENNEBUNKPORT , ME
Job Description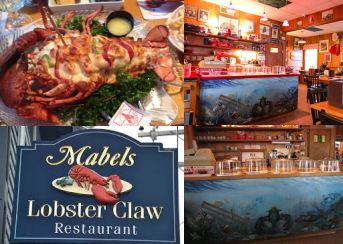 Kitchen Support : : Washing utensils and dishes and making sure they are stored appropriately. Sorting,
storing and distributing ingredients. Washing, peeling, chopping, cutting and cooking foodstuffs and helping to prepare salads and desserts. Cleaning the food preparation equipment, floors and other kitchen tools or areas
Dishwasher : : Dishwashers are responsible for ensuring the cleanliness and sanitization of dishes, tableware, glassware, pots, pans, and utensils through manual and machine cleaning methods. Additionally, dishwashers are expected to keep the dishwarshing area clean and safe.
Busser : : Prepares dining room for patrons by cleaning and clothing tables; setting decorations, condiments, candles, napkins, service plates, and utensils.
Protects establishment and patrons by adhering to sanitation and safety policies.
Maintains menu presentation by keeping menus clean; replacing damaged or soiled pages; cleaning chalkboards; lettering specials on chalkboards.
Maintains table setting by removing courses as completed; replenishing utensils; refilling water glasses; being alert to patron spills or other special needs.
Supports wait staff by setting-up and replenishing condiment stands, trash containers liners, and bus stations.
Closes dining facility by cleaning chairs and tables; sweeping and/or vacuuming floors; removing trash and recyclables from the facility.
Updates job knowledge by participating in staff training opportunities.
Enhances organization reputation by accepting ownership for accomplishing new and different requests; exploring opportunities to add value to job accomplishments.
Position
Kitchen Support, Dishwasher, Busser (6-10 M/F)
Location
KENNEBUNKPORT , ME
Rate
$12.50 per hour
Hours
32-40 hours per week
Start Date
1 May 2022 – 30 Jun 2022
End Date
6 Sep 2022 – 1 Oct 2022
English level
Upper Intermediate – Advanced
Housing
$400 – $500 per person, per month (Employer)
Transportation to work
Students can walk or ride a bike.
** งานนี้ไม่ต้องชำระค่า Premium Job ใดๆทั้งสิ้นนะคะ ในการตอบรับน้องๆเข้าทำงานจะขึ้นอยู่กับคุณสมบัติของน้องๆในแต่ละบุคคล โดยนายจ้าง / องค์กรแลกเปลี่ยนจะเป็นผู้พิจารณาเรซูเม่หรือการสัมภาษณ์ทาง Online กับน้องๆตามตารางสัมภาษณ์ของนายจ้าง หรือองค์กรในแต่ละงานค่ะ 🙂
Related Jobs