🆕 McDonalds – King Enterprises ว่าง 1 ตำแหน่ง!!
Moab , UT
Job Description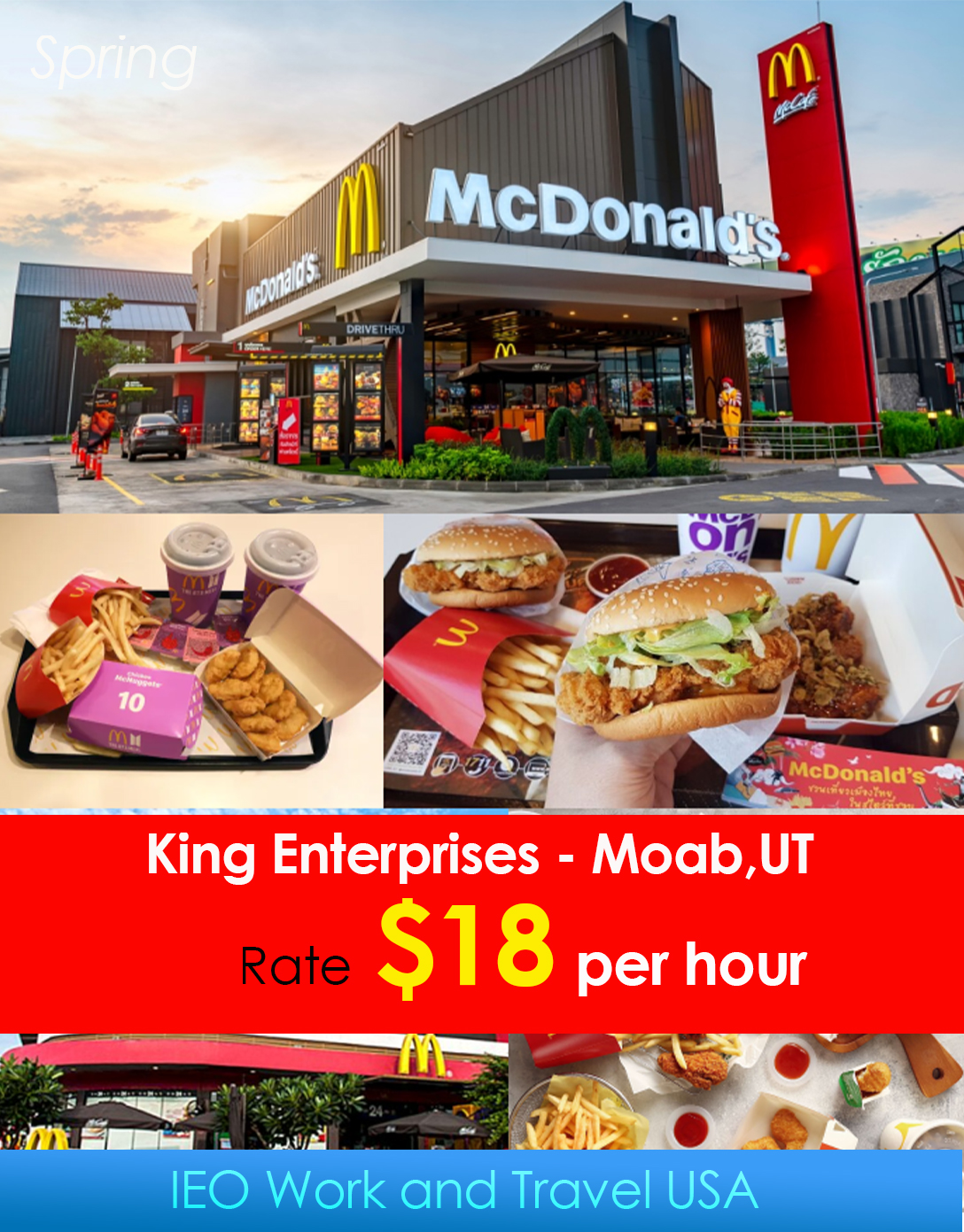 Crew Member : An excellent level of English is required for participants in this position. Participants must be able to handle pork. Participants must work well with others and be willing to work various shifts. Participants should be comfortable handling American currency and working at cash registers. Work experience is preferred but not required. Participants must be physically healthy enough to work for extended periods of time while standing, bending, kneeling, crouching, or lifting. Participants must be comfortable using cleaning chemicals.
Position
Crew Member (4 M/F) ว่าง 1 ตำแหน่ง!!
Location
Moab, UT
Rate
$18.00 per hour
Hours
32-40 hours per week
Start Date
14 Mar 2024 – 5 Apr 2024
End Date
10 Jun 2024 – 20 Jun 2024
English level
Intermediate – Upper Intermediate
Housing
$150 per person per week
**Deposit  $150 (Upon arrival)
Transportation to work
Walk or bike
** งานนี้ไม่ต้องชำระค่า Premium Job ใดๆทั้งสิ้นนะคะ และข้อมูลของงานดังกล่าว นายจ้างหรือองค์กรแลกเปลี่ยน USA อาจมีการเปลี่ยนแปลงได้ในภายหลัง โดยขึ้นอยู่กับปัจจัยในด้านธุรกิจของนายจ้างนะคะ โดยบริษัทฯ ไม่สามารถควบคุมการเปลี่ยนแปลงใดๆได้ค่ะ หากมีการเปลี่ยนแปลงใดๆเกิดขึ้นทางพี่ทีมงานจะรีบแจ้งข้อมูลอัพเดตให้ทันทีค่ะ 🙂 S
Related Jobs