(เต็มแล้วจ้า) Mt. McKinley Princess Wilderness Lodge
Trapper Creek, AK
Job Description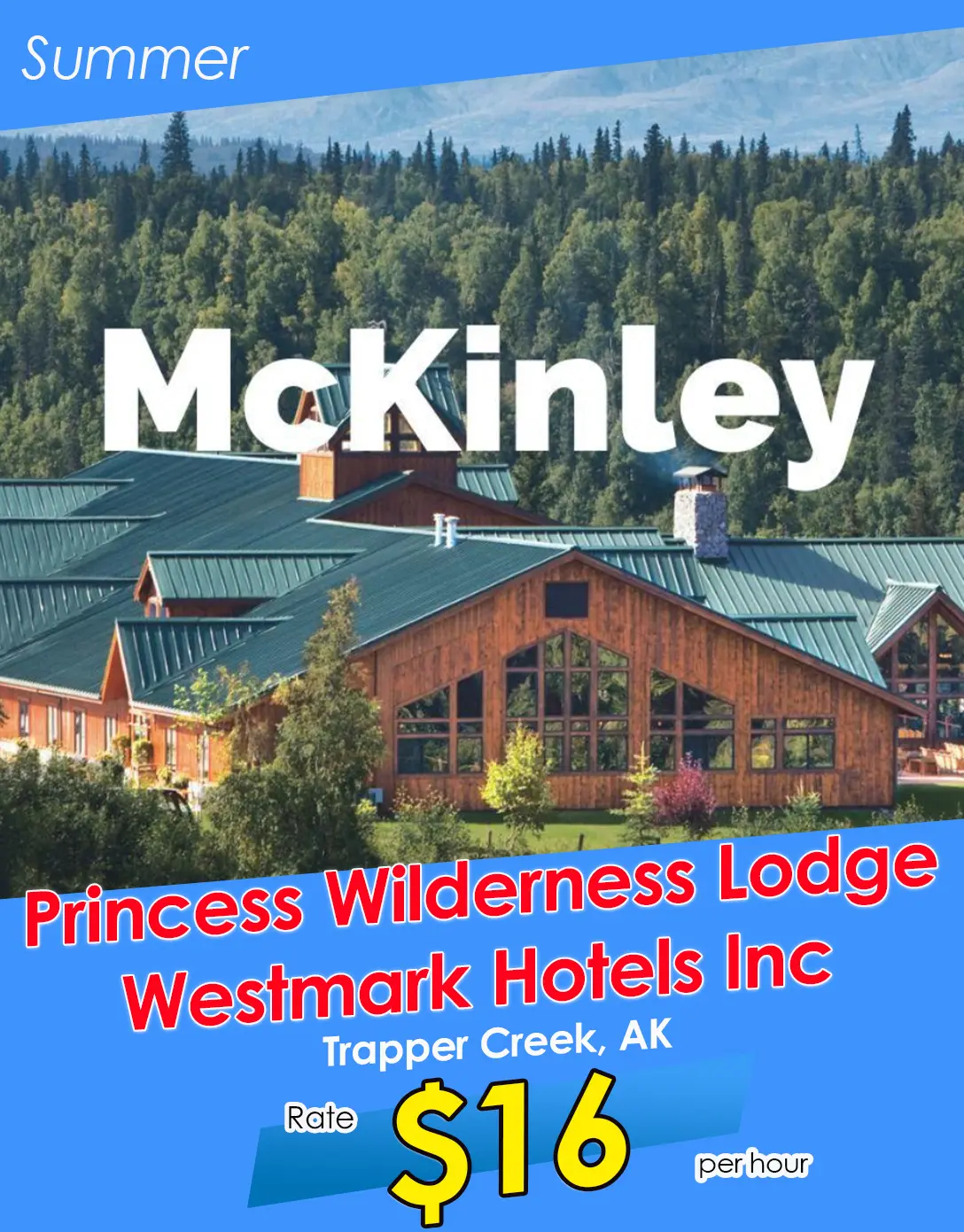 Prep Cook : This position involves being a part of creating culinary experiences for guests and team members. Participants will prepare carefully crafted dishes with elevated standards of quality and presentation. They will provide reliability, dependability and a positive attitude in a high energy environment.
Duties include, but are not limited to:
-Preparing and producing food per Company recipes and specifications on a kitchen line and prep area in a fast-paced environment
-Food preparation and stocking workstation to ensure success for business demands.
Participant will maintain high standards of cleanliness and sanitation in all work and storage spaces, stock kitchen, organize product, and inspect food quality
Position
Prep Cook (1 M/F)
Location
Trapper Creek, AK
Rate
$16.00 per hour.
Hours
32-40 hours per week
Start Date
7 May 2024 – 10 May 2024
End Date
30 Aug 2024 – 7 Sep 2024
English level
Intermediate – Advanced
Housing
$15 per person, per day
**Employer provides housing in dormitory style rooms and participants will receive 3 complimentary meals per day. Rooms will be shared by 2-3 participants and each room has a suite style bathroom. Participants in housing will have access to a recreation center with a TV, pool tables, foosball, a movie room, a book library, as well as laundry facilities (soap provided), employee internet, internet hot spots, and bed linens are provided. Bedrooms will be gender specific but males and females will share the common areas. Weekly shuttles to Anchorage or Wasilla are offered between June – August, and daily shuttles to the town of Talkeetna are available daily. This placement is located about 2.5 hours north of Anchorage. Participant must be comfortable living and working in a beautiful but remote area of the Alaskan wilderness.
Transportation to work
Walk
** งานนี้ไม่ต้องชำระค่า Premium Job ใดๆทั้งสิ้นนะคะ และข้อมูลของงานดังกล่าว นายจ้างหรือองค์กรแลกเปลี่ยน USA อาจมีการเปลี่ยนแปลงได้ในภายหลัง โดยขึ้นอยู่กับปัจจัยในด้านธุรกิจของนายจ้างนะคะ โดยบริษัทฯ ไม่สามารถควบคุมการเปลี่ยนแปลงใดๆได้ค่ะ หากมีการเปลี่ยนแปลงใดๆเกิดขึ้นทางพี่ทีมงานจะรีบแจ้งข้อมูลอัพเดตให้ทันทีค่ะ 🙂 S
Related Jobs