🆕 Native Joes Scoop and Grind
N MYRTLE BCH, SC
Job Description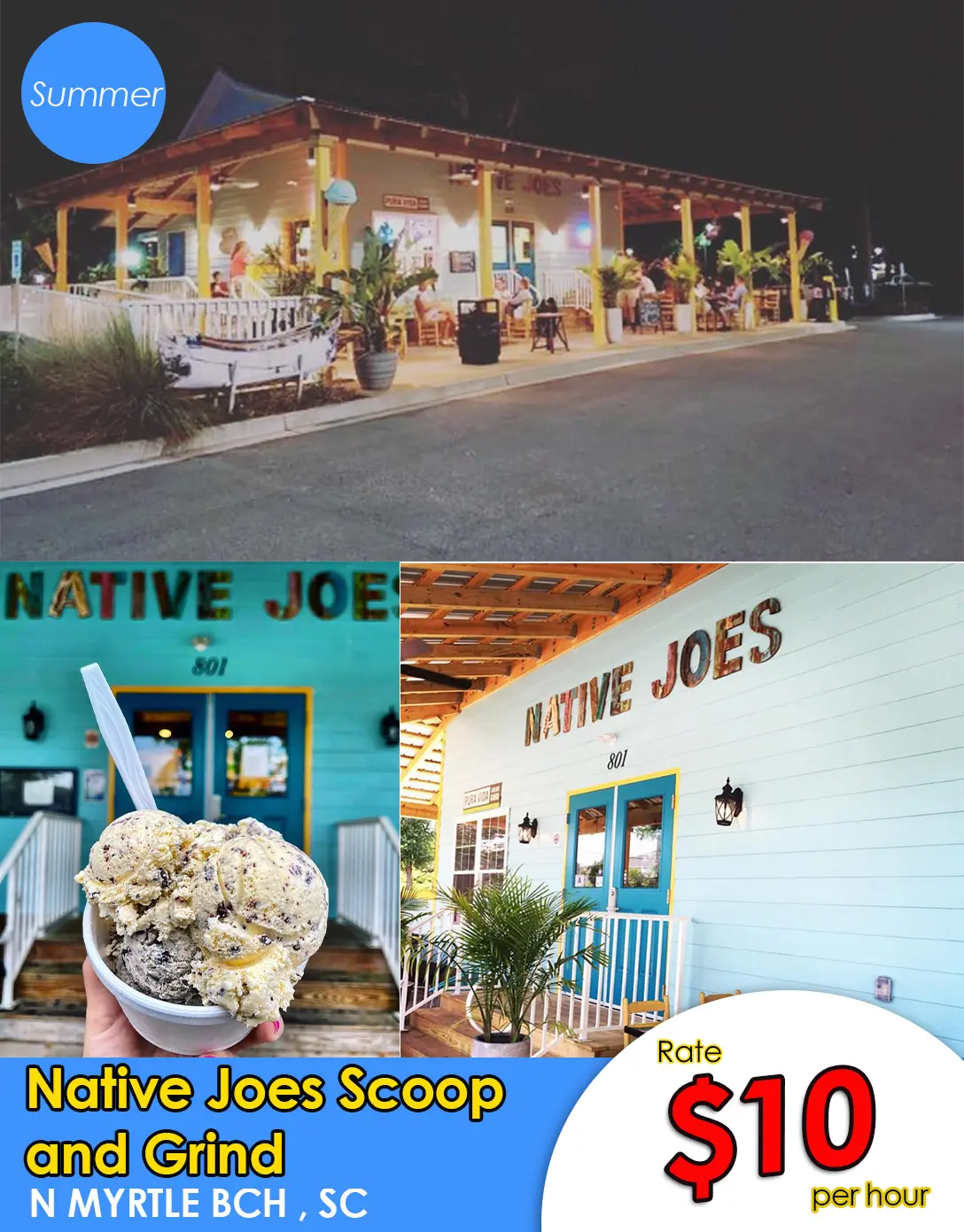 Shop Associate **Tipped Position** : Native Joe's Scoop and Grind is a well-loved ice cream parlor known for serving the finest quality ice cream and providing a delightful experience to our customers. We are seeking enthusiastic and customer-focused individuals to join our team as Ice Cream Scoopers. If you have a passion for sweet treats, enjoy interacting with people, and are looking for a fun, fastpaced work environment, this may be the perfect job for you. As a shop associate, you are a key team member responsible for preparing and serving high-quality coffee and other beverages to customers as well as delicious desserts and acai bowls. This role requires a combination of customer service, preparation skills, and a passion for creating an exceptional shop experience. You will have to clean the shop using sanitizers, cleaners, and other cleaning products. Stocking inventory in the shop when necessary and cleanliness of the shop. This may include taking the garbage out, sweeping, mopping, dusting, vacuuming, and cleaning the restrooms.
Position
Shop Associate **Tipped Position** (10 M/F)
Location
N MYRTLE BCH , SC
Rate
$10.00/hr plus tips
Hours
32-40 hours per week
Start Date
7 May 2024 – 15 Jun 2024
End Date
20 Aug 2024 – 7 Sep 2024
English level
Upper Intermediate – Advanced
Housing
$125.00 per week (Must Arrange Own) **$115-$150 per week, maybe more/less
Deposit Amount $300 Depends
Transportation to work
On foot or bike, public transportation is available to you as well. Depending on the option depends on how long it will take.
** งานนี้ไม่ต้องชำระค่า Premium Job ใดๆทั้งสิ้นนะคะ และข้อมูลของงานดังกล่าว นายจ้างหรือองค์กรแลกเปลี่ยน USA อาจมีการเปลี่ยนแปลงได้ในภายหลัง โดยขึ้นอยู่กับปัจจัยในด้านธุรกิจของนายจ้างนะคะ โดยบริษัทฯ ไม่สามารถควบคุมการเปลี่ยนแปลงใดๆได้ค่ะ หากมีการเปลี่ยนแปลงใดๆเกิดขึ้นทางพี่ทีมงานจะรีบแจ้งข้อมูลอัพเดตให้ทันทีค่ะ 🙂 C
Related Jobs