🆕 North Shore Inn – Dairy Queen
Garrison , ND Hotel & Resort
Job Description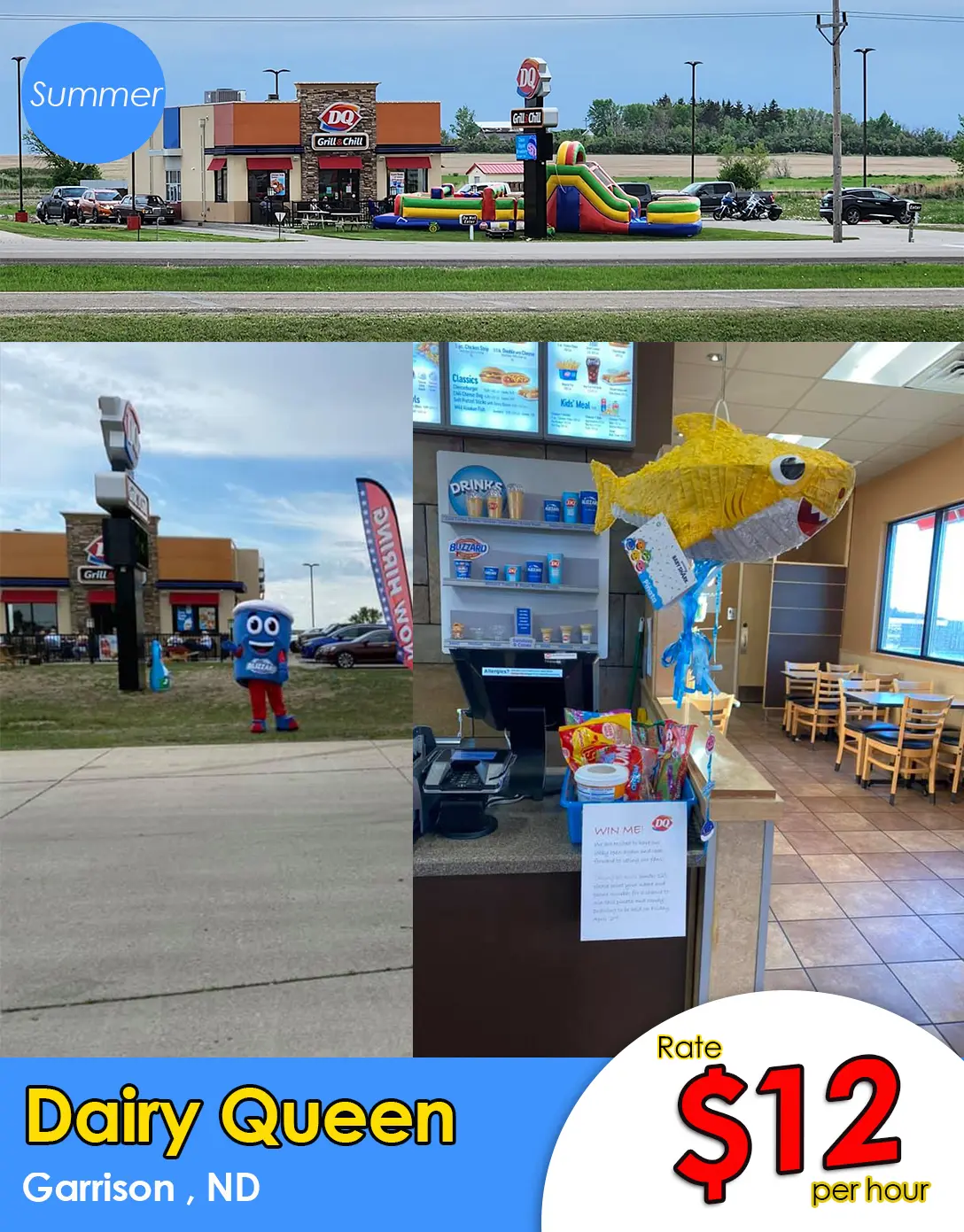 Restaurant Crew Member, Housekeeping : This employer has two locations: North Shore Inn and Dairy Queen. You will be working at both locations. EVERYONE will do housekeeping and work as a restaurant crew member.
Housekeeping is responsible for maintaining the cleanliness of the guest rooms assigned. Duties will include but are not limited to cleaning rooms and common areas, including bathrooms, toilets, and showers, changing linens, laundry, dusting, vacuuming and emptying
trash, etc. Very physically demanding. Be prepared to stand, bend, and push a 50 lbs/23 kg cart all day. Requires attention to detail, punctuality, and a great service attitude & team spirit. Please do not apply if you are sensitive to any kind of chemicals or lotions or have physical limitations that would keep you from doing your job. Plus any additional tasks requested by management. Front Desk: may work front desk if qualified and there is a need. Duties include greeting and welcoming guests to the Inn, check-in in registered guests, handling issues as requested, answering calls and scheduling reservations, handling American currency, handling credit card transactions, etc. Must have good knowledge of computers. Must be skilled in customer service. Additionally, you may be asked to clean the public areas lobby, entrance area, property grounds, restrooms, remove the trash, wipe counters, etc.
Dairy Queen is a fast-paced and busy location. It is a fun and friendly place to work. Everyone works as a team. Crew members will work the front counter assisting customers, work in the kitchen preparing hot food orders, or work in the chill area (ice cream products). Must have outstanding customer service skills and be friendly, helpful, and approachable. You will be using a cash register to ring up orders and handle American currency and credit card transactions. Must be able to multi-task in this busy environment. Requires attention to detail, punctuality, and a great service attitude & team spirit. Will be cross-trained in all the various positions. General duties include emptying trash, sweeping the floor and mopping as needed, keeping counters clean and orderly, restocking supplies as needed, and cleaning the bathrooms and general areas of the restaurant. Please check the wage section and understand, that if you are trained and are efficient in all 3 stations (Chill, Service, and Grill) only then you will be eligible to earn the top wage.
Must be dependable, hard-working, friendly, and a very trustworthy and honest individual. Positions require attention to detail, punctuality, and a great service attitude & team spirit. Flexible to help in other positions as requested. Additional tasks as requested by management. You will be working all weekends (Friday, Saturday, and Sunday), all holidays, and evening shifts. You may not work the same shifts as your friends. Nor will you have the same days off as your friends. No job, or hours at a job, can be 100% guaranteed. Regardless of what your work contract states, there is always a possibility that you will work more or fewer hours. Some days will be slower than others.
Position
Restaurant Crew Member, Housekeeping  (1M 3F)
Location
Garrison , ND
Rate
$12.00 per hour
**During training the wage is $10.50 per hour.
Trained in Chill $12.00 per hour
Trained in two areas $14.00 per hour
Trained in three areas $15.00 per hour
Housekeeping at Northshore Inn $15.00**
Hours
32-40 hours per week
Start Date
10 May 2024 –  15 Jun 2024
End Date
20 Aug 2024 – 7 Sep 2024
English level
Intermediate – Advanced
Housing
No fee for the housing (Employer) **Apartment
Transportation to work
You can walk or ride bikes to and from work.
** งานนี้ไม่ต้องชำระค่า Premium Job ใดๆทั้งสิ้นนะคะ และข้อมูลของงานดังกล่าว นายจ้างหรือองค์กรแลกเปลี่ยน USA อาจมีการเปลี่ยนแปลงได้ในภายหลัง โดยขึ้นอยู่กับปัจจัยในด้านธุรกิจของนายจ้างนะคะ โดยบริษัทฯ ไม่สามารถควบคุมการเปลี่ยนแปลงใดๆได้ค่ะ หากมีการเปลี่ยนแปลงใดๆเกิดขึ้นทางพี่ทีมงานจะรีบแจ้งข้อมูลอัพเดตให้ทันทีค่ะ 🙂 C
Related Jobs