🆕 Northgate Resorts – New York
Barryville , NY
Job Description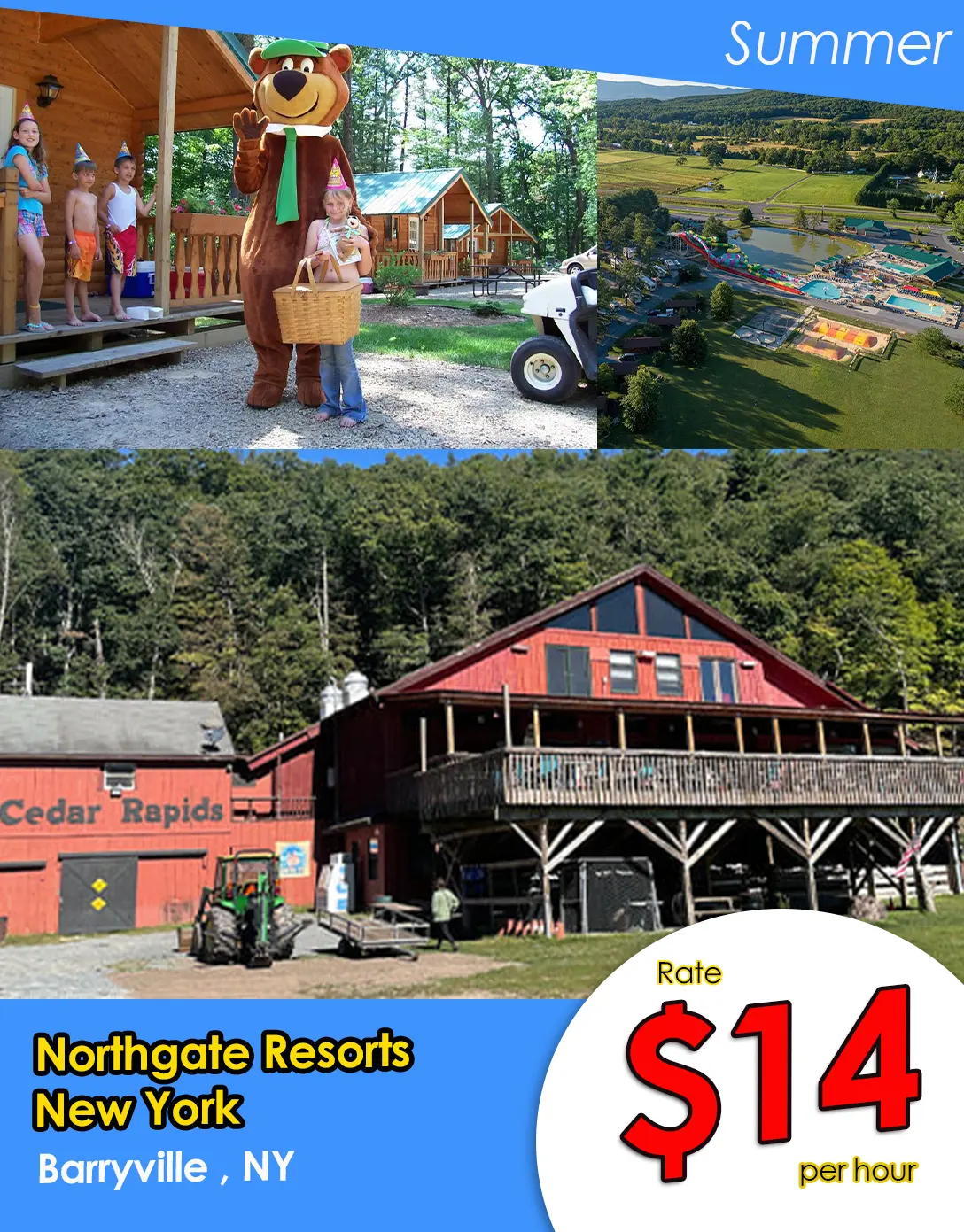 Campground Team Member :
Northgate Resorts owns and manages the most awarded Camp-Resort portfolio in the nation. Our passion is creating family camping memories for our guests – memories that will last a lifetime! We don't do this as individuals but as a passionate team that cares about making a difference in our guests' lives. We endeavor to be a highly effective, lean, and fastmoving organization. Campground Team Members will be cross trained for variety of positions, such as:
Food Service Staff
Introduce our menus, make recommendations on specialties, take orders, and deliver orders to the table promptly. Adhere to food, sanitary, and safety standards. Inspect the quality and looks of the dishes, making sure they uphold standards. Identify and resolve any special requirements, wants, and needs of customers. Handle complaints. Deliver checks and accept payment. Assist with preparation of takeout orders.
Housekeeping Staff
Ensure cabins are properly stocked and equipped. Remove trash and used linens from the guestrooms. Record location and turn in lost and found items. Collect & sort linen into appropriate groups for washing. Separate stained linen from other dirty linen and treat according to policy and procedures. Load and unload washers, dryers, and fold linens to company standards. Clean appliances, equipment, and replenish linens.
Pool Attendants
Verify wristbands for guest entry, check for glass containers, and check for pool capacity for safety reasons. Ensure compliance with all aquatic facility rules. Clean and vacuum pool, clean skimmer baskets and skim the pool as needed. Sweep pool deck, clean tables, pick up
trash, and empty trash cans. Regularly straighten pool furniture. Maintain constant surveillance of guests in the aquatic facility; acts immediately and appropriately to secure the safety of guests to escalate emergency to the supervisor.
Park Services Staff
Clean vacant units and prepare them for new tenants. Clean additional spaces (as applicable): Hallways/stairways-weekly or twice per week if needed. Entrances/lobbies and common areas. Clean fitness center and machines. Help maintenance staff, i.e., trash collection, complete work orders.
Recreation & Activities Staff
Prepare and lead guest activities and arts & crafts. Be able to learn new skills including, but not limited to, face painting, balloon making, or other event-related entertainment. Complete cash, credit, and gift card transactions using the point-of-sale system accurately while following proper cash-handling procedures. Decorate the park to the theme of the week/weekend. Keep recreation facilities neat, clean, and in working order (including restroom area). May be required to capture photos of activities and events.
ESSENTIAL PHYSICAL DEMANDS
Work outside in different weather elements
Able to move up to 50 lbs
Must be able to remain in a stationary position
Regularly move throughout the location
Continuously climb, balance, stoop, kneel, bend, crouch, walk and crawl
Able to communicate verbally, including projecting the voice across distance in everyday and
loud situations
Position
Campground Team Member (2M 1F) 🟢 ว่าง 1F ตำแหน่ง
Location
Barryville , NY
Rate
$14.00 per hour
Hours
32-40 hours per week
Start Date
15 May 2024 – 15 Jun 2024
End Date
1 Sep 2024 – 7 Sep 2024
English level
Upper Intermediate – Advanced
Housing
$0.00 (Employer)
Deposit amount : $100 (Upon arrival)
Transportation to work
Students can walk or ride a bike.
** งานนี้ไม่ต้องชำระค่า Premium Job ใดๆทั้งสิ้นนะคะ และข้อมูลของงานดังกล่าว นายจ้างหรือองค์กรแลกเปลี่ยน USA อาจมีการเปลี่ยนแปลงได้ในภายหลัง โดยขึ้นอยู่กับปัจจัยในด้านธุรกิจของนายจ้างนะคะ โดยบริษัทฯ ไม่สามารถควบคุมการเปลี่ยนแปลงใดๆได้ค่ะ หากมีการเปลี่ยนแปลงใดๆเกิดขึ้นทางพี่ทีมงานจะรีบแจ้งข้อมูลอัพเดตให้ทันทีค่ะ 🙂 C
Related Jobs