🆕 Okoboji Store Bar and Kitchen
Okoboji , IA Restaurant
Job Description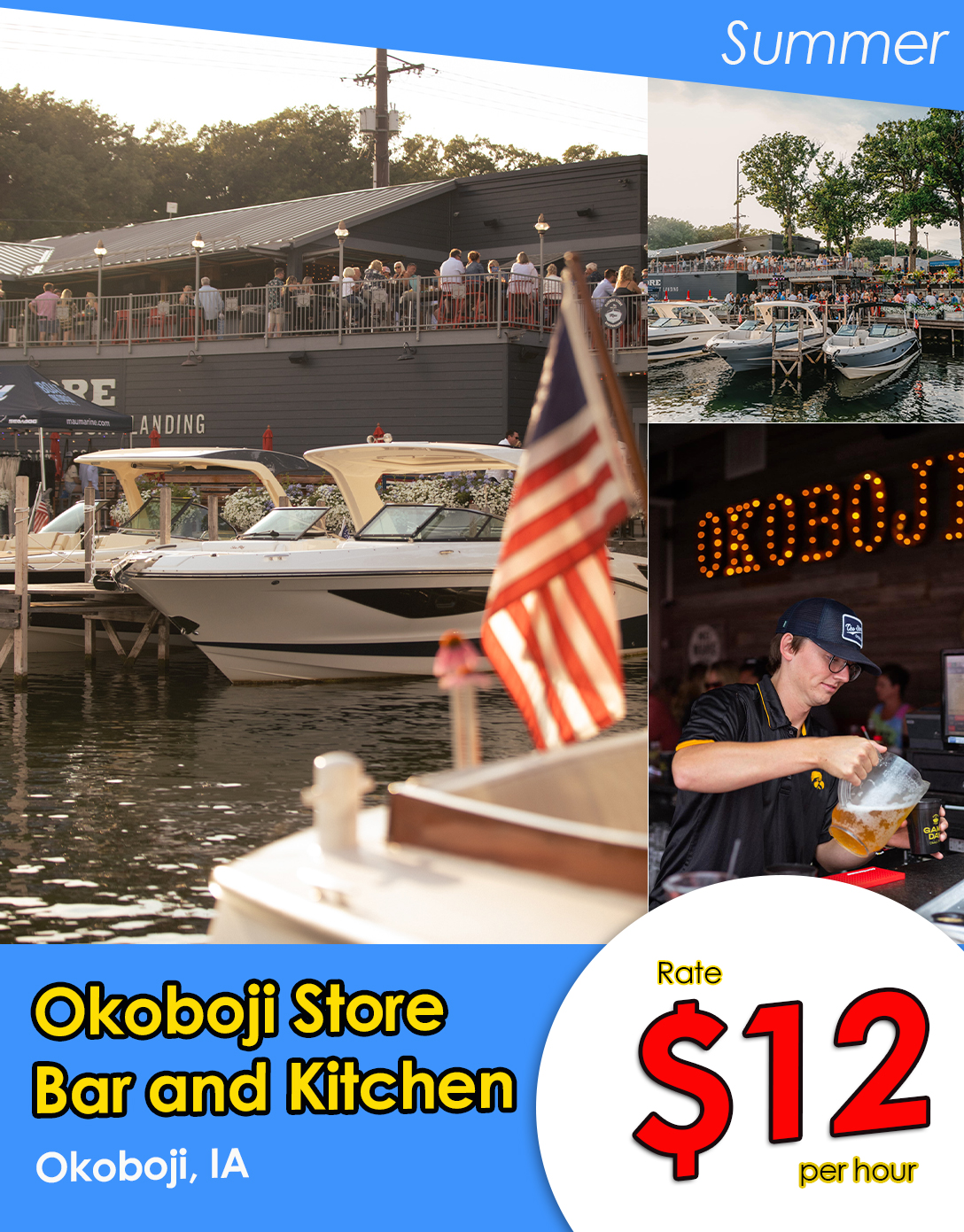 General Restaurant Employee : The Okoboji Store Bar and Kitchen is a team environment where participants are guided through training and coaching. Participants should feel comfortable learning and executing tasks listed below and other duties as assigned.
Assigned duties include but are not limited to: general cleaning, stocking items, prepping and cooking food, clearing and setting dining tables, and washing dishes. Use of cleaning chemicals will be required when washing dishes and cleaning. Additional duties may be assigned by their supervisor as necessary.
Participants will be scheduled for at least 40 hours per week during their program with the Okoboji Store. Additional hours are available if desired by participant. We will assist in finding the appropriate number of hours for each participant understanding each individual's unique needs.
Position
General Restaurant Employee
Start 11 May (12 M Only)
Start 7 Jun (4 M Only)
🟢 ว่าง 11 ตำแหน่ง
Location
Okoboji , IA
Rate
$12.00 per hour
Hours
32-40 hours per week
Start Date – End Date
Start 11 May 2024 – 17 Jun 2024
End 10 Aug 2024 – 31 Aug 2024
Start 7 Jun 2024 – 17 Jun 2024
End 5 Sep 2024 – 7 Sep 2024
English level
Upper Intermediate – Advanced
Housing
$1,200 for entire season. Housing will be payroll deducted incrementally throughout the season based on length of participant's program.
Deposit Amount $200
Transportation to work
Students can walk or ride a bike.
** งานนี้ไม่ต้องชำระค่า Premium Job ใดๆทั้งสิ้นนะคะ และข้อมูลของงานดังกล่าว นายจ้างหรือองค์กรแลกเปลี่ยน USA อาจมีการเปลี่ยนแปลงได้ในภายหลัง โดยขึ้นอยู่กับปัจจัยในด้านธุรกิจของนายจ้างนะคะ โดยบริษัทฯ ไม่สามารถควบคุมการเปลี่ยนแปลงใดๆได้ค่ะ หากมีการเปลี่ยนแปลงใดๆเกิดขึ้นทางพี่ทีมงานจะรีบแจ้งข้อมูลอัพเดตให้ทันทีค่ะ 🙂 S
Related Jobs