(เต็มแล้วจ้า) Prime Seafood and Steaks
GALVESTON , TX Restaurant
Job Description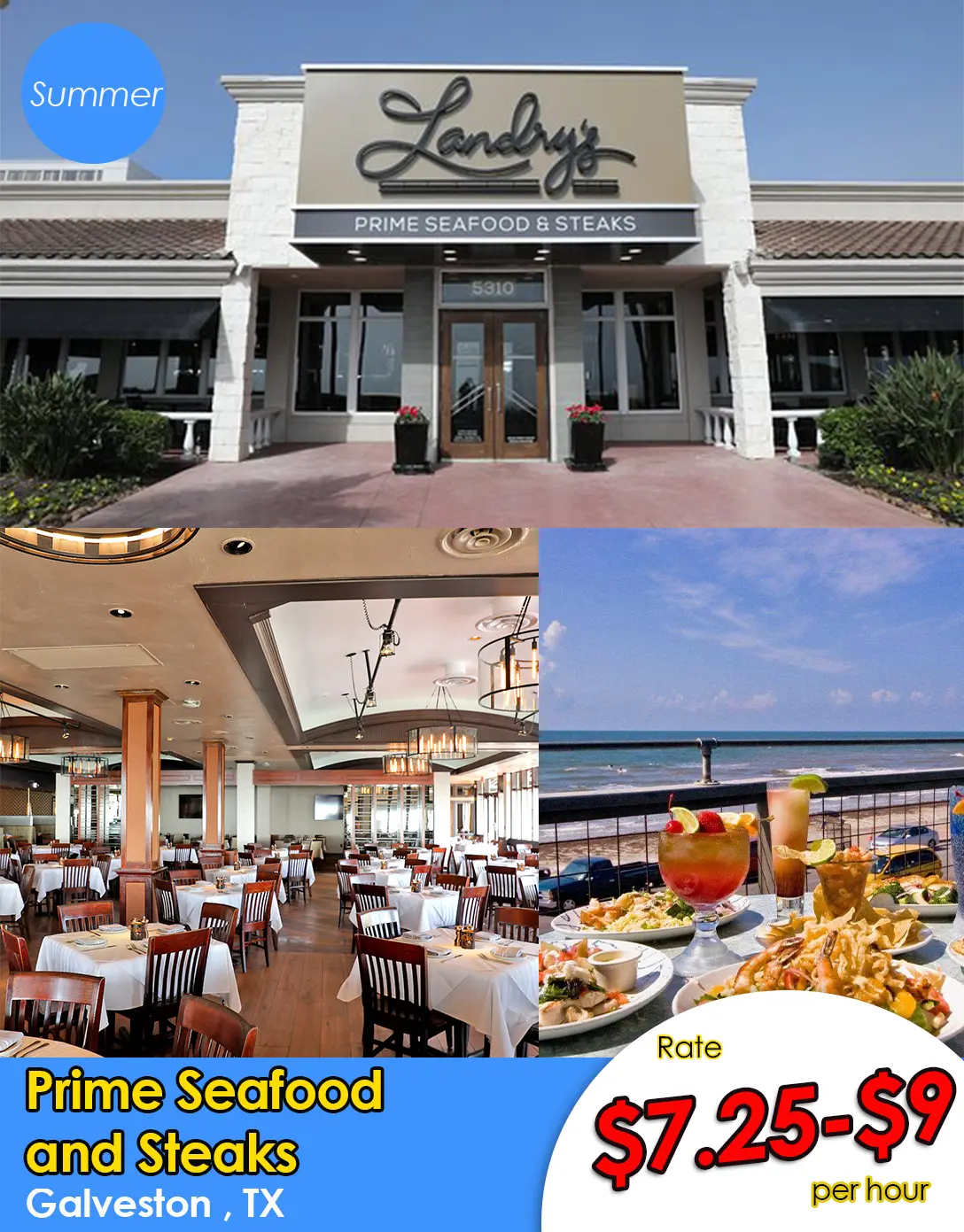 Host/Hostess: Host/Hostess is responsible to greet arriving guests, welcome them into the establishment and seat them at a table. As the first contact between the customers and the restaurant, the host/hostess is a personal representation of the service and overall hospitality of the staff of the restaurant. While guests are waiting to be seated or waiting for take-out orders to be ready, it is the job of the hostess to ensure that the guests are made comfortable and kept informed of the status of their orders or wait times.
Job Duties and Responsibilities
-Monitors the open dining sections of the restaurant for empty and cleaned tables.
-Escorts the guests to the dining room.
-Estimates wait times for guests and monitoring the guest waiting list.
-Ensures that the needs of the guests are met while they are waiting.
-Keeps dining room occupancy chart current.
-Answers the telephone.
-Books reservations.
-Assist wait staff as needed, taking initial drink orders, moving tables together, etc.
-Inspect assigned restrooms and clean as needed.
-Complete additional duties as assigned by supervisor.
Restaurant Attendant: Servers are responsible to ensure that customers have an enjoyable dining experience. As the primary contact between the customers and the restaurant, they are expected to be friendly and engaging when interacting with guests to project a positive image of the company while providing top quality service.
Job Duties and Responsibilities
– Knows all specials on a shift by shift basis as well as all iquor, beer, and wine products and all menu items an desserts.
– Present menu, answer questions, and make suggestions regarding food and service.
– Write order on check and relay customer's order to kitchen to be filled.
– Place food servings on plates and trays according to orders or instructions.
– Garnishes and decorates dishes prior to serving and is the last quality check on food.
– Monitor food distribution, ensuring that orders are delivered to the correct recipients.
– Ladles soup, tosses salads, portions pies and desserts, brews coffee, and performs other services as determined by establishment's size and practices.
– Observes diners to respond to any additional requests and determines when meal has been completed.
– Totals bill and accepts payment.
– Pre-bus (clean) other tables as well as your own, including dirty plates, glassware, condiments, trash, ashtrays, and flatware.
– Stock service stations with items such as ice, napkins, and straws.
– Clean and sterilize dishes, kitchen utensils, equipment, and facilities.
– Assists the hosts at the door and with seating when you are not busy.
– Check the IDs of customers to verify that they are of legal drinking age.
– Maintain proper grooming and uniform standards
– Follows the safety rules provided in the Safety Program found in the employee Orientation
– Manual and reports any safety hazards to management immediately.
– Complete additional duties as assigned by supervisor
Position
Host/Hostess: (5 M/F)
Restaurant Attendant: (4 M/F)
Job location
Galveston , TX
Rate
Host/Hostess: $9.00 per hour +tip
Restaurant Attendant: $7.25 per hour +tip
Hours
32-40 hours per week
Start Date
15 May 2024 – 1 Jun 2024
End Date
28 Aug 2024 – 7 Sep 2024
English level
Upper Intermediate – Advanced
Housing
$1540 per month (Participant arranged)
Transportation to work
Participants can use the public transportation Nearest bus stop
** งานนี้ไม่ต้องชำระค่า Premium Job ใดๆทั้งสิ้นนะคะ และข้อมูลของงานดังกล่าว นายจ้างหรือองค์กรแลกเปลี่ยน USA อาจมีการเปลี่ยนแปลงได้ในภายหลัง โดยขึ้นอยู่กับปัจจัยในด้านธุรกิจของนายจ้างนะคะ โดยบริษัทฯ ไม่สามารถควบคุมการเปลี่ยนแปลงใดๆได้ค่ะ หากมีการเปลี่ยนแปลงใดๆเกิดขึ้นทางพี่ทีมงานจะรีบแจ้งข้อมูลอัพเดตให้ทันทีค่ะ 🙂 A
Related Jobs