🆕 Retail in Gulf Shores & Orange Beach, Alabama
Job Description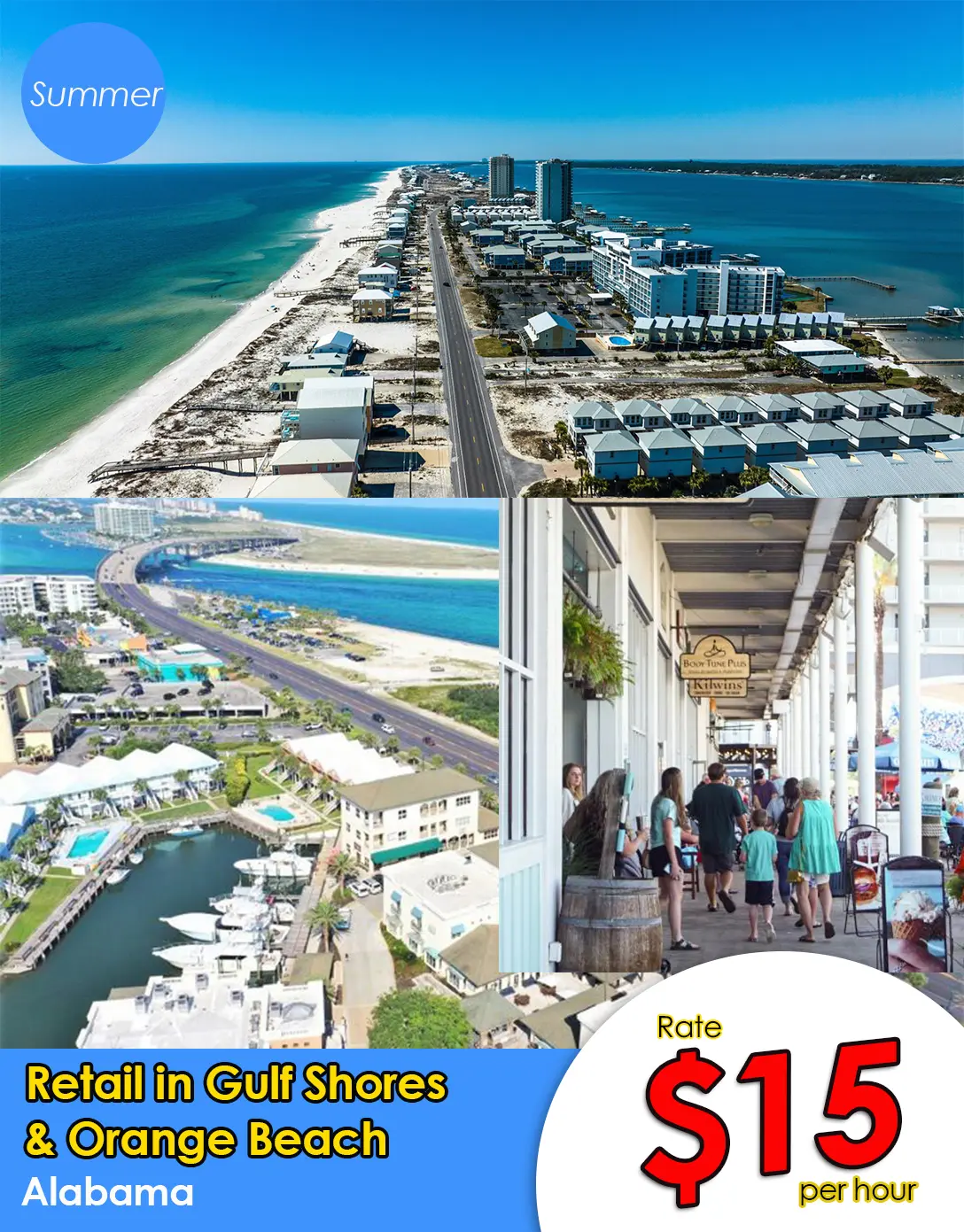 Sales associate : Assist customers, work the cash register, clean, prepare store for opening/closing, etc. Employer has multiple stores in Orange Beach and Gulf Shores where placement may occur. Store assignment may change upon arrival.
Position
Sales associate (27 M/F)
Location
Gulf Shores & Orange Beach, Alabama
Rate
$15 per hour
Hours
32-40 hours per week
Start Date
1 Jun 2024 – 15 Jun 2024
End Date
3 Sep 2024 – 7 Sep 2024
English level
Upper Intermediate – Advanced
Housing
Shared duplex house in Gulf Shores. Typically 2 per bedroom. Furnished: beds, living room, kitchen appliances, dishes/pots, and washer/dryer. Does not include bed/bath linens; student must bring or purchase upon arrival. Student must be flexible, responsible, mature, and capable of living in a shared space; students are expected to be respectful to their roommates and to keep a tidy living space, particularly the shared spaces.
Housing Rent & Deposit Rent is $15 per day (approximately $450 per month). A deposit of $250 is due upon arrival
Transportation to work
bus
** งานนี้ไม่ต้องชำระค่า Premium Job ใดๆทั้งสิ้นนะคะ และข้อมูลของงานดังกล่าว นายจ้างหรือองค์กรแลกเปลี่ยน USA อาจมีการเปลี่ยนแปลงได้ในภายหลัง โดยขึ้นอยู่กับปัจจัยในด้านธุรกิจของนายจ้างนะคะ โดยบริษัทฯ ไม่สามารถควบคุมการเปลี่ยนแปลงใดๆได้ค่ะ หากมีการเปลี่ยนแปลงใดๆเกิดขึ้นทางพี่ทีมงานจะรีบแจ้งข้อมูลอัพเดตให้ทันทีค่ะ 🙂 CE
Related Jobs