(เต็มแล้วจ้า) Seasalt
Restaurant Seward , AK
Job Description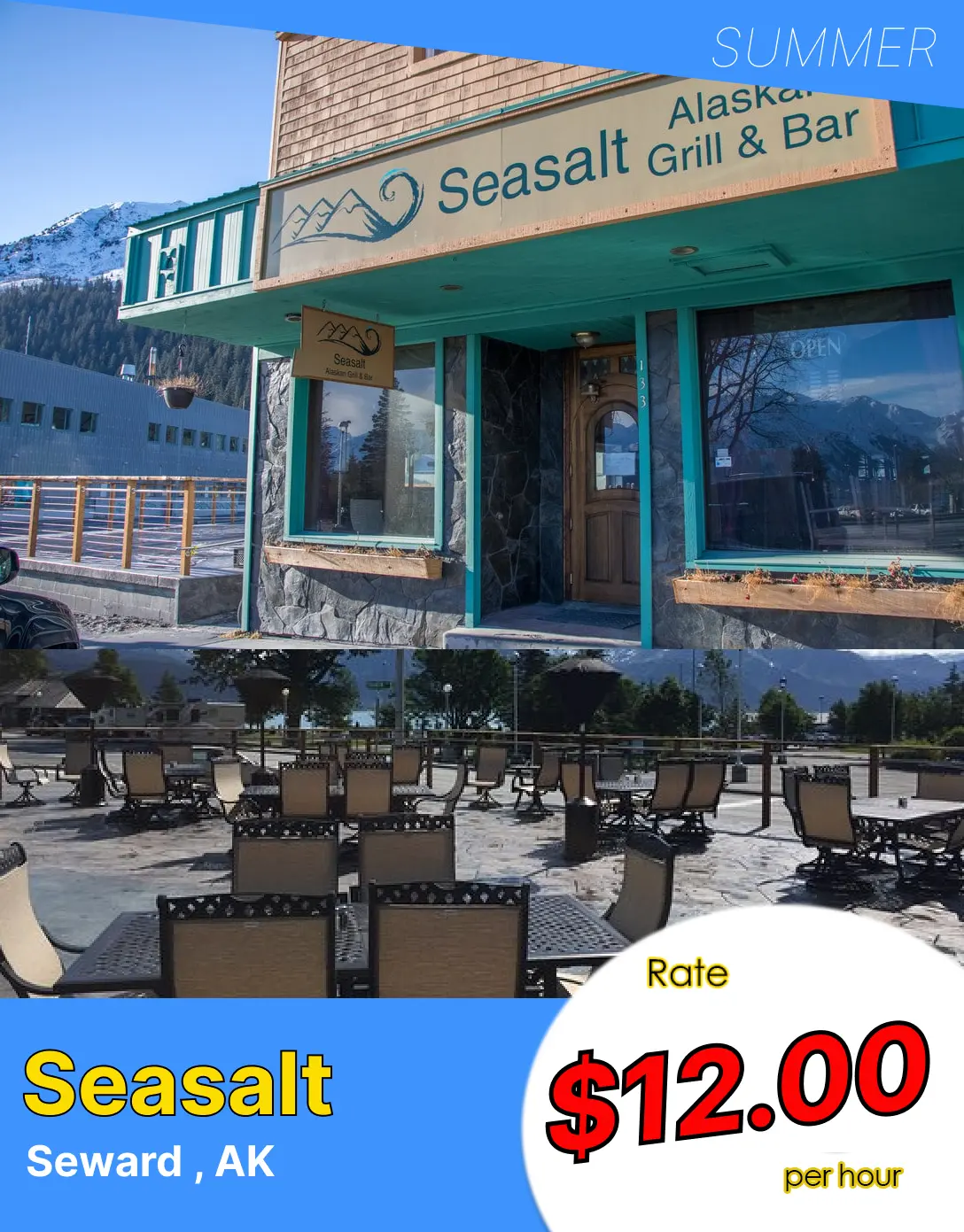 Kitchen Member: Kitchen members duties include food preparation, cooking, and cleaning. These positions share 20% of the servers' tips. Wages start at $12 per hr
Busser/Food Runner : Job duties include serving patrons by setting tables; placing and replacing silverware; bringing food from the kitchen to patron's tables; keeping beverage glasses full; adhering to sanitation and safety policies; clearing and cleaning tables, chairs, and environment.
Position
Kitchen Member (6 M/F) 🟢 ว่าง 4 ตำแหน่ง
Busser/Food Runner (1 M/F) ❌ (เต็มแล้วจ้า)
Location
Seward, AK
Rate
Kitchen Member $12.00 per hour
Busser/Food Runner $11.00 per hour
Hours
32-40 hours per week
Start Date
7 May 2024 – 15 Jun 2024
End Date
2 Sep 2024 – 7 Sep 2024
English level
Upper Intermediate
Housing
$400.00 per person, per month (Employer)
**Dposit $500 (on arrival)
Transportation to work
Participants can walk, ride a bike or take a bus to work. Housing is located adjacent to the bike path.
** งานนี้ไม่ต้องชำระค่า Premium Job ใดๆทั้งสิ้นนะคะ และข้อมูลของงานดังกล่าว นายจ้างหรือองค์กรแลกเปลี่ยน USA อาจมีการเปลี่ยนแปลงได้ในภายหลัง โดยขึ้นอยู่กับปัจจัยในด้านธุรกิจของนายจ้างนะคะ โดยบริษัทฯ ไม่สามารถควบคุมการเปลี่ยนแปลงใดๆได้ค่ะ หากมีการเปลี่ยนแปลงใดๆเกิดขึ้นทางพี่ทีมงานจะรีบแจ้งข้อมูลอัพเดตให้ทันทีค่ะ 🙂 C
Related Jobs