🆕 Senor Frogs-Broadway At The Beach
MYRTLE BEACH , SC Restaurant
Job Description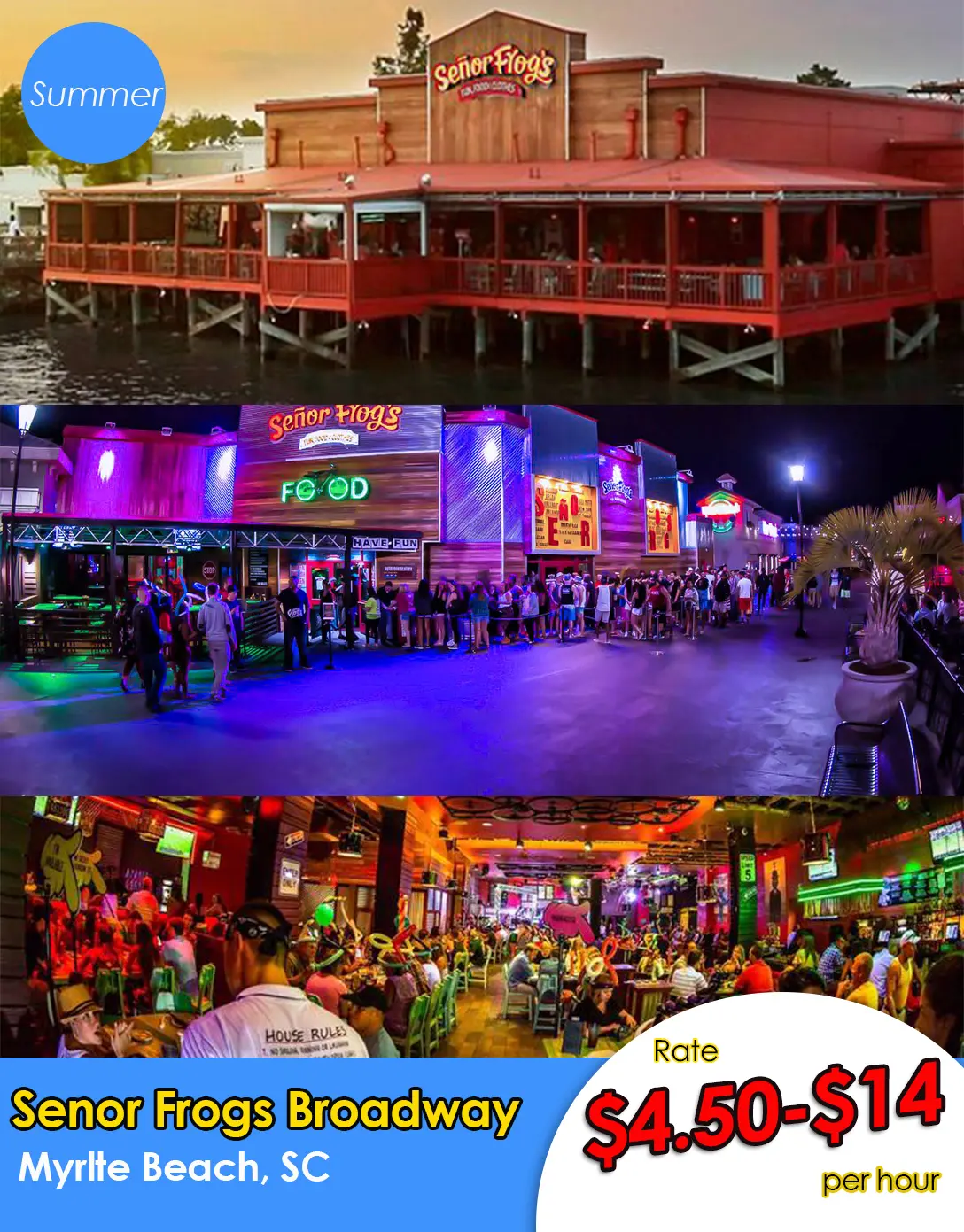 Dishwasher : A dishwasher is an essential member of a restaurant, responsible for maintaining a clean and organized kitchen by washing and sanitizing dishes, utensils, and other kitchen equipment. The primary role of a dishwasher is to ensure the efficient flow of operations within the kitchen and to support the overall cleanliness and hygiene of the establishment
Line Cook :A Line Cook is a crucial member of the kitchen team responsible for preparing and cooking various food items to the highest standards. Working under the supervision of the head chef or kitchen manager, the Line Cook ensures that dishes are prepared consistently, adhering to established recipes and guidelines. They play a fundamental role in delivering quality meals and ensuring customer satisfaction.
Busser : A busser, also known as a busboy or busgirl, plays a crucial role in the foodservice industry, ensuring that the dining area and other service areas are clean, organized, and ready for customers. Their primary responsibility is to assist the waitstaff and maintain a pleasant dining experience for guests. The specific duties and responsibilities of a busser may vary depending on the establishment, but generally,
Prep Cook :A prep cook, short for "preparation cook," plays a crucial role in a kitchen or food preparation setting. Their primary responsibility is to assist the chef or kitchen staff in preparing and organizing ingredients and various components needed for dishes. A prep cook is responsible for preparing ingredients, vegetables, and other components necessary for cooking dishes as per the restaurant or kitchen's menu. They ensure that all items are ready and organized, allowing the kitchen to operate efficiently during service hours.
Position
Dishwasher : (5 M/F)
Line Cook : (4 M/F)
Busser : (4 M/F)
Prep Cook : (1 M/F)
Location
Myrtle Beach , SC
Rate
Dishwasher : $12.00/hr
Line Cook : $12.00/hr
Busser : $4.50/hr + tips
Prep Cook : : $12.00/hr
Hours
32-40 hours per week
Start Date
7 May 2024 – 1 Jun 2024
End Date
5 Sep 2024 – 7 Sep 2024
English level
Intermediate – Advanced
Housing
$125.00 per week, / (Must Arrange Own) **$115-$150 per week, maybe more/less
Deposit amount : $300.00 (Depends)
Transportation to work
On foot or bike, public transportation is available to you as well. Depending on the option depends on how long it will take.
** งานนี้ไม่ต้องชำระค่า Premium Job ใดๆทั้งสิ้นนะคะ และข้อมูลของงานดังกล่าว นายจ้างหรือองค์กรแลกเปลี่ยน USA อาจมีการเปลี่ยนแปลงได้ในภายหลัง โดยขึ้นอยู่กับปัจจัยในด้านธุรกิจของนายจ้างนะคะ โดยบริษัทฯ ไม่สามารถควบคุมการเปลี่ยนแปลงใดๆได้ค่ะ หากมีการเปลี่ยนแปลงใดๆเกิดขึ้นทางพี่ทีมงานจะรีบแจ้งข้อมูลอัพเดตให้ทันทีค่ะ 🙂 C
Related Jobs