🆕 Sisters Saloon and Ranch Grill
Sisters , OR
Job Description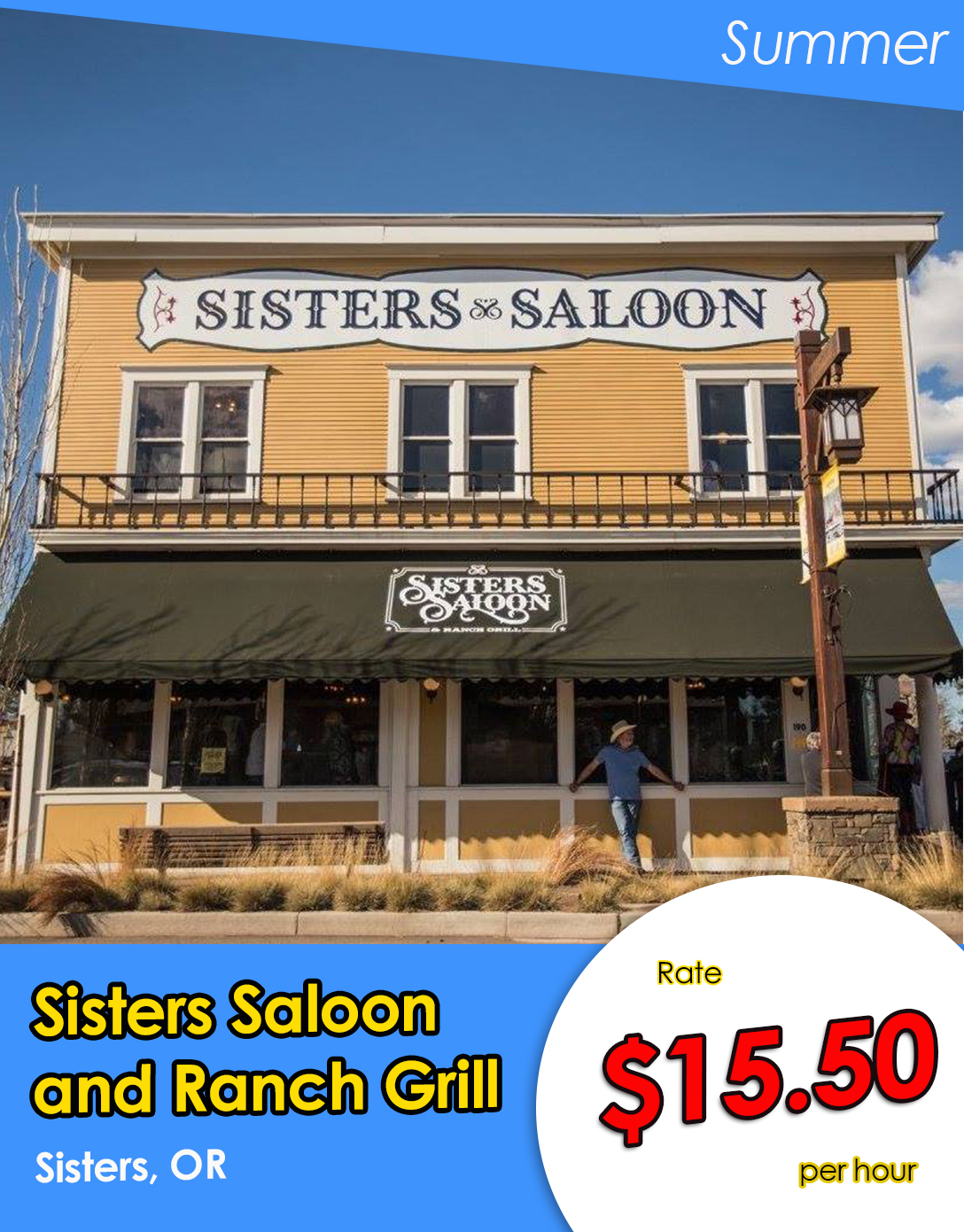 Rotating Position – Back of House: Prep Cook and Dishwasher : A very good level of English is required for participants in this position. Proficiency in English is required in order to effectively communicate with co-workers. Participants must be hard working, friendly, and outgoing.
Prep Cook : Prep cooks work for food establishments under the supervision of the head chef. Their duties revolve around assisting the head chef in preparing food by chopping and washing vegetables and meats and arranging salads, breads, sauces and dressings.
Dishwasher : Dishwashers are responsible for ensuring the cleanliness and sanitization of dishes, tableware, glassware, pots, pans, and utensils through manual and machine cleaning methods. Additionally, dishwashers are expected to keep the dishwarshing area clean and safe.
Position
Start 8 Jun (1 M/F)
Start 10 Jun (1 M/F)
Start 16 Jun (3 M/F)
Location
Sisters, OR
Rate
$15.50 per hour
Hours
32-40 hours per week
Start Date – End Date
Start 8 Jun 2024 – 15 Jun 2024
End 2 Sep 2024 – 7 Sep 2024
Start 10 Jun 2024 – 15 Jun 2024
End 2 Sep 2024 – 7 Sep 2024
Start 16 Jun 2024 – 30 Jun 2024
End 2 Sep 2024 – 7 Sep 2024
English level
Intermediate – Upper Intermediate
Housing
$120 per week
**Deposit $250 per person(Upon arrival)
Housing is a 4 bedroom house in a quiet neighborhood. The house includes 2 bathrooms and a full kitchen. House has a fenced in yard and has an area of 1500 square feet.
Transportation to work
Walk or bike
** งานนี้ไม่ต้องชำระค่า Premium Job ใดๆทั้งสิ้นนะคะ และข้อมูลของงานดังกล่าว นายจ้างหรือองค์กรแลกเปลี่ยน USA อาจมีการเปลี่ยนแปลงได้ในภายหลัง โดยขึ้นอยู่กับปัจจัยในด้านธุรกิจของนายจ้างนะคะ โดยบริษัทฯ ไม่สามารถควบคุมการเปลี่ยนแปลงใดๆได้ค่ะ หากมีการเปลี่ยนแปลงใดๆเกิดขึ้นทางพี่ทีมงานจะรีบแจ้งข้อมูลอัพเดตให้ทันทีค่ะ 🙂 S
Related Jobs